/ Source: The Associated Press
Women in this Indian village high in the pine-clad mountains of Oaxaca rise each morning at 4 a.m. to gather firewood, grind corn, prepare the day's food, care for the children and clean the house.
But they aren't allowed to vote in local elections, because — the men say — they don't do enough work.
It was here, in a village that has struggled for centuries to preserve its Zapotec traditions, that Eufrosina Cruz, 27, decided to become the first woman to run for mayor — despite the fact that women aren't allowed to attend town assemblies, much less run for office.
The all-male town board tore up ballots cast in her favor in the Nov. 4 election, arguing that as a woman, she wasn't a "citizen" of the town. "That is the custom here, that only the citizens vote, not the women," said Valeriano Lopez, the town's deputy mayor.
Rather than give up, Cruz has launched the first serious, national-level challenge to traditional Indian forms of government, known as "use and customs," which were given full legal status in Mexico six years ago in response to Indian rights movements sweeping across Latin America.
"For me, it's more like 'abuse and customs,"' Cruz said as she submitted her complaint in December to the National Human Rights Commission. "I am demanding that we, the women of the mountains, have the right to decide our lives, to vote and run for office, because the constitution says we have these rights."
Lopez acknowledged that votes for Cruz were nullified, but claims they added up to only 8 ballots of about 100 cast in this largely unpaved village of about 1,500 people.
Cruz says she was winning — and wants the election to be annulled and held again, this time with women voting.
Men over 60 also can't vote
But the male leaders are refusing to budge. "We live differently here, senor, than people in the city. Here, women are dedicated to their homes, and men work the fields," Apolonio Mendoza, the secretary of the all-male town council, told a visiting reporter.
Cruz has received some support from older men, who by village law lose their political rights when they turn 60. Some younger men also say the system must change and give women more rights.
At a recent meeting of several dozen Cruz supporters, most of them voteless, women in traditional gray shawls recalled being turned down for government aid programs because they weren't accompanied by a man.
Martina Cruz Moreno, 19, said that when her widowed mother sought government-provided building materials to improve her dirt-floor, tin-roofed wooden home, village authorities told her, "Go get yourself a husband."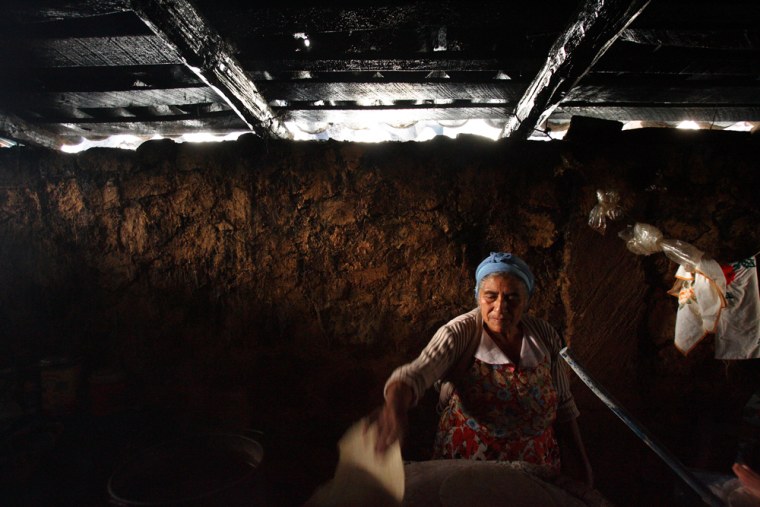 As a woman, Eufrosina Cruz is not only barred from being mayor, but from participating in the "community labor" that qualifies male villagers as "citizens." Those tasks include repairing roads, herding cattle, cleaning streets and raising crops.
"I'd like to see the men here make tortillas, just for one day, and then tell me that's not work," said Cruz, describing the hours-long process of cleaning, soaking, cooking and milling the corn, shaping the flour into flat disks, and collecting the firewood to heat the clay and brick hearths on which most women cook.
During all-important village festivals, women are expected to cook for all the male guests. But instead of joining them at the table, Cruz says, they are relegated to straw mats on the floor. Clothes are washed by hand, and while most homes have some form of running water, it's often only a single spigot.
Cruz decided to escape that life after she saw her 12-year-old sister given to an older man in a marriage arranged by her father. The sister had her first child at 13, and has since borne seven more.
Cruz was 11 and "I didn't even know what a bus was then."
She traveled to the nearest city to enroll in school, live with relatives and support herself through odd jobs, eventually graduating from college with a degree in accounting.
She is single, and in a village culture where most women wear skirts, she wears pants. Because her village has no formal jobs for women, she works as a school director in a nearby town, and returns to Quiegolani most weekends. That, authorities say, disqualified her from running for mayor because she wasn't a full-time resident. But the man who won the race also works outside the town, and there are questions about how much time he actually spends here.
Cruz views the residency issue as a pretext, noting that authorities have also banned female candidates and anybody with a college degree from running. She said she has followed the use and custom rules as much as she was allowed to, carefully fulfilling lower-level duties that function as a means of testing people's devotion to their village. For four years, she "carried the Virgin" in a religious procession through the town, and has helped fund or organize other festivities.
Cruz figured her case for annulling the elections was solid — after all, Mexico's constitution guarantees both men and women the right to vote. She went first to the Oaxaca state electoral council, then to the state congress. After both upheld the election, she took her fight to the commission in Mexico City.
"I am not asking anything for myself. I am asking on behalf of Indian women, so that never again will the laws allow political segregation," Cruz wrote to the commissioners, who may take months to investigate the case, and who could recommend that state authorities protect women's rights to vote or hold office. She says she'll go higher, to federal electoral authorities, if necessary.
Change tied to Zapatista rebellion
In Mexico, many local governance rules date to before the Spanish conquest and weren't given national legal recognition until a 2001 Indian rights reform was enacted in the wake of the Zapatista rebel uprising in Chiapas.
The law states that Indian townships may "apply their own normative systems ... as long as they obey the general principles of the Constitution and respect the rights of individuals, human rights, and particularly the dignity and well-being of women."
Despite this specific protection, about a fourth of the Indian villages operating under the law don't let women vote, putting human rights groups in a dilemma: Most actively supported recognition for Indian governance systems, and few have therefore taken up the women's cause.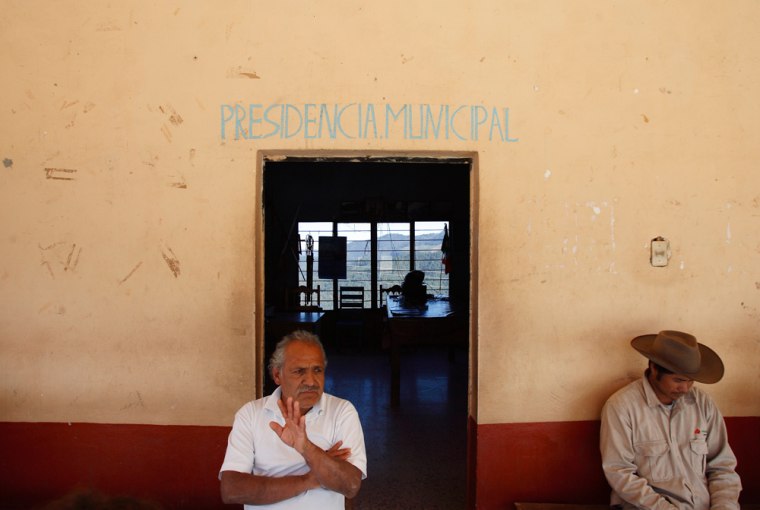 Cruz now travels alone from one government office to another, always carrying an armful of calla lilies. "This flower grows a lot in the village. Even though we don't water or care for it much, it flowers," she explained. "It is a symbol for us Indian women."
"The congress upheld the vote out of sheer laziness, to avoid stirring up the village or causing a conflict there," said Rep. Perla Woolrich, a Oaxaca state legislator who supported Cruz's cause. "In the past, use and customs represented something positive, but by now it violates people's constitutional rights. Use and customs have to reviewed, and those practices that violate rights have to be thrown out."
Cruz says she isn't against all customs in her village. She prefers its bipartisanship to political party rivalry because it encourages close-knit Indian communities to stick together and underpins their survival.
"There are really beautiful things in use and customs, if they are applied as they should be," she said.
"Up there in the mountains, unfortunately, nobody listens to us," she says. "If nothing is done, we'll go on the same way for another century in Quiegolani."