/ Source: msnbc.com staff and news service reports
What are the chances that Lake Mead, a key source of water for more than 22 million people in the Southwest, would ever go dry? A new study says it's 50 percent by 2021 if warming continues and water use is not curtailed.
"We were stunned at the magnitude of the problem and how fast it was coming at us," co-author Tim Barnett of the Scripps Institution of Oceanography said in a statement. "Make no mistake, this water problem is not a scientific abstraction, but rather one that will impact each and every one of us that live in the Southwest."
"It's likely to mean real changes to how we live and do business in this region," added co-author David Pierce, a Scripps climate scientist.
The experts estimated that the Colorado River system, which feeds Lake Mead and Lake Powell, is seeing a net deficit of nearly 1 million acre-feet of water per year — an amount that can supply some 8 million people. That water is not being replenished, they noted, and human demand, evaporation and human-induced climate change are fueling the growing deficit.
The system is already at half capacity because of eight years of drought.
"When expected changes due to global warming are included as well, currently scheduled depletions are simply not sustainable," Barnett and Pierce write in the study.
The two analyzed federal records of past water demand as well as calculations of scheduled water allocations and climate conditions.
'Bucket' being depleted
"The biggest change right now is taking more water from the bucket than we are putting into it," Barnett said.
Lake Mead straddles the Arizona-Nevada border. Aqueducts carry water from the system to Las Vegas, Los Angeles, San Diego, and other communities.
The researchers also noted that their estimates are conservative — in other words, the water shortage is likely to be even more dire than they estimate. The conservative approach included basing their findings on:
The premise that warming effects only started in 2007, though most experts consider human-caused warming to have likely started decades earlier.
Averaging river flow over the past 100 years, even though it has dropped in recent decades.
The study has been accepted for publication, possibly next month, in the peer-reviewed Water Resources Research, a journal of the American Geophysical Union.
Barnett and Pierce also estimated:
A 10 percent chance that Lake Mead could be dry by 2014.
A 50 percent chance that reservoir levels will drop too low to allow hydroelectric power generation by 2017.
The uncertainty about when and if the lake will run dry stems from the natural fluctuations of the Colorado River, which feeds the lake, Barnett said. In recent months the flow has been above average, he said, after years below average.
'At or beyond the sustainable limit'
The system could still run dry even if recently proposed mitigation measures are implemented, the researchers said.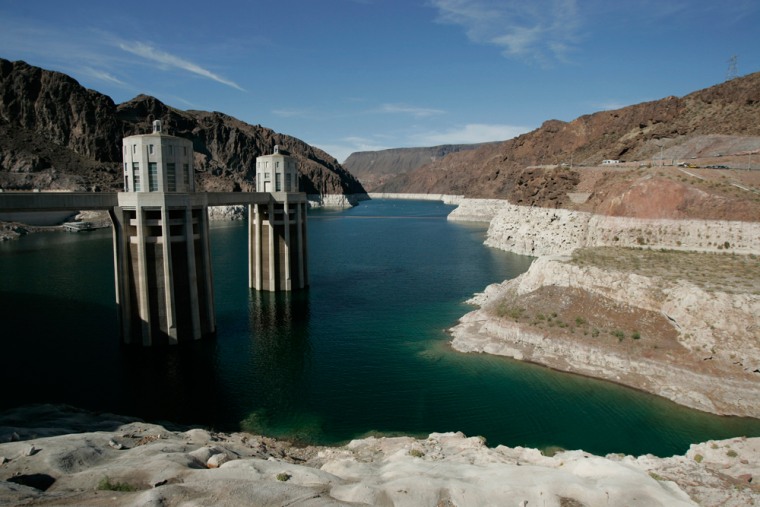 "Today, we are at or beyond the sustainable limit of the Colorado system," the study concludes. "The alternative to reasoned solutions to this coming water crisis is a major societal and economic disruption in the desert southwest; something that will affect each of us living in the region."
Lake Mead, which was created when Hoover Dam was buit, provides 90 percent of Las Vegas' water.
Scott Huntley, a spokesman for the Southern Nevada Water Authority, said his agency overseeing the Las Vegas area's water was concerned about reliance on Lake Mead as the major source for Las Vegas and officials were seeking alternate sources.
"While we wholeheartedly support the authors' call for greater urban water conservation, it is important to also remember that agriculture uses four-fifths of the Colorado River's flows, so meaningful solutions cannot be borne solely by urban users," he added.