/ Source: Forbes Traveler.com
At first glance, Strawberries Arnaud at the 90-year old Arnaud's restaurant in New Orleans French Quarter looks like a regular bowl of sliced fruit. Except that this dessert is garnished with a one-of-a-kind 4.7-carat pink diamond ring, once belonging to the famous English financier Sir Ernest Cassel. It's accompanied by white-gloved waiters pouring rare port from a $24,850 Charles X crystal cave liqueur set — compliments of the chef! — in the presence of a jazz ensemble.
Gimmicky? Of course. Outrageous? You bet. But at $1.4 million, Strawberries Arnaud easily takes the cake as the planet's most expensive dessert.
It's ironic that the words most used to describe dessert — rich, sinful, decadent — belie the relatively modest ingredients used to make them: flour, eggs, cream and — in the case of Arnaud — berries. Because of these otherwise ho-hum raw materials, desserts have lagged behind the price points of more traditionally swanky foodstuffs like truffles and steaks.
As a result, pastry chefs have come to rely on presentation and precision to attach luxury price tags to their creations. And a good shtick doesn't hurt. Precious cacao hauled by donkeys through the jungles of Venezuela? A leprechaun's pot of edible gold leaf? Jewels and personal jazz bands?
"Diners are bored," says Mitchell Davis, spokesman for the James Beard Foundation. "They're looking for new and absurd ways to tantalize themselves." International pastry chefs have heeded the call by adding outlandish and unexpected ingredients to the meal's dénouement, from haute couture macaroons to cakes wrapped in edible gold leaf to, well, a bowl of strawberries with a side of diamonds.
We spoke with top pastry chefs, heads of culinary associations and restaurateurs worldwide to catalog some of the world's most expensive desserts. Many don't necessarily come from the most expensive restaurants, nor even the most exclusive patisseries (though there are exceptions). Rather, they're found in pricey hotels where diners seek out an overall luxury experience.
The second priciest dessert on our list? The Fortress Stilt Fisherman Indulgence, at the luxury resort Fortress in Galle, Sri Lanka. Available at the hotel's Wine3 restaurant, this cassata in a "vase" made of sugar makes it look more like sculpture than dessert. On an upright sliver of chocolate — shaped to look like a fisherman — sits a native, 80-carat aquamarine. Cost: $14,500.
The dessert was conceived less than a year ago, and is available only with advance notice. "The restaurant doesn't have a drawer full of aquamarines in the kitchen," says spokeswoman Suzanne Snart. Despite many inquiries from around the world, as yet there have been no sales.
Though forever on the hunt for new indulgences, American foodies are, on the whole, less willing than Europeans to spend vast sums of money on confectionary masterpieces. Which may explain why only two American desserts are featured on this list — Knipschildt Chocolatier's $250 truffle and a $50 dollop of mousse at the Waldorf=Astoria in New York.
"It's more frowned upon here," says pastry chef William Goldfarb, proprietor of the popular dessert bar Room 4 Dessert in New York City, where innovative creations may go for just $14.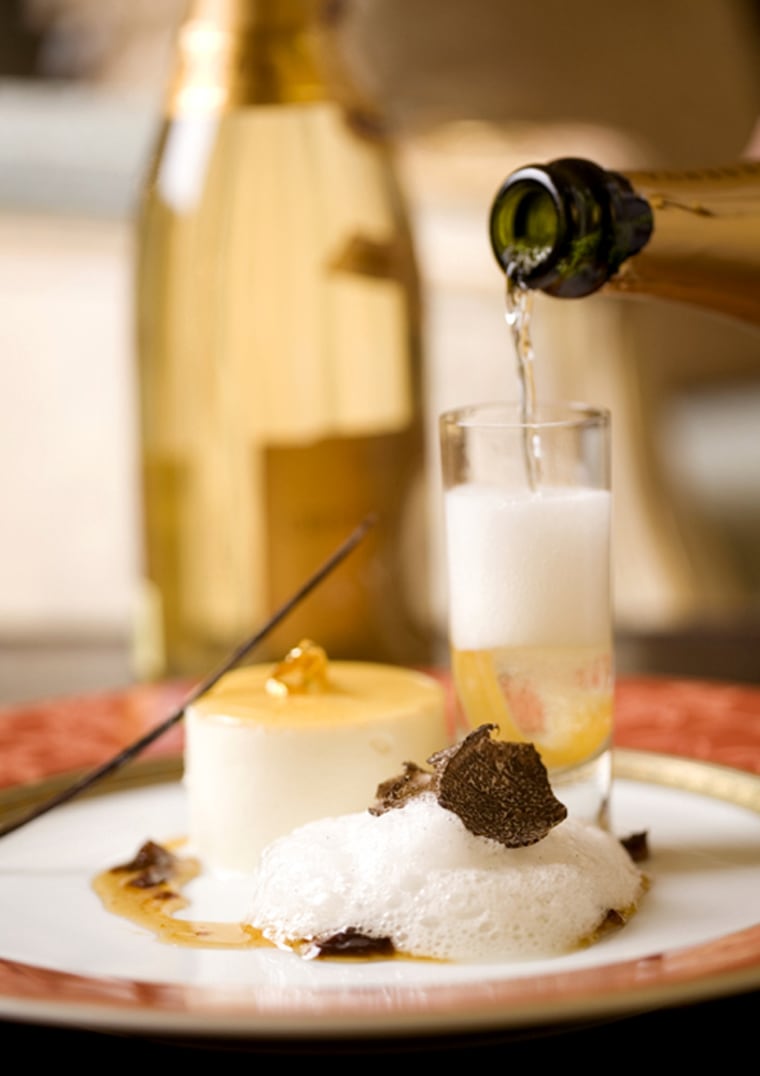 "I did a $100 crème brûlée for a restaurant and it didn't sell well," says Goldfarb. "Consumers think it's obnoxious." Pastry chef Francois Payard agrees. At his eponymous patisserie in New York, Payard's special $100 Valentine's Day cake met with lackluster response. "Americans don't associate luxury with food, but with handbags," he says. "Europeans have a different perspective. A $140 cake in Paris isn't shocking."
(Incidentally, two very expensive American desserts were dropped from the list: the $1,000 Golden Opulence Sundae and $25,000 Frozen Haute Chocolate, both from Serendipity 3 in New York City. The restaurant was closed temporarily by the health department late last year.)
But are Europeans shocked by a $7,500 macaroon? If anyone can get away with charging an arm and a leg for a hit of sugar, it's Pierre Hermé, regarded as one of the finest pastry chefs in the world. Famous for his macaroons, the pastry chef's Macaron Haute Couture turns his kitchen into a culinary atelier by discussing with the customer the key ingredients for their own, one-of-a-kind cookie recipe. Think: red pepper, chocolate and raspberry macaroons. They can even be monogrammed or embellished with a family coat of arms.
According to the James Beard Foundation's Mitchell Davis, there are two categories of expensive desserts. "Those that are priced in the $20 to $30 range — which is still considered expensive — tend to sell well. Anything over that tends to be unpopular."
Popular or not, $30 desserts barely made our B-list. Which isn't to say the world's expensive desserts are outrageously expensive; a few are quite reasonable, in fact. The point is, they're among the world's finest confections — and the fine things in life don't come cheap.