Wrinkles have become optional. So have age spots, forehead furrows and baggy eyelids. 
Name a badge of aging and there's a fix being peddled by your local dermatologist or plastic surgeon. Crow's feet? Freeze them with Botox. Laugh lines? Inject them with Restylane. Saggy neck? Tighten and tuck with a scalpel.
But is all this really making us look younger? Or just weirder?
Tamara O'Connor, 48, says the latest and greatest in the anti-aging armory helped her win the battle against wrinkles. But the victory was nothing to smile about.
A couple of summers ago, O'Connor visited a shiny new medical spa in Coeur d'Alene, Idaho for a consultation about the frown lines sprouting between her brows. She was starting to fret about such things since she'd recently gone through a divorce and was dating again.
After taking a series of close-up photos of O'Connor from every angle, the nurse proceeded to pick apart her every crease and crinkle. "I had never even noticed all this until they pointed it out. But after that I felt like jeez, I look old, I've got crow's feet and apparently the corners of my mouth droop; I need some serious help," recalls O'Connor, a project manager for an interior design company.
By the time she left, her face had been pumped full of $1,500 worth of Botox and the wrinkle-plumper Restylane. Within a day, the corners of her eyes and mouth were frozen and her smile lines were vanquished.
"Oh my God, I looked like a zombie. It wasn't my face anymore," O'Connor says. "You know when you're mad and somebody tells you to smile so you flash them that purposely fake smile, where your lips move but you keep the rest of your face frozen? Well, that's what my smile looked like all the time."
The field of cosmetic surgery is at its best when it comes to correcting perceived flaws, like a crooked nose, and enhancing assets, such as bust size. But replicating the look of youth seems to pose a more difficult challenge.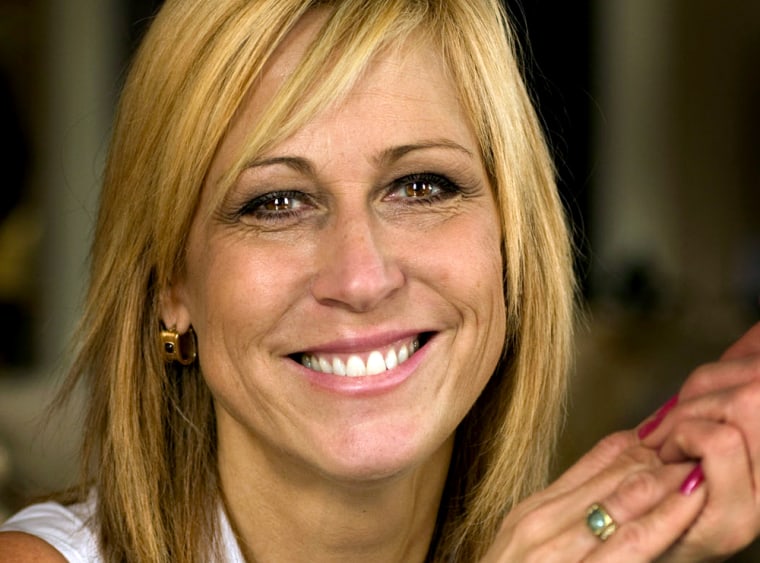 Plenty of people are looking tighter, yes. Wrinkle-free and smooth-skinned, indeed. But not exactly young — and increasingly, not exactly human.
"I didn't look like a normal healthy person; I looked like I was wearing a strange mask," O'Connor recalls of the nearly a year it took before all the wrinkle injections faded away.
When her smile lines finally returned, she was happy to see them.
"I had always thought I would do anything to stop the hands of time, that I'd get rid of those wrinkles as soon they arrived, but this turned out to be somewhat of a blessing because it showed me that wrinkles aren't the enemy," O'Connor says. "It was God's way of telling me to let it go."
Winning the battle, not the war
Plastic surgeons are among the first to admit that the pursuit of youth isn't always pretty.
"We've all seen some bizarre-looking results … the fish-lip syndrome, the over-Botoxed celebrity who looks like her forehead is made of porcelain, the brow lift that leaves somebody in a perpetual state of surprise … or eyelid lifts that are so extreme that somebody ends up looking like a cadaver," says Dr. Joseph Gryskiewicz, a cosmetic surgeon with a practice outside Minneapolis and a spokesperson for the American Society of Plastic Surgeons.
Hollywood has long determined how we want to look when we walk out of the cosmetic surgeon's office, from Angelina Jolie-inspired lip plumping to Halle Berry's perfect little nose. But celebrities are also visible examples of surgery's shortcomings.
At 62, Priscilla Presley's once-stunning cheekbones are now buried in flesh that looks as puffed and wrinkle-free as a marshmallow. Country music star Kenny Rogers, 69, whose facial work has made him practically unrecognizable and oddly feminized, complained to People magazine that plastic surgery left him "too tight around the eyelids." And Courtney Love, 43, now on her second round of revision work to undo a series of procedures that left her face looking tight, lumpy and lopsided, wrote on her MySpace page: "I have to restore myself to not looking ridiculous."
But such cautionary tales aside, cosmetic surgery is more popular every year. Nearly 12 million cosmetic procedures were performed in 2007 — a 7 percent increase from 2006 and a 59 percent increase from 2000, according to the plastic surgery group. The staples of the age-defying arsenal — facelifts, eyelid tucks, Botox and injections of wrinkle-plumping substances — all rose last year.
Frozen is the new wrinkle
Through a combination of such procedures an ambitious surgeon can spackle, stuff and carve a face utterly devoid of lines. On shows like "The Real Housewives of Orange County," the 40-something moms have unlined faces while their teen daughters have smile crinkles.
An interesting side effect is that such faces can end up drawing even more attention to age in a what's-wrong-with-this-picture way. One immediately starts wondering: How old is she, anyway?
Among some circles — troupes of women in L.A., Dallas, Miami and Manhattan's Upper East Side — the cookie-cutter look of fillers and Botox has supplanted the natural marks of aging. These women don't get saggy, baggy and lined with age; they get ever smoother and expressionless.
Gryskiewicz says bad or "overdone" cosmetic surgery results are a matter of patients and doctors reaching too far and falling flat. "When people are trying to get rid of every wrinkle, when they're trying to look 25 when they're 60, that's when they overdo it and can look plastic," he says. "If you want to look natural, then less is more."
The problem with this, of course, is that moderation is about achieving moderate goals. And there's nothing moderate about freezing time.
The pressure women are feeling these days is not simply to look good for their age. Rather, it's not to age at all. (And the pressure is felt far more acutely among women. Of the 11.8 million cosmetic procedures performed in the U.S. in 2007, less than 10 percent were done on men.)
Maggie Little, a bioethicist at Georgetown University, worries that our culture is in a state of denial about aging.
"The notion of what we're supposed to look like comes from celebrities and it's really distorted," she says. "As a culture, we've developed this very narrowed view of beauty — only one decade, the 20s." We spend adolescence gearing up for this peak, Little says, and then we spend the rest of our lives trying to reclaim it.
And in some cases, the very 20s are being spent just trying to hold on.
Dr. Tina Alster, a dermatologist in Washington, D.C., says she's seeing more patients in their 20s and 30s coming in for "preventive" Botox — aimed at keeping wrinkles from forming in the first place. "They're starting to see when they squint or frown the lines stick around for awhile and they come in and say, 'I don't want to look like my mother.'"
Over the past couple of years Botox has become the most popular cosmetic procedure for female patients ages 19 to 35, with nearly 400,000 wrinkle-reversing (or preventing) treatments in 2007.
Last month, Rachel Cothran, 26, visited Alster for her very first Botox fix smack between her brows, where she was starting to notice the beginning traces of a furrow. "Nip it in the bud," she says. "Why wait until you're older and completely dissatisfied?"
Cothran, who considers preventive Botox "a no-brainer — like wearing sunscreen" says she and her friends are thinking about aging much earlier than their parents' generation. "Things are happening so much younger these days — 19-year-olds start companies like Facebook, and 26 doesn't feel like a spring chicken anymore, so there's pressure not to show your age even when you're still pretty young."
Losing the forest for the trees
The increasing obsession with perfectly smooth, unlined, ageless skin is reminiscent of what Dr. Katharine Phillips sees in her psychiatric practice that specializes in treating patients with body dysmorphic disorder (BDD). These patients become so obsessed with perceived flaws that it can overtake their lives, says Phillips, a professor of psychiatry at Brown Medical School and Butler Hospital in Providence, R.I.
"I'm not saying it's pathological or problematic to pay attention to your appearance or pursue treatments for aging," says Phillips. But like patients with BDD, some women can become so myopic about their imperfections — a crease between their brows, a line around their mouth, a droop of the eyelid — that they lose sight of the forest for the trees, she says.
Perhaps that's how so many women end up looking bizarrely puffed, pulled or frozen-faced, yet are thrilled — because that pesky wrinkle is gone.
Plastic surgeons can be just as guilty of zeroing in on specific flaws at the expense of someone's overall appearance, says Dr. Sam Hamra, a Dallas plastic surgeon who specializes in revision facelifts.
"Even good plastic surgeons, I'm not talking quacks here, too often are taking normal-looking people and making them look abnormal," Hamra says.

Hamra is probably the closest thing the plastic surgery community has to a whistle-blower. A decade ago, he published an article in the journal Plastic and Reconstructive Surgery blasting the unnatural looking results of most facelifts. "Everyone has seen it — it's that pulled-back look and those hollow-looking eyes. Go to a party in Aspen or Palm Springs and these ladies look like they're standing in a wind tunnel."
That's because the traditional facelift — still done in most cases — pulls back the cheeks and lower face, often giving the face the look of a stretched mask. Hamra developed and teaches a technique called the "composite facelift," in which he hikes up the forehead and cheeks while pulling back the lower face to avoid the swept-back look. This takes a lot more time in the operating room and that eats into a surgeon's profits, which is why Hamra says it hasn't been widely adopted.
Veda Combs, a 70-year-old plastic surgery veteran from outside Dallas, says it took three facelifts to get it right. The first one, intended to get rid of "that turkey thing hanging from under my chin" left her looking "like he pulled back my face and tied it behind my ears." So she went to another surgeon to try to correct this and at the same time lift up her sagging brow. "This time my forehead was pulled so tight that it looked like my eyes were propped open like an owl. I looked like I was constantly being startled."
After reading about Hamra's approach, Combs came to see him in November 2006. Hamra undid the telltale swept-back look with his technique. "Now I look more natural; still, people nearly fall out of their chairs when they hear I'm 70," Combs says.
"You know, when you're all pulled back tight and don't have any wrinkles, it draws even more attention to your age," Combs says. "It's like those older women who try to dress all young and skimpy — it just makes you notice that they're old." 
Youth and beauty
The problem, according to Bobbi Brown, the makeup artist and cosmetics tycoon, is we've confused the issues of youth and beauty.
"Some of the most beautiful women that I meet have lines on their face," says Brown, 51, whose book "Living Beauty" shows women how to look their best with makeup meant to enhance their best features.
In her view, women who try to blast away every line and wrinkle with surgery or shots end up failing on both counts. "They certainly don't end up looking beautiful and they don't end up really looking younger either," she says.
"I was looking at one of those women, a celebrity on TV, the other day and you don't look at her at think wow, she looks like a beautiful 24-year-old; you think, who is that 40-year-old weird-looking lady?"