/ Source: msnbc.com news services
Myanmar's Irrawaddy delta remained largely cut off from the rest of the world Tuesday, four days after a cyclone unleashed winds, floods and high tidal waves on the densely populated region, killing nearly 22,000.

State radio reported that more than 41,000 others were missing in the wake of Asia's deadliest storm since 1991.
With the death toll expected to mount and as many as 1 million possibly left homeless, the international community was poised to deliver aid to the military-ruled country, which normally keeps out most foreign officials and restricts their access inside the country.

Some aid agencies reported their assessment teams had reached areas of the largely isolated region but said getting in supplies and large numbers of aid workers would be difficult.
Images from state television showed large trees and electricity poles sprawled across roads and roofless houses ringed by large sheets of water in the Irrawaddy River delta, which is regarded as Myanmar's rice bowl.
'Final death toll may be huge'
"From the reports we are getting, entire villages have been flattened and the final death toll may be huge," Mac Pieczowski, who heads the International Organization for Migration office in Yangon, said in a statement.
Power remained cut for the fourth day for almost all 6.5 million residents of Yangon, the country's largest city, while water supply was restored in only a few areas.

Buddhist monks and Catholic nuns wielding knives and axes joined residents in clearing roads of ancient, fallen trees that were once the city's pride.

Concerns mounted over the lack of food, water and shelter in the delta as well as diseases spawned by Cyclone Nargis in a country with one of the world's poorest health systems.
President Bush urged Myanmar's military rulers on Tuesday to accept U.S. disaster response teams that so far have been kept out and said the United States stood ready to "do a lot more" to help.
"The military junta must allow our disaster assessment teams into the country," Bush told reporters. He said he was prepared to make U.S. naval assets available to help in search and rescue efforts.
"So our message is to the military rulers: let the United States come and help you help the people," Bush said.
The White House later announced $3 million in aid after an initial pledge of $250,000 on Monday.

The U.S. Navy has three ships in the Gulf of Thailand that could be dispatched to Myanmar if needed. The USS Essex, an amphibious assault ship, as well as two other vessels in its strike group — the USS Juneau and the USS Harper's Ferry — are there preparing to participate in an annual exercise with Thailand naval forces.
Pentagon spokesman Bryan Whitman said the U.S. military is ready to move Navy ships to Myanmar but will not do that until assistance is authorized. The Navy said it would take the ships about four days to make the trip.
The Myanmar military, which regularly accuses the United States of trying to subvert the regime, is unlikely to allow U.S. military presence in its territory.
French help turned down
In France, Foreign Minister Bernard Kouchner also expressed regret over Myanmar's policy on international aid, saying the country insists only on aid that the government would distribute itself and has spurned French as well as U.S. offers of personnel.
The country's modus operandi is "not a good way of doing things," said Kouchner, the co-founder of French aid group Doctors Without Borders, said he himself had applied for a visa to travel to Myanmar to help coordinate, but was highly doubtful it would be granted.
France has so far proposed $309,200 in aid. "It's not a lot but we don't really trust the way the Burmese ministry would use the money," he said.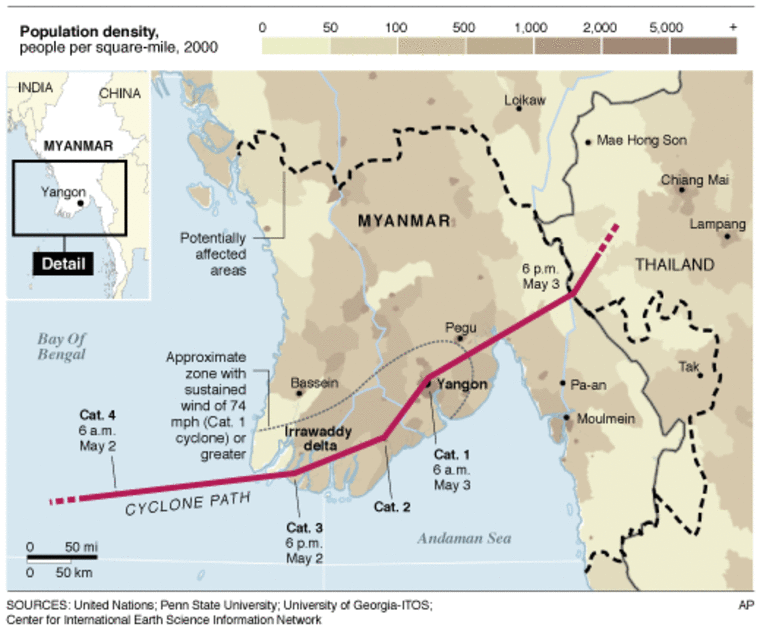 Richard Horsey, Bangkok-based spokesman for the U.N. Office for the Coordination of Humanitarian Aid, said the airport closest to the delta region was located in Yangon.

"The biggest problem will be to reach the affected areas. There will be a huge logistical problem," he said.  "The big concern is waterborne diseases. So that's why it's crucial to get safe water in. Then mosquito nets, cooking kits and clothing in the next few days.
"Food is not an emergency priority. Water and shelter are."

Storm surge
The cyclone triggered a massive storm surge that swept inland and left victims with nowhere to run, killing at least 10,000 people in one town alone.
"More deaths were caused by the tidal wave than the storm itself," Minister for Relief and Resettlement Maung Maung Swe told a news conference in the devastated former capital, Yangon, where food and water supplies are running low.
"The wave was up to 12 feet high and it swept away and inundated half the houses in low-lying villages," he said. "They did not have anywhere to flee."
Relief efforts for the stricken area, mostly in the low-lying Irrawaddy River delta, have been difficult, in large part because of the destruction of roads and communications outlets by the  storm. The first assistance from overseas arrived Tuesday from neighboring Thailand.

Information Minister Kyaw Hsan said the military were "doing their best," but analysts said there could be political fallout for military rulers of the former Burma who pride themselves on their ability to cope with any challenge.

Giving the first detailed account of the worst cyclone to hit Asia since 1991, when 143,000 people died in Bangladesh, Foreign Minister Nyan Win said on state television 10,000 people had died just in Bogalay, a town 50 miles southwest of Yangon.
"The losses have been much greater than we anticipated,"  Thai Foreign Minister Noppadol Pattama said after a meeting with Myanmar's ambassador to Bangkok. Myanmar's ambassador, Ye Win, declined to speak to reporters.
The U.N. World Food Program, which was preparing to fly in food supplies, offered a grim assessment of the destruction: up to a million people possibly homeless, some villages almost totally destroyed and vast rice-growing areas wiped out.

"We hope to fly in more assistance within the next 48 hours," WFP spokesman Paul Risley said in Bangkok. "The challenge will be getting to the affected areas with road blockages everywhere."
The country's ruling military junta, which has spurned the international community for decades, urgently appealed for foreign aid at a meeting Monday among Nyan Win and diplomats in Yangon.
'Aftermath could be more lethal'
"Our biggest fear is that the aftermath could be more lethal than the storm itself," said Caryl Stern, who heads the U.N. Children's Fund in the United States. UNICEF said it had dispatched five assessment teams to three of the affected areas and lifesaving supplies were being moved into position.

Other countries, from Canada to the Czech Republic, reacted quickly to the crisis with pledges of aid.

The European Commission was providing $3.1 million in humanitarian aid while the president of neighboring China, Hu Jintao, promised assistance without offering details.

The diplomats said they were told Myanmar welcomed international aid, including urgently needed roofing materials, medicine, water purifying tablets and mosquito nets. The Thais sent a shipment of 9.9 tons of such supplies.
The appeal for assistance was unusual for Myanmar's ruling generals, who have long been suspicious of international organizations and have closely controlled their activities.

The government had apparently taken few efforts to prepare for the storm, which came bearing down on the country from the Bay of Bengal late Friday.

"The government misled people," said Thin Thin, a grocery story owner in Yangon. "They could have warned us about the severity of the coming cyclone so we could be better prepared."
Yangon was without electricity except where gas-fed generators were available and residents lined up to buy candles at double the usual price. Most homes were without water, forcing families to stand in long lines for drinking water and bathe in the city's lakes.
However, analysts said there could be big political fallout for a military junta that has prided itself on its ability to cope with any challenge thrown its way.
"The myth they have projected about being well-prepared has been totally blown away," said political analyst Aung Naing Oo, who fled to Thailand after a brutally crushed 1988 uprising. "This could have a tremendous political impact in the long term."