/ Source: The Associated Press
The Red Cross on Wednesday boosted its estimate of the cyclone death toll in Myanmar to as many as 128,000 — a much higher figure than the government tally. The U.N. warned a second wave of deaths will follow unless the military regime lets in more aid quickly.
The grim forecast came as heavy rains drenched the devastated Irrawaddy River delta, disrupting aid operations already struggling to reach up to 2.5 million people in urgent need of food, water and shelter.
"Another couple of days exposed to those conditions can only lead to worsening health conditions and compound the stress people are living in," said Shantha Bloemen, a spokeswoman for UNICEF.
A tropical depression in the Bay of Bengal added new worries, but late in the day forecasters said it was weakening and unlikely to grow into a cyclone.
Myanmar's government issued a revised casualty toll Wednesday night, saying 38,491 were known dead and 27,838 were missing.
The International Federation of Red Cross and Red Crescent Societies, however, put the number of dead at between 68,833 and 127,990. It said it arrived at the range from a compilation based on other estimates from 22 different organizations, including the Myanmar Red Cross Society, and on media reports.
Even though the figures seemed precise, spokesman Matthew Cochrane said they were not based on body counts, but were only rough estimates designed to provide Red Cross donors and partner organizations with an idea of the numbers being discussed within the aid community.
U.N. officials said there could be more than 100,000 dead.
The Red Cross estimated the number of people needing help after cyclone surged over the low-lying delta on May 3 at between 1.64 million and 2.51 million.
But the junta still refused to accept much help from foreign aid experts, who have vast experience in handling humanitarian crises.
It insisted Myanmar can handle the disaster on its own — a stance that appeared to stem not from the isolationist regime's ability but from its deep suspicion of most foreigners, who have frequently criticized its human rights abuses and crackdowns on democracy activists.
'Second wave of deaths' feared
"The government has a responsibility to assist their people in the event of a natural disaster," said Amanda Pitt of the U.N. Office for Humanitarian Affairs.
"We are here to do what we can and facilitate their efforts and scale up their response. It is clearly inadequate, and we do not want to see a second wave of deaths as a result of that not being scaled up," she said.
Myanmar's prime minister, Lt. Gen. Thein Sein, told visiting Thai Prime Minister Samak Sundaravej on Wednesday that the government was in control of the situation and didn't need foreign experts.
"They have their own team to cope with the situation," Samak said after returning to Bangkok. He said the junta gave him a "guarantee" that there was no starvation or disease outbreaks among survivors.
But critics say the government is woefully lacking in helicopters, trucks and boats as well as planning expertise needed to distribute aid to survivors, who have jammed into monasteries and relief centers or are camping outside.
U.N. agencies and other voluntary groups have been able to reach only 270,000 of the affected people, said Elisabeth Byrs of the U.N. Office for Humanitarian Affairs in Geneva.
She said the World Food Program would need 55,000 tons of rice to feed 750,000 people for three months, but the agency had been able to ship in only 361 tons so far.
Thai doctors get OK
The junta did grant approval Wednesday for a Thai medical team to visit the delta, said Dr. Thawat Sutharacha of Thailand's Public Health Ministry. If the team goes as scheduled Friday, it will be the first foreign aid group to work in the ravaged delta.
Myanmar has limited the few international aid workers in the country to Yangon, the country's biggest city, and used police to keep foreigners from going to the delta.
The government gave a little ground to demands that it let in more experts. It announced it would allow in 160 relief workers from neighboring countries — India, China, Bangladesh and Thailand. It was not clear whether they would be permitted to go to the delta.
In New York, U.N. humanitarian chief John Holmes welcomed the junta's move. But he said it was not enough and demanded that Myanmar open its borders to foreign relief specialists and let outsiders work in the Irrawaddy delta.
"The relief getting through under the kind of restrictions we're operating under is by no means adequate to the task, and it's hard to see how just continuing with the status quo can ever be sufficient in the current critical time period that we're working in," Holmes said.
U.N. Secretary-General Ban Ki-moon called a meeting of key donors and Myanmar's neighbors to weigh options for speeding aid to cyclone victims.
"Even though the Myanmar government has shown some sense of flexibility, at this time it's far, far too short," he said. "The magnitude of this situation requires much more mobilization of resources and aid workers."
He also expressed frustration that he had not been able to arrange direct talks with the junta's chairman, Senior Gen. Than Shwe, despite repeated phone calls and letters.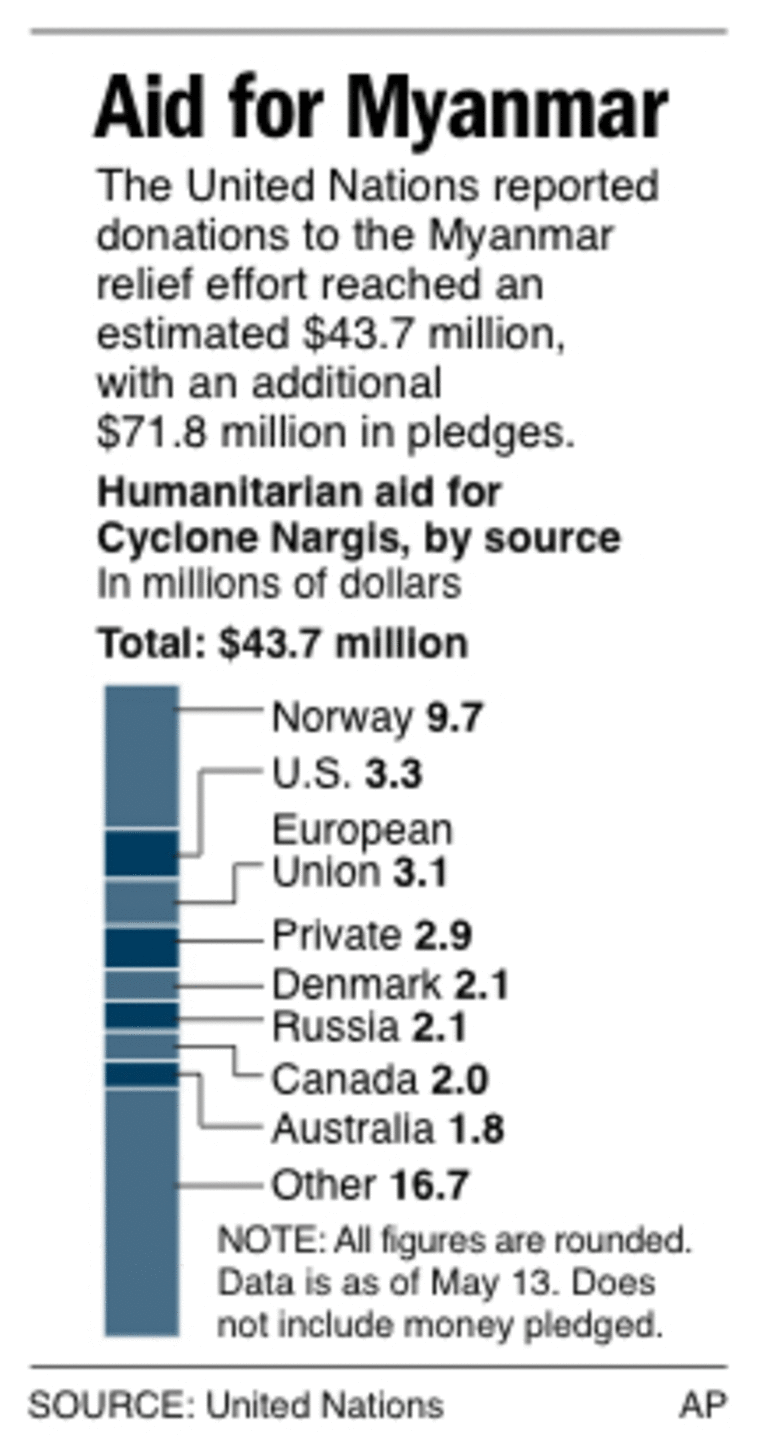 While it has kept out all but a few foreign aid workers, the regime has accepted tons of provisions sent by international donors, including the United Nations and the United States.
Five U.S. C-130 military transport planes delivered drinking water, blankets, mosquito nets and plastic sheets Wednesday. Lt. Col. Douglas Powell said 197,080 pounds of provisions had been sent in on eight U.S. flights since Monday.
The Bush administration said it will keep sending assistance to the cyclone victims despite concerns that the junta may be confiscating the aid.
The State Department renewed an appeal for the junta to allow in outside disaster relief experts and more assistance. "This is not a political issue. This really is simply a humanitarian issue," said deputy spokesman Tom Casey.
The European Union's top aid official, Development Commissioner Louis Michel, said he was not opposed to the idea of parachuting aid into Myanmar, but said he did not think it was workable. Others have suggested unilateral air drops to circumvent the junta's restrictions.
Survivors join in rescue effort
Soldiers have barred foreign aid workers from reaching cyclone survivors in the hardest-hit areas, but gave access to an International Red Cross representative who returned to Yangon on Tuesday.
Bridget Gardner, the agency's country head, described tremendous devastation but also selflessness, as survivors joined in the rescue efforts.
"People who have come here having lost their homes in rural areas have volunteered to work as first aiders. They are humanitarian heroes," said Gardner.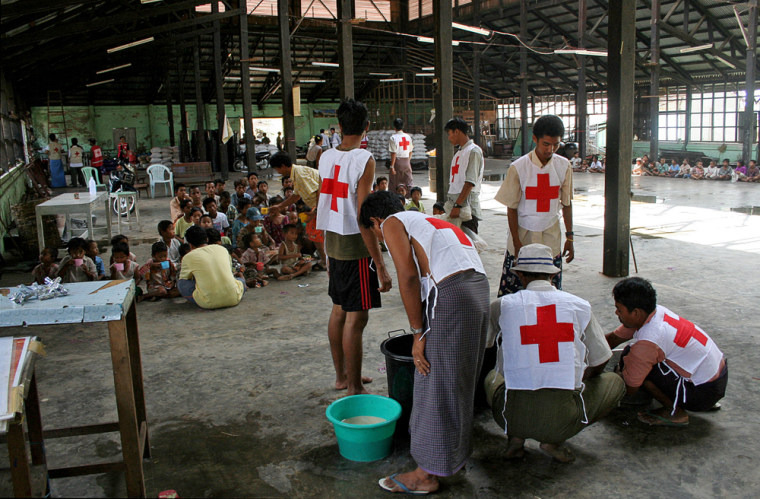 Gardner's team visited five locations in the Irrawaddy delta. In one of them, they saw 10,000 people living without shelter as rain tumbled from the sky.
"The town of Labutta is unrecognizable. I have been here before and now with the extent of the damage and the crowds of displaced people, it's a different place," Gardner was quoted as saying in a statement by the International Federation of Red Cross and Red Crescent Societies.
In Labutta and elsewhere she said volunteers were giving medical aid to hundreds of people a day even though "they have no homes to go back to when they finish."
Some survivors of Cyclone Nargis were reportedly getting spoiled or poor-quality food, rather than nutrition-rich biscuits sent by international donors, adding to suspicions that the junta may be misappropriating foreign aid.