June is the marrying month, known to many single people as the time when life as you know it comes to an end.
This story is dedicated to the male half of the coming, blessed event. What better way to celebrate a life of love and bondage than one last wild, lascivious blowout, especially if you can combine the bachelor party with a golf trip?
As far as the golf goes, WorldGolf.com has you covered ...
Phoenix-Scottsdale
A walking golf course may sound like a strange choice for a bachelor party trip, but the Saguaro Course at We-Ko-Pa Golf Club is not your ordinary golf course.
For one thing, less than 50 percent of the people who play it actually end up walking. For another, the option to walk in the middle of the desert is only one small part of what sets this Bill Coore and Ben Crenshaw design (yes, the same guys from Bandon Trails) apart.
Saguaro provides a striking setting with the green of the fairways contrasting sharply with the hulking desert bushes that creep in here and there. Set on an American Indian reservation, there are no houses and no plans for ever having houses, and Coore and Crenshaw often set the greens back around bends and up on ridges to add to the sense of isolation.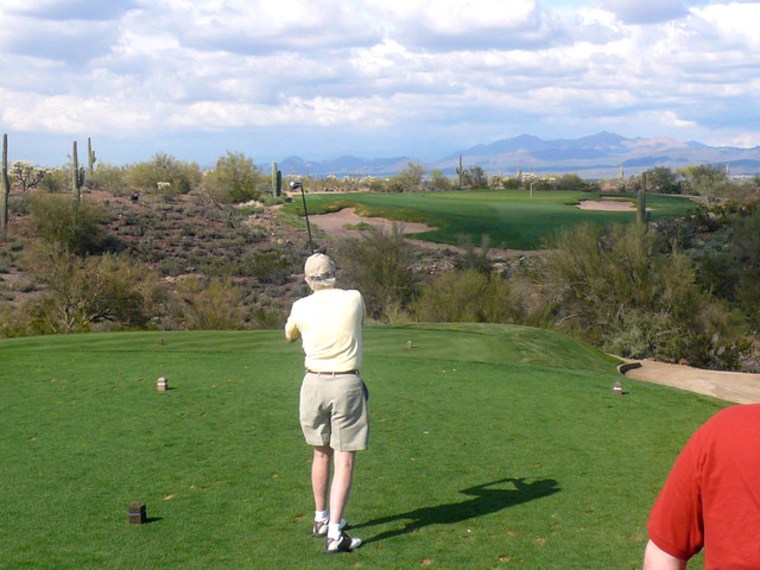 So go ahead and walk off that hangover. You get Speedcarts for your clubs that motor along besides you (it's not exactly roughing it) and you won't regret it.
For those seeking a great splurge bachelor bash, it's still hard to beat Troon North Golf Club and its two courses. Especially after original designer Tom Weiskopf completed a revamp rerouting of Scottsdale's high-end golf institution last year.
The $295 high-season, prime-time green fees can make the other bachelor party entertainment seem less expensive too (you can actually play Troon North's Monument or Pinnacle Course for only $55 in the summer, though).
For entertainment, the Mondrian Hotel (7353 East Indian School Rd., tel. 480-308-1100) and its Red Bar is a good party central place for a bunch of rowdy guys. "Oh yes, absolutely," said Assistant Manager Katie Evans. "The area is great for a bachelor party. We're within walking distance of all the restaurants and clubs or a five-minute cab from everywhere."
Palm Springs, Calif.
If you're more interested in golf than close encounters with silicone on your bachelor retreat, La Quinta Resort & Club in greater Palm Springs could be the answer. You get five courses to choose from within a very easy drive (or shuttle) from the resort.
The Palm Springs area does not come close to the strip club power of Las Vegas and Phoenix-Scottsdale, but it is bachelorette party central for many young women from Los Angeles. Head to the Desert Springs JW Marriott in nearby Palm Desert, 74855 Country Club Dr., tel. 760-341-2211), the luxury hotel version of a chick flick, and you'll have no trouble finding brides-to-be and bridesmaids who are looking to let loose just as much as you.
Las Vegas
Those who want to stay right on The Strip and never leave have only two options in Las Vegas golf — Bali Hai Golf Club and the Tom Fazio course at the Wynn Las Vegas (and you have to stay at the Wynn to get to pay $500 to play the Wynn). If you're willing to give up some party time, a lot more options open up in Las Vegas golf.
Head out to Paiute Golf Resort, a good half hour from The Strip, and you'll find three golf courses by architect Pete Dye in a desert setting that gives no sense of Las Vegas' building sprawl. The diabolical Wolf Course will surely give you some bachelor-bash war stories to take home.
Hungover and looking for a gentler escape? The Concord Course at Revere Golf Club has big mounding on its fairways that funnel some of even the ugliest hooks right back down into nice, safe fairway grass.
Of course, there are limitless options for crazy nightlife in Las Vegas.
Whistler, British Columbia
Chateau Whistler Golf Club opens with one of the hardest stretches in golf anywhere, a Robert Trent Jones Jr. mountain climb that can have even the best players shaking their heads. Once you're up in the mountain, though, it's just your group and what Whistler's known best for: Its nature scenery.
There are rushing creeks galore, towering trees and the occasional wandering black bear.
For a more laid-back — and cheaper — round — Whistler Golf Club is an Arnold Palmer course that the locals actually play. It's made for walking and you might shoot right over a beaver dam on one hole. (Palmer didn't design it in, the beavers came on their own.)
Whistler's village setup makes for a unique party scene with everyone milling around what's really a small area. The Whistler party circuit actually hits its greatest heights during ski and snowboard season, but if you're golfing there in the summer, spots like Buffalo Bills Bar and Grill (4122 Village Green, tel. 604-932-6613) should still be hopping. Buffalo Bills is known for attracting Cougars who are looking to be flattered and pursued like they were young again.

Myrtle Beach, S.C.
Myrtle Beach was invented for bachelor parties. In fact, it may be in the city charter. The sheer number of young women of the professionally exhibitionist kind is matched only by the quantity of golf courses. New York Weddings magazine recommended it as a top last-bash party spot.
Masters Club (1901 10th Avenue N., tel. 843-916-0972) is the largest gentlemen's club in the area. Golfers get half off the price of drinks or two-for-one if you show your scorecard. It also has a pro shop and an outdoor short course if you can tear yourself away from the show.
Masters also loves golfers on bachelor parties. "What we'll do is we'll comp (the future groom) and everybody in his party at the door," said Manager Michael McMahon.
You won't have problems finding a place to eat in Myrtle Beach; there are around 1,800 restaurants. Try Dick's Last Resort (4700 Hwy. 17 S, tel. 843-272-7794) for beer, wings and barbecue chicken in a bucket.
For golf, a canopy of ancient oaks envelops you as you make the drive to the Caledonia Golf and Fish Club clubhouse, and from there it just gets better. The course is routed through some of the best terrain in the Lowcountry — wind and beautiful — as befits a site where hunting and fishing has been going on virtually undisturbed for centuries.
Caledonia, which is part of the Waccamaw Golf Trail, is only one of several "must plays." Myrtle Beach golf courses run the gamut, from high-end beauty to more affordable, but playable, courses.
Biloxi, Miss.
If you're thinking about Biloxi, you're almost certainly thinking about casinos.
Casinos have it all — hotels, gambling and bars — and you never have to leave or take a limo. The Beau Rivage (www.beaurivage.com, 875 Beach Blvd., tel. 228-386-7111) is probably the classiest: Eli Manning had his bachelor party there.
There are a wealth of good golf courses in Biloxi. Fallen Oak Golf Club is the new star, but Shell Landing Golf Club, Grand Bear Golf Course and The Preserve Golf Club are all excellent plays.

Tampa, Fla.
Tampa has a great climate and Southern hospitality. It also has the beach nearby, a great place to lounge away the next day with a hangover.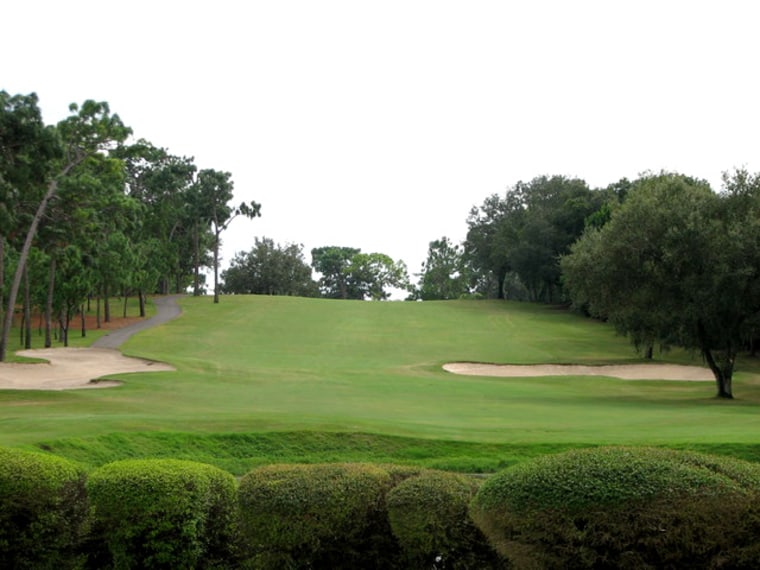 Some of the hottest bars in Tampa are Coyote Ugly (1722 E 7th Ave., tel. 813-242-8856) — the name may not be original, but it's a rowdy place with dancing bartenders and hanging bras — and Samurai Blue Sushi and Sake Bar (1600 E 8th Ave., tel. 813-242-6688) in Ybor City. Samurai Blue has vaulted ceilings 40 feet high, exposed brick walls, a sushi bar shaped like a tsunami and sake bar in the back.
If you're Irish or pretending to be, Dubliners Irish Pub (2307 W. Azeele St., tel. 813-258-2257) is a good bet, as is Four Green Fields (205 W. Platt St., tel. 813-254-4444).

The Green Iguana Bar and Grill (1708 E. 7th Ave., tel. 813-248-9555) has live music every night of the week, and the Tampa Bay Brewing Company (1600 E. 8th Ave., tel. 813-247-1422) has handmade beer and multiple bars.
If you're steady enough to make it out on the course, the Copperhead Course at the Innisbrook Resort and Golf Club in nearby Palm Harbor is considered one of the best resort courses in the country. Innisbrook just spent a bundle upgrading its Island Course, and the resort's other two courses are no slouches.
Additional reporting by Chris Baldwin