/ Source: The Associated Press
Cutting through the canopy some 60 feet high, Kew Gardens' new XStrata Treetop Walkway gives nature-lovers a look at a part of the forest that's seldom seen — a view from the top.
The Royal Botanic Gardens in Kew, in west London, is hoping the soaring steel walkway will allow the public to experience the environment hidden just above its tree line.
"Retrospectively it was a leap of faith," curator Nigel Taylor said, describing the difficulty of erecting the 448-ton structure at the heart of an 18th century landscaped garden.
But he said the 220-yard circular walkway allowed visitors to "see a side of the forest that was completely invisible."
Project manager Tony Kirkham said the walkway was aimed at showcasing every part of the tree — from top to bottom. Entry is through an underground chamber where bronze-cast roots poke out of the concrete, animatronic insects buzz and squirm behind glass portholes, and a glowing mosaic (representing fungi) casts an uneven light.
"It's meant to look like a factory," Kirkham said, "This is the engineering part of the tree."
Kirkham allowed that real roots would have been "pretty boring," but once at the top, the view is anything but.
The whole park stretches out from the various viewing platforms — on a clear day central London's skyscrapers, some 11 miles away, are visible.
Sweet chestnuts and American red oaks crowd around the structure, branching out over and under the walkway, their leaves poking gingerly through the crosshatches as a sparrow hawk wheels lazily overhead.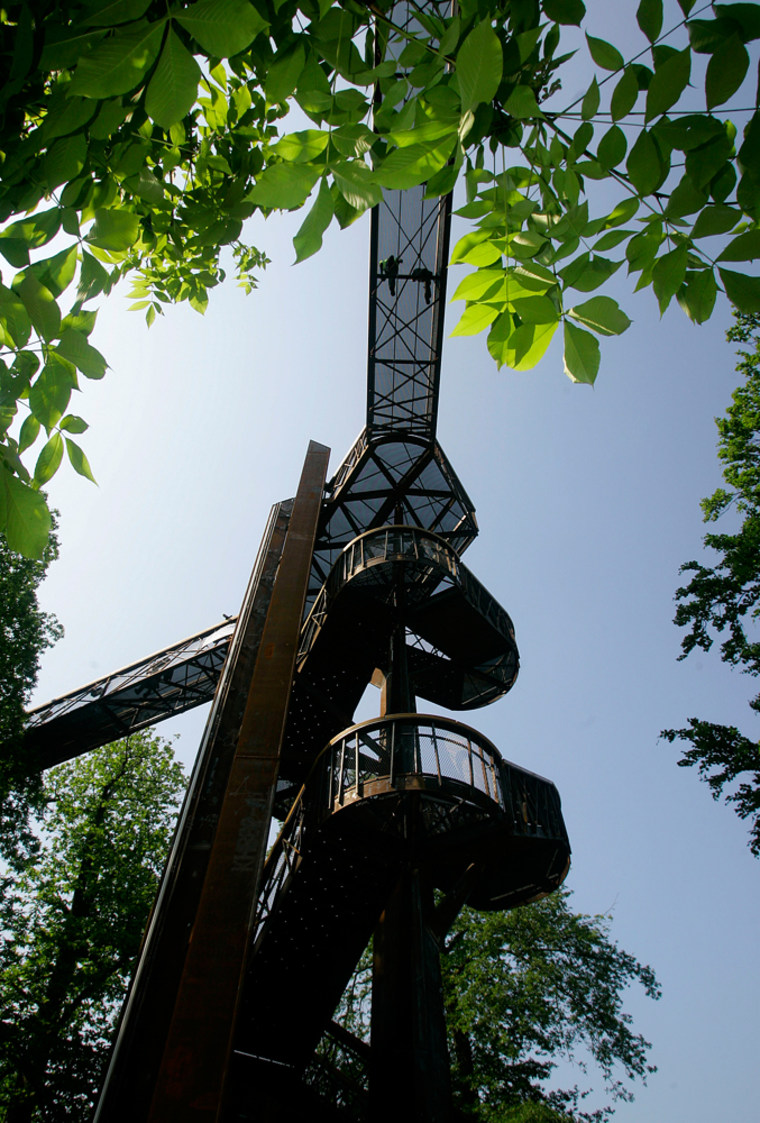 Pointing to a nest across from one of the platforms, Kirkham said the project would allow visitors to see Kew's bird and insect life in action, from Egyptian geese to a butterfly called "the purple hairstreak," which spends most of its time flitting around the canopy hunting for honeydew.
The walkway trembled in the breeze, although its backers promised there would be no "Millennium Bridge effect," a reference to the London bridge which developed an unnerving wobble soon after it was opened.
The structure itself is built of weathering steel — so-called because it quickly forms a protective outer layer of rust — and the railings are topped with laminated chestnut. The deep ruddy brown texture, the tapered pylons, and the branch-like struts carefully blend in to the surrounding grove, and it's possible to walk right by the walkway and miss it.
But the views from the platform aren't easy to pass up, and Kirkham promised even better to come when the oaks begin to turn red.
"The colors here in the autumn are going to be absolutely unmissable," Kirkham said. "Every time I go up there I see something new and it's always changing."
Kew Gardens, which covers some 326 acres of meticulously manicured lawns, flower beds, greenhouses, and forest, attracts more than 1 million visitors a year.