/ Source: Forbes Traveler.com
This might be the summer that you camp in your own backyard—or somewhere pretty close. With families reining in expenses and gas prices making heads spin, exploring close to home and using the gear you've got (tents, sleeping bags, or maybe a camper) could make for the most fun you've had in a long time.
There are thousands of campgrounds around the country, many of these in national and state parks and forests. Privately run camps, such as those in the KOA system ("Kampgrounds of America"), charge some fees, and a number of public lands require permits of various kinds. But if you take a do-it-yourself approach to everything else, you can manage to pull off some adventure on a sensible budget, with a little planning.
To pitch a tent in ocean breezes, your best bet for scenic coastal camping on the West Coast is Kirk Creek Campground in the northern section of California's Los Padres National Forest. It's situated on a bluff 30 miles south of Big Sur, and trails from the campground lead down to the rocky beach. If you somehow manage to tire of this place, go explore the sandstone formations in the Rancho Nuevo area (in the Dick Smith Wilderness), Morro Rock and the Seven Sisters, and the Piedra Blanca-Gene Marshall Trail, all in the southern section of Los Padres, southeast of San Luis Obispo.
The East Coast has Acadia National Park, on an island just south of Ellsworth, Maine. Seawall Campground sits at the southern end of the island, so it often sees less of a crowd than the campsites near Bar Harbor. A short stroll from Seawall takes you to the rocky shore, where fishing access can be found everywhere. Acadia also offers something not seen in many places: sea-cliff rock climbing. According to Acadia's Information Park Ranger, Wanda Moran, all the climbing routes will be open this summer.
A cool destination around Lake of the Ozarks is the Cotter Trout Dock fishing camp on Smith Island, at the confluence of the White and Buffalo rivers. Anglers who camp here make day-long, guided forays along both, and have very good chances for a bonanza of brown, rainbow and cutthroat trout in the cold White River, and for some serious smallmouth in the warmer Buffalo.
"We should have good, high water through September, because the Army Corps of Engineers is being prudent about water releases from the dam into the White River," says Debbie Gamble, co-operator of Cotter Trout Dock. "We should be able to do a lot of drift fishing for trout." She adds that 30-fish days are not unusual, and the brown trout can get big—upwards of five or six pounds, with a few fish going to eight—a massive trout anywhere in America.
Wildlife watchers who sometimes think that Rocky Mountain National Park seems to be a bit overrun with people who shout about or at every animal they see should keep moving northeast to Colorado State Forest, in the Medicine Bow Range. The state forest has less than half the acreage of Rocky Mountain, but it's got great backcountry camping on what are called "dispersed sites."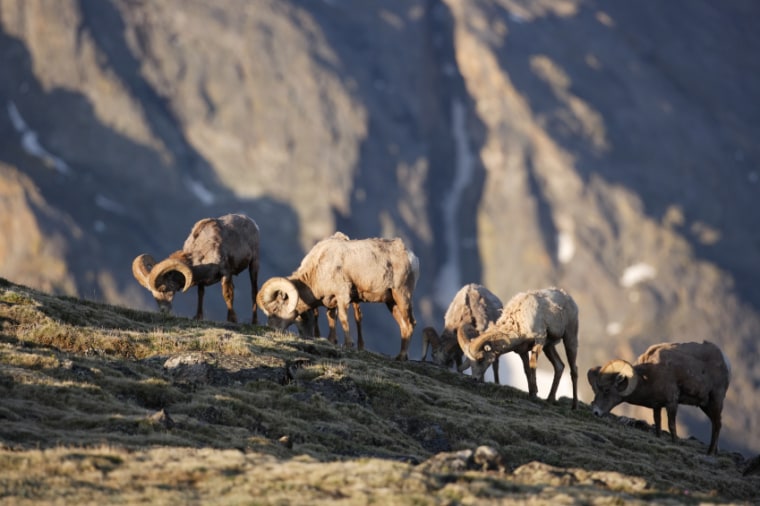 "A lot of our visitors are repeat users, but the state forest is still a bit unknown to some folks on the Front Range," says Kent Minor, the manager for Colorado State Forest.
As for as wildlife watching, Minor says, any of the backcountry roads, where most of the dispersed camp sites are located, offer good chances to see elk, moose, deer and occasional black bears, among much other fauna. The dedicated moose-viewing platform off County Road 41 usually doesn't get crowded. "On any day I can see as many or more moose here in the state forest than in other forests or parks elsewhere in Colorado," Minor says.
Those campers in the West who are willing to do a little hill climbing for the sake of a great eco-adventure should look to the San Gorgonio Wilderness Area in the San Bernardino National Forest. Located in the upper section of the forest, the 11,500-foot peak of San Gorgonio is popular with back-packers and climbers seeking incredible views of the Mojave Desert and Los Angeles. Book your backcountry pass as far in advance as possible, as there is a quota system in place, which is intended to make San Gorgonio as real a wilderness experience as possible. Vivian Creek Trail is the most used, with South Fork the second most popular method of summiting, so seek alternative, more secluded routes through the lower elevations that will ultimately connect with main trails closer to the summit. Off-trail camping is available in a number of areas. Trail conditions can be checked at San Gorgonio Wilderness Association.
In the East, some of the greatest Appalachian Trail scenes are available to those hikers who climb and camp on Roan Mountain, known for incredible views of rhododendron-covered hillsides and spruce groves. Access is through Cherokee National Forest in Tennessee, or Pisgah National Forest in North Carolina. Moving south from Carver's Gap to the Roan High Knob takes hikers through some of the thicker spruce on Roan. Look for rhododendron gardens a short distance off the main trail on High Knob, along gravel paths. After some steep climbs, those who want to pitch a tent off the trail can do so, but be careful of sensitive areas.
"It's best not to camp between Carver's Gap and Trail Shelter 3, because you'll be in some ecologically sensitive areas," says Morgan Sommerville, the Appalachian Trail Regional Director for N.C. and Tenn.
For dispersed camping, look for places away from gardens and spruce groves, mainly in hardwoods areas. For an actual camping structure, seek The Barn, along the Appalachian Trail past the section known as the Round Bald. Sommerville also suggests Yellow Mountain Gap. "There are some good, flat camp sites around Yellow Mountain Gap, and there are great views of the Roaring Creek Valley below," he says.
Finally, if being outdoors for you means taking it all off—check out the Juniper Woods Campground in Catskill, N.Y. "We're no different from any other kind of family campground, except that we're clothing-optional," says Peggy Kercher, an owner of the camp. "We get a lot of people from New York, Connecticut, Rhode Island and even Canada. And we're starting to see more younger couples in their twenties coming here."
Kercher emphasizes the easy-going, family-oriented atmosphere of Juniper Woods. The site features comfortable cabins and a lush, very green camp surrounded by trees. Plans for the two-hour nude cruise of the Hudson River in August are shaping up.
"When we get out a certain distance on the Hudson, the people on the boat are allowed to go nude," Kercher says.
For all these camps check the web sites before you go. Many national parks and forests require that you obtain wilderness-area permits (which are often free of charge or of nominal cost) before you arrive at the park. Always check conditions ahead of time, as land managers might have to close sections of forest to address fire damage or other environmental issues. And always be prepared for changes in weather, especially on mountains where temperatures can drop quickly, even in July or August.