If you're planning on a summer vacation that involves renting a car, you should brace for gas prices to keep rising right up to the moment you leave. Several cities' gas stations have already hit $4-a-gallon prices, and many oil experts say that $5 prices aren't far away.
But with a little planning and some luck, you might be able to save a few bucks on a car rental, as the major companies are offering an array of deals to retain customers as gas prices rise.
"Many Americans are feeling a financial pinch ... from record-high gasoline prices and other factors," says Robert L. Darbelnet, AAA president and CEO, in a prepared statement. "This spring, high gasoline prices appear to be dampening our society's intent to travel."
And if Americans are unhappy with gas prices, they're not exactly thrilled with the service they get from car-rental companies either. J.D. Power and Associates' 2007 Rental Car Satisfaction Study says overall customer satisfaction with renting at airports declined in 2007 from 2006.
None of that is likely to change, at least not this summer. Automakers have cut back on the number of vehicles allocated to car rental companies, thus reducing the availability of some affordable and fuel-efficient cars, say car-rental industry analysts.
On top of that, AAA reports that rental-car rates will increase, costing $45 a day on average this year to rent a car, compared with $31 a year ago.
Deep discounts
In hopes of attracting air travelers who might be thinking twice about shelling out for gas on top of rental-car rates and fees, agencies like Avis, Enterprise and Hertz are offering special deals in which rates are cut by 50 percent.
With an advance reservation, one can get a full-size car such as a Chevrolet Impala at the Los Angeles airport Hertz pickup for a total of $49.50 on a Friday and return it by Monday. The discount applies to the weekend rate before taxes, fees and airport charges, which raises the total rental to $74.82, with unlimited mileage. The normal rate is $124.32.
Other companies, like Alamo and National, are discounting certain options, such as navigation systems with turn-by-turn audio directions and routes to millions of locations, including gas stations and restaurants. Instead of paying the normal daily rate of $11.95, renters are getting the navigation systems for $5.98.
What's the catch?
Unfortunately, many of the deals rental agencies are offering are set to expire at the end of June and carry a variety of restrictions. It's unclear if the deals will extend into the peak travel months of July and August. Neil Abrams, president and founder of Abrams Consulting Group in New York, which tracks trends in the car-rental industry, says deals like these are "relatively new." Also, most of the deals don't apply to drivers age 25 and younger, and a 24-hour advance reservation is required.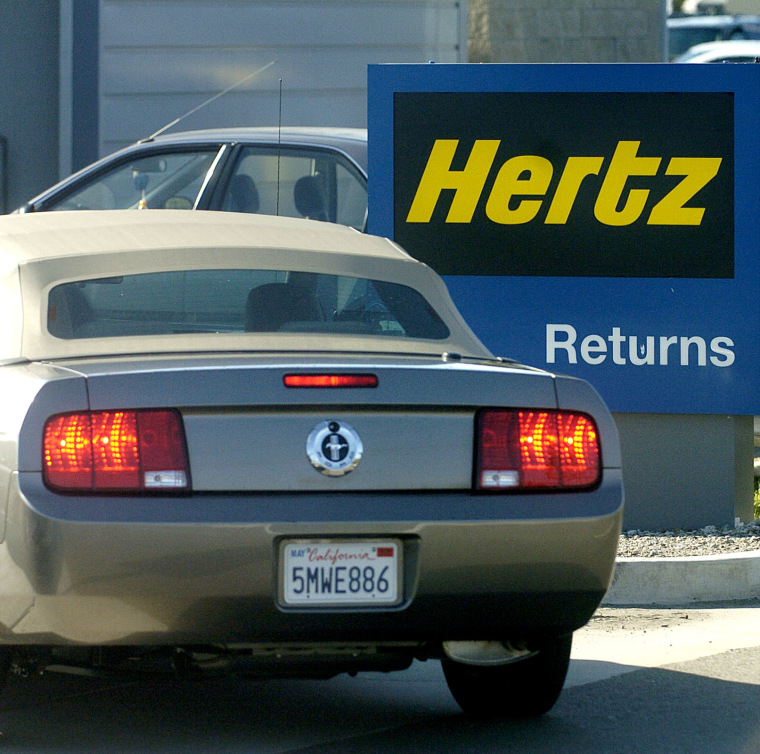 Visitors to Hawaii and the New York City metro area don't qualify for Hertz's 50 percent off weekend rentals that apply to small economy cars and larger full-size vehicles. And to save $30 on National's weekly car rental with unlimited miles, you have to keep the vehicle over a Saturday night and rent it for a minimum of five days.
Furthermore, many of the troubles plaguing the auto industry are showing up in the car-rental fleets, like slow-moving, gas-guzzling sport utility vehicles. That's why Alamo is renting mid-size SUVs at lower rates than smaller, compact SUVs. Vacationers can rent a mid-size SUV, like the Chevrolet Equinox, with an Environmental Protection Agency combined estimated average of 19 miles per gallon, for $37.99 a day, or $20 to $25 less than a compact SUV, like the Kia Sportage (21 mpg) or Chevrolet Uplander minivan (19 mpg).
Only a handful of car-rental agencies, like Hertz, even have fuel-efficient or environmentally friendly "green cars" in their fleet, like hybrids and fuel-sipping cars. Hertz is shaving off $25 on weekly rental rates in hopes of drawing attention to this newly added fleet.
Small savings
The good news is that some deals don't expire. If you reserve your vehicle with Alamo on its Web site and pre-pay with a credit card, you will automatically receive a 10% discount on the rental.
Dollar and Thrifty have an ongoing regional deal in the Dallas, Houston and Denver areas, as well as in the state of Florida. In the Texas markets you can get the Pass24 prepaid toll card for $8.95 per day, which covers all incurred toll charges in the eligible areas. In Florida, it costs $5.95 per day or $27.95 for the week.
While there is absolutely nothing you can do to stop rising gas prices, with an Internet connection and advance planning, you might be able to shave a few dollars off of the price of renting a car on your summer vacation.