/ Source: The Associated Press
In his hunt for a new home, Demetrius Stroud crunched the numbers to find out that, with gas prices climbing, moving near an Amtrak station is the best thing for his wallet.
Stroud was looking in Elk Grove., Calif. — about 85 miles away from his job in the San Francisco Bay Area — because homes there are more affordable. But with gas at $4.50 and a car that gets about 22 miles per gallon, Stroud would be pumping $560 a month into his tank.
So instead he made an offer on a home near the train station in Davis, which will shave $160 off his commuting costs.
"I wouldn't even be able to consider doing it without that Amtrak possibility," said Stroud, 45, who also telecommutes one day a week to his job in software quality assurance.
Stroud's choice represents a fundamental shift in the way more Americans are approaching home buying in this era of ballooning gas prices. Real estate agents, transportation officials and industry surveys indicate that home buyers are placing more importance on cutting their gas bills and commute times than they have since the oil shocks of the 1970s.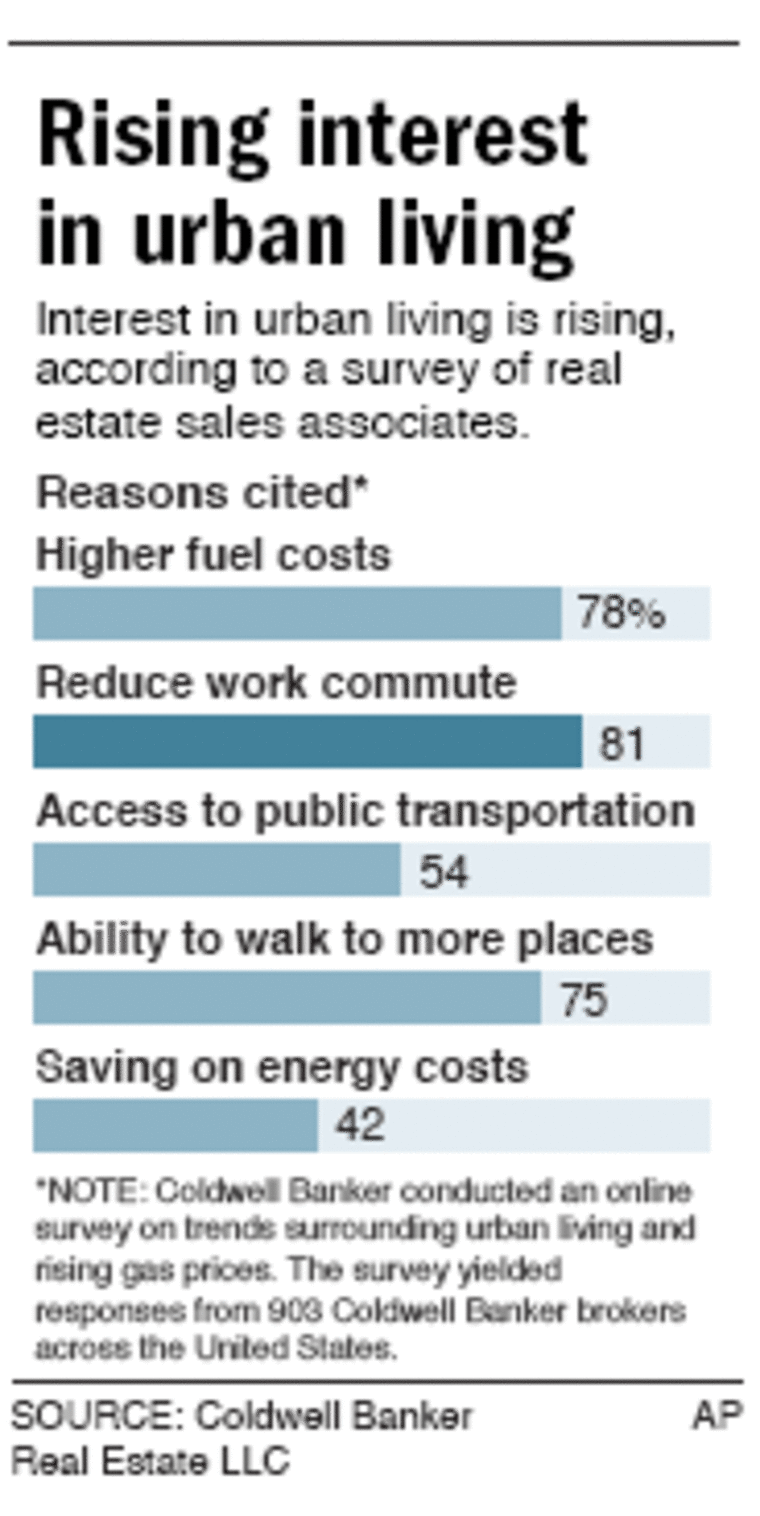 And there are some early indications that homes near urban centers, and subway, train and bus stops are often selling faster and at better prices than those in the distant suburbs.
On Wednesday, a survey of 900 Coldwell Banker agents showed a remarkable 96 percent said that rising gas prices were a concern to their clients, and 78 percent said higher fuel costs are increasing their desire for city living.
Don Denton, manager of Coldwell Banker Residential Brokerage in the Capitol Hill area of Washington, D.C., said prices are holding in the area and the neighborhood appears to be expanding.
"We have seen a steady increase in interest in our area over the last several years and it is comparable to how the reaction to the 1970s gas crisis sparked an interest in this area and inside the entire Beltway," Denton said.
A grueling commute by car into the city is the main reason why Mark Bulkeley wants to move closer to his job in Tysons Corner, Va., near downtown Washington D.C. He is selling his home in Haymarket, Va., which is 30 miles from work, and has signed a contract on a home in Great Falls, Va., that's just 6 miles from the office.
"My commute is miserable enough that I've taken to leaving my house at about quarter to five in the morning to avoid the traffic," said Bulkeley, a 36-year-old wholesale electricity trader. "It's kind of brutal. It's routinely an hour, and there's a lot of variability around that."
Bulkeley already has a hybrid Honda Civic, but he still calculates a savings of about $100 a month on gas once he moves closer to the city.
"When we decided that we were going to make a move we basically put a dot in the middle of the map where my office is and said, `We are not going to live farther than essentially a 20-minute circle around that,'" Bulkeley said.
Gas prices, which have shot up $1.07 this year, are magnifying demographic trends that show more younger buyers and empty-nest seniors are moving back to urban centers. If gas prices continue their ascent, this could have profound consequences over time on the future development of American cities and suburbs and modes of transportation.
Homes in cities and neighborhoods that require long commutes and don't provide enough public transportation alternatives are falling in value more quickly than more central locations, according to a May study by CEOs for Cities, a network of U.S. urban leaders.
In Atlanta, agent Mike Wright with Prudential Georgia Realty notes that real estate brokerages within the city perimeter have been selling better than those outside the city, reflecting an area trend of people moving "closer-in."
"You can easily draw the conclusion that's traffic or gas-price related," Wright said. "It's a decision that's both lifestyle driven and people trying to stay out the car."
In response to more riders, some U.S. cities are expanding their mass transit services.
The Dallas Area Rapid Transit system, for example, is doubling the miles of light rail it has to 90, said Morgan Lyons, DART's spokesman. The project has an estimated cost of $4 billion, and two main light rail lines are expected to be completed by 2014, he said.
Lyons said DART saw a spike in riders once gas prices began to skyrocket. And private investment in transit-oriented development — including condominiums and mixed-use projects that combine retail, residential and entertainment space — has risen to around $7 billion in areas including Dallas, Garland, Richardson and Farmer's Branch, Lyons said.
In Florida, real estate professor Bill Weaver sees this as possibly the beginnings a shift to a more European approach to finding homes.
For the past three decades, travel has been relatively cheap in the U.S., so more Americans sought homes in the suburbs or in the country because they wanted the space and quiet and didn't mind — or care about — the cost of commuting, Weaver said.
That approach led to sprawl in and around cities from Los Angeles to Orlando, Fla., in contrast to the smaller and more densely populated cities in Europe.
"Transportation costs in Europe have been so high for so long that they already take transportation into account when they buy a home," Weaver said. "We've just been behind on that. In that regard, you might look at high gas prices as sort of a silver lining."