Aside from his success on the course, where he's captured two British Open championships, Greg Norman has linked his name to a number of prosperous golf ventures, from clothing to turf.
But about a decade ago, The Shark dove into another type of business: wine-making.
Offering everything from chardonnays to merlots, Greg Norman Estates sells hundreds of thousands of cases annually. One year, Wine Spectator magazine named a Norman label as one of its top 10 bottles of wines of the year, an astounding feat for the golfer competing against lifelong vintners.
True, one won't find Norman stomping grapes; his role is more designed to lend his famous name to the products. But he is the best-known face in a trend linking athletes and wines. 

Of the pros jumping on this bandwagon, a lion's share is golfers. Sales of Ernie Els Wines began about eight years ago. Produced in South Africa, Els co-owns vineyards there. One-time Masters winner Mike Weir owns the Mike Weir Estate Winery in Canada. Terlato Wines International launched a wine in partnership with Luke Donald; a claret-style red wine blend was released this spring with a chardonnay on tap for 2009. Other pros, from Gary Player to Retief Goosen, have stakes in wineries.
As Todd Pitock wrote in ForbesLife, "The idea is simple enough: Golfers bring the fame, winemakers bring the expertise and together they alchemize the mix into a golden brand."  For the wine companies, the big-name golfers bring instant recognition and cachet and help alleviate the need for expensive advertising campaigns. For the touring pro, it provides an interesting side venture and a potential stream of income come retirement.
Leagues are also finding value in wine. Jim Haskins, vice president of consumer products for the National Hockey League, said it creates bottles of wine to commemorate special events, such as NHL All-Star Game, where 1,500-2,000 bottles are sold at host hotels and served at bars. Bert George, owner of Joseph George Wines in San Jose, produces about a dozen commemorative bottles each year for NHL players, owners and others.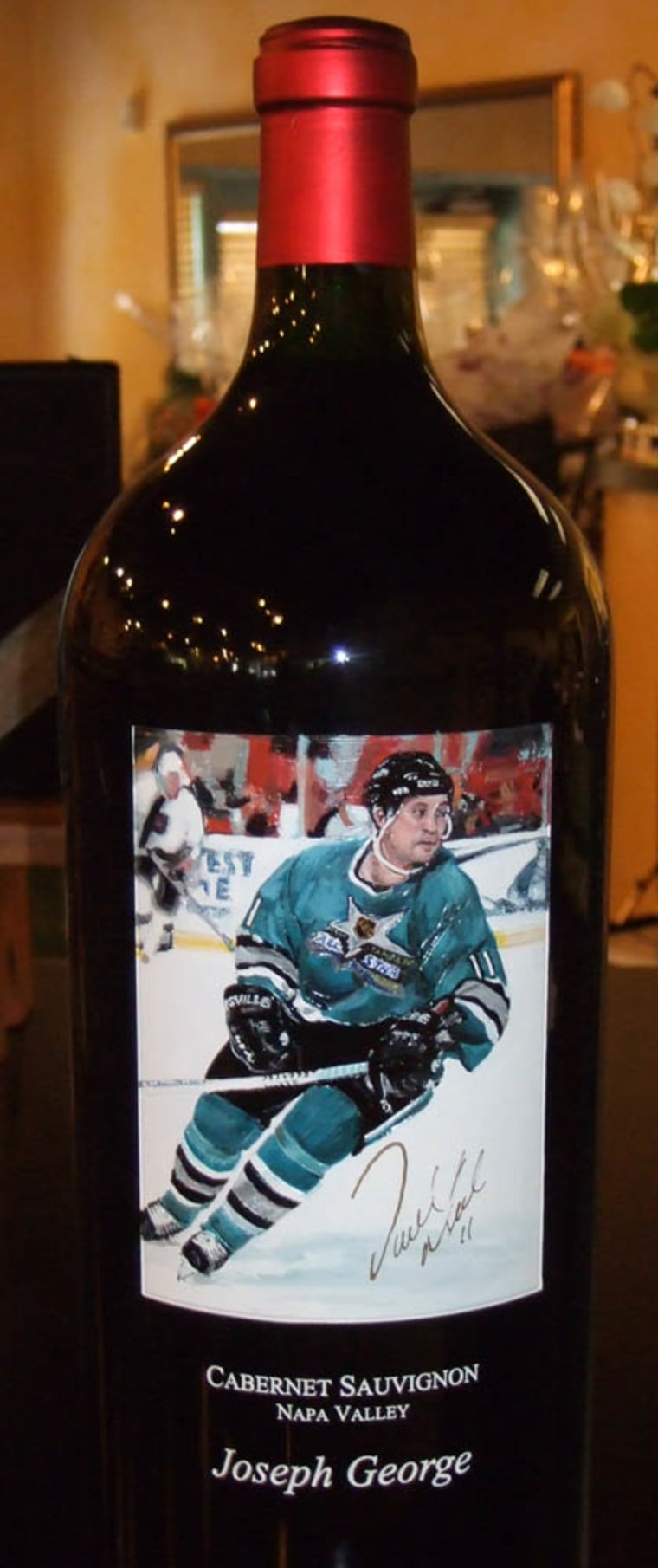 During the 2002 All-Star Game in Los Angeles, a 27-liter George bottle graced with an American flag and NHL logo was up for auction. A fan paid almost $3,000 for it. Proceeds from all of the league's wine sales go to charities, such as Hockey Fights Cancer.
Baseball players also have attached their names to wines for charity. Before a cross-town series between the New York Mets and the New York Yankees in May, the likenesses of five players – Johan Santana, Brian Schneider and Jose Reyes of the Mets and Jorge Posada and Bobby Abreu of the Yankees – were featured on a line of wines at Mickey Mantle's restaurant.
According to the Nielsen Company, grocery store sales of celebrity wines (which include brands beyond athletes, such as movie director Francis Ford Coppola) have jumped about 19 percent since 2007. They now represent more than $40 million of total wine sales. Despite the number of athletes who have joined the field in the past decade, the celebrity wine market looks to be far from saturated.
Recently, 30 minutes before a wine bottle signing for the NHL Signature Series at Binny's in Highland Park, Ill., dozens of customers had already lined up to see Chicago Blackhawk legends Bobby Hull and Tony Esposito (granted, one employee was unimpressed: "When (Mike) Ditka was here," he said, "there were guys outside the night before waiting for him.").
There are some unlikely pairings in the athletes-and-wine category – including Ditka. The former Chicago Bears coach once broke his wrist smashing a locker, not exactly a move that brings to mind sniffing a Bordeaux. Yet Da Coach now has a line of wines called, appropriately enough, Da Coach. Last year, he introduced Kick Ass Red at $45.99 per bottle along with some lower-priced pinot grigios and merlots (in May he also slapped his name on a Florida resort venture; it's unclear whether condo sales have soared because a mustachioed ex-coach is involved).
Larry Joe Bird from French Lick, Ind., never struck NBA fans as anything but a beer drinker during his Hall of Fame career with the Boston Celtics. But a few years ago, he got involved in a venture in Napa Valley that unveiled a wine called Legends. For decades, the Oakland Raiders have cultivated a reputation as the bad boys of football. Yet former player Rickey Dudley just opened a wine bar in Texas.
Whether they're able to determine the difference between a lush cabernet and a bottle of grape juice seems to matter little; the marriage of athletes and wines is here to stay.