The night sky is disappearing before our eyes. The thousands of stars once visible to the naked eye are now obscured by the glare of industrial light and the haze of pollution. This is particularly true in the U.S. and Europe, where light researchers estimate that a child born today in either region has a one in 10 chance of witnessing a truly dark sky.
Though most people will insist they have seen this dazzling spectacle, dark skies as nature intended them are rare. City dwellers, for example, usually glimpse fewer than 500 stars. In the most undisturbed areas, some 15,000 stars are on display as is the sprawling Milky Way. Stargazers under this kind of night sky might see 30 or more meteors per hour.
"You can no longer just take a short drive from the city and look at the Milky Way or the northern lights," says Chad Moore, a board director for the International Dark-Sky Association, a Tucson-based nonprofit organization. "Now it's quite an endeavor to find those dark places."
Luckily, budding stargazers will find that summer is the ideal season to start looking. While cool winter skies are less obscured by haze and humidity, temperatures can be prohibitively cold. Since the best night skies are in very remote locations where lodging options are limited to small inns or outdoors camping, potential stargazers should get used to the idea of roughing it. The pay-off will be more than memorable, however, when you return with memories of a galaxy rarely seen.
Setting the standard
Pristine night skies are an endangered habitat, at least according to the International Dark-Sky Association. They are not only beautiful to behold, but they are an integral part of wild and human life.
Light pollution, defined as obtrusive light that affects the environment, can disrupt the circadian rhythm of humans and the patterns of nocturnal animals. For humans, chronic light pollution can inhibit the production of the restorative hormone melatonin. Artificial light can also trick nocturnal animals into sleeping or migrating at the wrong time.
As industrial light creeps as far as 200 miles from its origin, threatening formerly remote skies, the IDA has started designating certain areas as refuges. These are skies so dark "that it becomes difficult to pick out the constellations." says Moore. "You might spend 30 minutes dark-adapting, but afterward you can still walk around and not trip on things."
The first park to receive the designation of "International Dark Sky Park" was Utah's Natural Bridges National Monument. In the southeastern corner of the state, this park boasts Bortle Class 2 skies. The Bortle Dark-Sky Scale measures night sky brightness on a scale of one to nine, or pristinely dark to inner-city bright.
In layman's terms, this means that stargazers at National Bridges can see the marbled structure of the Milky Way and the whitish glow of the zodiacal light, a faint band of particles that runs east to west. During the summer, rangers lead educational walks and programs to teach visitors about astronomy.
The IDA has deemed only one other U.S. park as an International Dark Sky Park. Cherry Springs State Park on Pennsylvania's northwestern border is 48 acres of unspoiled stargazing, which includes a view of the Milky Way Galaxy's nucleus. What you won't see is frequent air traffic, overhead electrical lines or obtrusive park lighting.
Starry, starry skies
These two parks have set the standard for stargazing, but there are several locations around the world that offer equally stunning views.
Mont-Mégantic National Park in Quebec, Canada, sits within a newly designated International Dark Sky Reserve, a patchwork of land in Canada dedicated to preserving excellent night sky conditions. It is notable not only for its unobstructed view of the skies, but also for its ASTROLab, an astronomy interpretation center open to the public.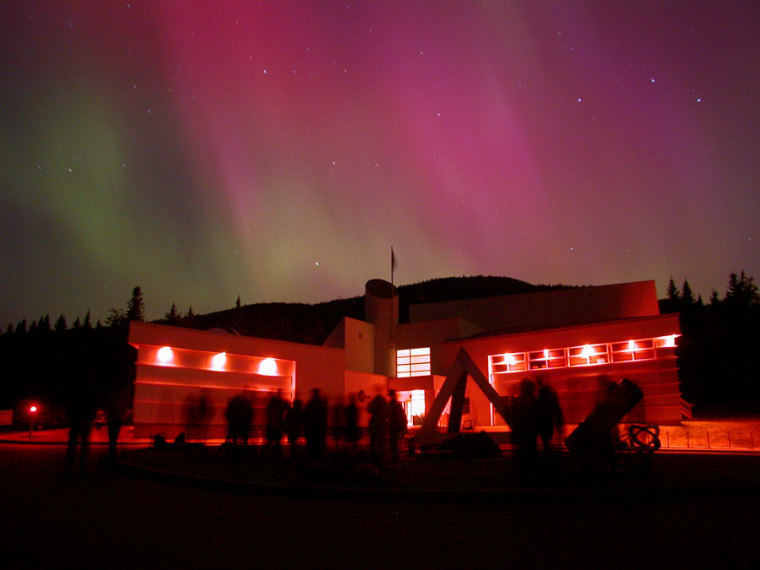 Among the eucalyptus woodlands in New South Wales, Australia, there is 100 acres of land designated for stargazing. Owned by a local astronomy society, the land has both observation facilities and basic accommodations, though most prefer to camp. Each year, the society hosts a "South Pacific Star Party," during which 200 to 400 people convene for a weekend of star watching beneath one of the world's darkest skies.
Parties like these are organized frequently around the world, and are a great opportunity for novice stargazers to learn more about the hobby. Another occasion is a night sky event like the Perseid meteor showers this August. For a few hours between early morning and early dawn on Aug. 12, 50 to 100 shooting stars will pass through the sky.
"These meteors are all different brightness," Joe Rao, an associate/guest lecturer at the Hayden Planetarium at the American Museum of Natural History. "Some streak across the skies, explode right in front of you and pop like a flashbulb."
To truly enjoy the show, he says, bring company. "It's a lot of fun when you're with other people," he says. "If you see a big one, you'll hear a roar like someone just hit a home run."