/ Source: Forbes Traveler.com
Insane jet fuel prices, fare hikes, carriers slashing flights left and right—taken together, they point to an industry in a death spiral. In response to the nearly 93 percent jump in the price of jet fuel since June 2007, big fliers such as Continental, US Airways, American, Delta and United have announced cutbacks in service in recent weeks. Smaller carriers that handle connecting flights for the major airlines are in an even more precarious situation. Florida-based Spirit announced potential lay-offs of 60 percent of its flight attendants and 45 percent of pilots; Delta has been trying to terminate its flight contracts with both Pinnacle and Mesa, citing poor punctuality as the cause.
But is there a silver lining? Will fewer planes in the sky translate to greater punctuality on the ground?
According to some experts, hoping for better on-time performance at America's busiest airports may be futile. "In order to maintain the highest possible revenue, large carriers must fly in and out of the busiest hubs," says Debby McElroy, executive vice president of policy and external affairs for Airports Council International, North America. "That's where they're most heavily invested, so they'll do what it takes to protect those routes."
Which is why most of the cutbacks are aimed at underperforming routes and secondary airports. Delta, for example, is pulling out of airports in Atlantic City, N.J.; Islip, Long Island and Corpus Christi, Texas. American, which is gearing up for an 11 percent reduction in domestic capacity, is discontinuing all service in and out of Oakland, Calif.—a tertiary airport to San Francisco International—plus service between Austin and Orange County, Calif., Seattle and Raleigh-Durham, N.C., and from San Antonio to Ft. Lauderdale.
The most heavily trafficked routes, on the other hand—New York to Chicago, Atlanta to Washington D.C., Los Angeles to San Francisco—are expected to remain bumper-to-bumper. In fact, there's a chance congestion might actually increase as fliers who once flew directly to Midway will now have to land at O'Hare. (Thankfully, O'Hare is slated to open a new runway this fall.) Airlines are also cutting capacity to and from major tourist markets—Las Vegas, Honolulu, Orlando—because these destinations historically offer the most competitive rates for consumers and the lowest profit margins for the carriers.
Where, then, are America's most on-time airports?
Having favorable weather conditions and being home to the nation's most punctual carrier, Hawaiian Airlines (and Aloha, before it ceased operations in March), help put Honolulu International (No. 1) and the smaller Kahului (No. 2) in the top slots. Their numbers are nearly identical, each with an on-time performance of just over 84 percent for the first five months of 2008.
On the mainland, West Coast airports take most of the top honors. Portland International is third for both timely arrivals and departures (nearly 82 percent); five other Southwest and West Coast airports are in the top 10. "West Coast hubs are at a slight advantage because the weather is generally better and routes are typically less congested than East Coast airports, particularly those in the Northeast," Hazel explains. In fact, the only East Coast airports to make the top 10 are Baltimore/Washington International (No. 10) and Tampa (ranked No. 9)—and even then, the latter is technically on the Gulf Coast.
To compile this list, we looked at the 50 busiest airports in the United States, or those with more than 147,000 flight operations in 2007, according to the most recent data from the Federal Aviation Administration. (There's little change in this ranking from year to year.) We then averaged each airport's monthly arrival and departure statistics for the first five months of 2008, as supplied by FlightStats, a Portland-based company that tracks historical and real-time flight information.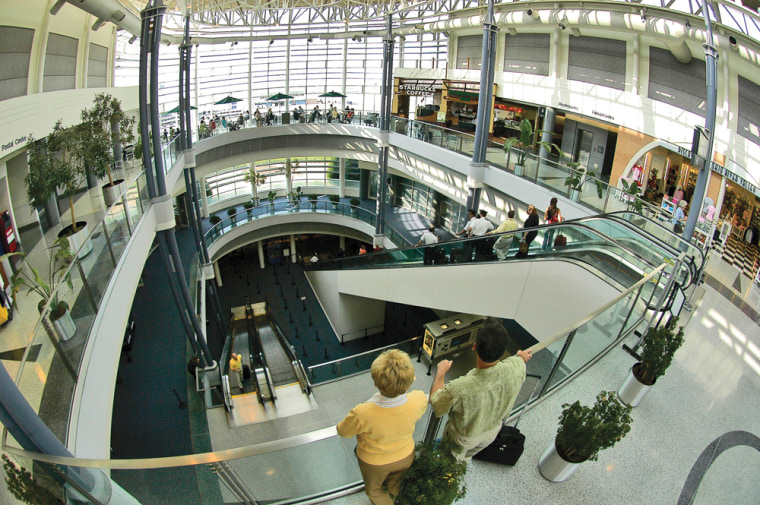 Where are the most delayed airports in the U.S. for the first half of 2008? New Yorkers won't be shocked to learn that Newark Liberty in New Jersey (64.9 percent) and New York's LaGuardia (62.4 percent) are at the bottom of the list, joined by Chicago O'Hare (62.6 percent).
Given the looming changes for the second half of 2008, can we actually expect airports to gain efficiency as traffic wanes?
Says McElroy, "No one knows yet exactly how this will play out." Despite the 13 fare increases since January (according to FareCompare.com) overall air traffic appears to be holding. The Bureau of Transportation reported in May that the number of scheduled domestic and international passengers on U.S. airlines during the first two months of 2008 actually increased by 1.8 percent from the same period in 2007. In fact, there's been relatively little change in airport punctuality since last year.
By the end of the year, we'll have a better idea of what impact these reductions will have, since most cutbacks aren't scheduled until the fall—after the peak summer flying season. In the meantime, here's our list of America's 15 most on-time airports, for the first few months of 2008.