/ Source: The Associated Press
John McCain has an unusual endorsement — from the Vietnamese jailer who says he held him captive for about five years as a POW and now considers him a friend.
"If I were an American voter, I would vote for Mr. John McCain," Tran Trong Duyet said Friday, sitting in his living room in the northern city of Haiphong, surrounded by black-and-white photos of a much younger version of himself and former Vietnam War prisoners.
At the same time, he denies prisoners of war were tortured. Despite detailed POW accounts and physical wounds, Duyet claims the presumed Republican presidential nominee made up beatings and solitary confinement in an attempt to win votes.
His statements seem to echo the communist leadership's overall line on America: It insists the torture claims are fabricated, but that Vietnam now considers the U.S. a friend and wants to lay the past to rest. Duyet said one of the reasons he likes McCain for president is the candidate's willingness to forgive and look to the future.
Former jailer calls McCain an old buddy
Duyet, 75, grew testy during the interview when repeatedly questioned about torture and why so many other former POWs say they too were mistreated. He preferred to talk about McCain as an old buddy.
His photo collection doesn't include one of him with POW McCain, and he said they have not met on any of McCain's postwar visits to Vietnam. But Duyet said he often met the young Navy pilot when off duty, that McCain would correct his English, and that he had a great sense of humor. And although they never saw eye-to-eye on the war that killed some 58,000 Americans and up to 3 million Vietnamese, he said they listened to each others' views.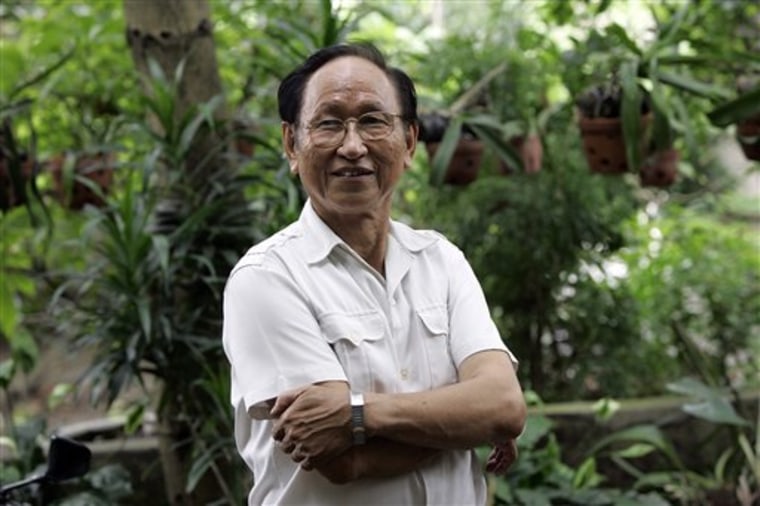 "He's tough, has extreme political views and is very conservative," Duyet said. "He's very loyal to the U.S. military, to his beliefs and to his country. In all of our debates, he never admitted that the war was a mistake."
Duyet also talked about prisoner volleyball games and said the captives were fed the same meals as average wartime Vietnamese in Hanoi. The same propaganda is depicted in photos of smiling American POWs displayed at the Hoa Lo prison, now a museum for tourists.
McCain spent 5 1/2 years behind bars in Hanoi. His flight suit and parachute were recently added to the museum display, which includes a recording of bombs falling and air raid sirens shrieking.
McCain still bears the evidence of his wounds and has described being repeatedly bound and beaten by his captors. After his plane was hit by a surface-to-air missile during a bombing mission over Hanoi in 1967, McCain ejected and suffered a broken leg, two broken arms, and was briefly knocked unconscious. The Vietnamese mob who found him smashed his shoulder and he was bayoneted.
He says medical attention was delayed in an attempt to get him to reveal information and he was held in solitary confinement for over two years.
Jailer says McCain lied about torture to win votes
Other former POWs also say they were tortured by communist forces at the jail, and many say they still suffer physical pain from it.
"They are liars. What they said is not true," said Duyet, who was a jailer at Hoa Lo from 1968 until the POW release in 1973, serving as prison chief the last three years. Duyet claimed McCain "invented that story that he was tortured and beaten to win votes."
Asked for a response, the McCain campaign referred The Associated Press to Orson Swindle, a retired Marine lieutenant colonel who was imprisoned with McCain. Swindle said Duyet "has no credibility on every utterance he makes."
"For him to say that no one was tortured, he's a damn liar, and the history books in the aftermath of Vietnam were replete with stories of what prisoners went through. I've got friends that died up there from torture."
"He says John McCain would make a great president. How the hell does he know? He has absolutely no credibility," Swindle added.
McCain has returned to Vietnam several times and visited what's left of the old prison, whose pilots' section has been replaced by a gleaming high-rise of offices, apartments and shops.
McCain was instrumental in pushing for normal relations between the two former foes, and the friendship was highlighted by Prime Minister Nguyen Tan Dung's trip to see President Bush at the White House on Wednesday.
McCain's wife, Cindy, was in southern Vietnam last week doing charity work. She said if her husband wins the election the couple would delight in paying a presidential visit to the country.
If that happens, Duyet said, "I hope to meet with him again as two old friends. At that time, I would toast to congratulate him as U.S. president.
"We would talk about the future, and we would not talk about the past."