He is the baby-faced everyman caught in a Kafkaesque nightmare of credit score woes. A troubadour of the American masses, his songs reflect the far-reaching effects of the housing crisis, predatory lending, skyrocketing gas prices and the economic downturn — or maybe he's just one in former John McCain advisor Phil Gramm's nation of "whiners" suffering a "mental depression."
He's the FreeCreditReport.com guy, and you are so totally in love with him you want to have like, 10 million of his babies. Or you hate his guts and if you never see him or his stupid drummer and bass player again it'll be too soon.
And if so, really, who could blame you? Those ubiquitous TV commercials featuring his three-man indie rock band with their infectious ditties of financial failure have aired more than 90,000 times since the advertising campaign's October 2007 launch (in case you lost count).
"Aside from just the astounding scale of success, we're pretty tickled by all the FreeCreditReport.com spoofs and parodies on YouTube," says Dave Mulhefeld, the songwriting phenom behind the über jingles and senior copy writer at The Martin Agency — the same advertising masterminds behind the Geico gecko and cavemen. Meanwhile, the commercials are directed by the comedy mastermind behind "Dude, Where's My Car?" and "Harold and Kumar Go to White Castle."
(You heard me. "Mastermind." Those movies are frakkin' howl-arious.)
As of now, YouTube carries more than 70 FreeCreditReport.com homages, ranging from parents filming their kids' renditions to one guy full-out rocking on acoustic guitar. According to the company, traffic and memberships to the site have gone up 20 percent since the campaign began, with more than 5 million current members. The cultural impact of this musical commercial series is so pervasive that a million critical consumer news stories about how the actual product isn't actually — well, "free" — would do little to slow its momentum.
And there are critical exposes. The New York Times published a scathing article earlier this week about FreeCreditReport.com which is owned by Experian, one of the three major credit bureaus. Heck, msnbc.com's own New York Times bestselling author Bob Sullivan got all up in FreeCreditReport.com's business two years ago. But the written word is no match for that adorable new "Bicycle" ad featuring our boy and his band that the company loosed on the American TV viewing audience just this week.
Any consumer outrage over FreeCreditReport.com has nothing to do with the site and how you don't get your "free" credit report until you and your credit card number enroll in the $14.95 per month credit-monitoring service, of which you get the first seven days free, but if you fail to read the fine print and don't cancel, your credit card is automatically charged until you do.
(Not to mention, if singer boy's credit is so bad, how would he even have a credit card to register if he ever got around to checking it out?)
Any shock associated with FreeCreditReport.com doesn't come from any practices that might be construed as misleading. The freakout occurs when viewers learn that the guy in the commercial isn't actually The Guy. That isn't his band. He was never half of a marriage doomed by his dream girl's heretofore unmentioned defaulted credit cards. He and the wife didn't make their first (and last?) home together in the same place he conducts band practice — her parent's basement.
In fact, identity theft never forced his employment at a pirate-themed seafood restaurant or that due to his willful ignorance regarding his own credit score, his automotive choices were limited to a used subcompact which caused his legs to stick to the vinyl and his posse getting laughed at.
In fact, Baby-faced Everyman's sweet folk rock voice — one that would fit perfectly opening for Superchunk in Chapel Hill, NC sometime in 1992 or narrating a "School House Rock" lesson — isn't even his voice. Because, get this. Dude isn't even American. Talk about identity theft!



Baby-faced Everyman is played with heartbreaking adorability by French Canadian actor Eric Violette — who is also a skilled singer and musician. So while the 27-year-old isn't faking the guitar he's playing on camera, he certainly doesn't sound like that.
Now that you know that, check him out. Violette looks totally different, right? Suddenly he's Hot Foreign Guy, right? (And ladies, he's single!) Meanwhile, upon gaining this information, a co-worker claimed he could see Eric lip syncing with a French accent, which is totally not true. The guy — and the commercials — are just that good.
In a recent road trip down the East Coast of the United States, Violette learned just how effective his acting is. "People wanted to take pictures with me," he says in a telephone interview from his home just outside Montreal — where nobody recognizes him except his friends and family. (The commercials don't air in Canada.) "It's very strange but very funny. When some people recognized me, they'd have a big smile on their face."
Violette says all this with a dreamy French accent, which is why he isn't the guy singing in the commercial. This is a story about an American slacker's woes, a guy who Violette assures us he's nothing like — his credit score is pretty good. Though, he adds, credit scores don't carry the frightening weight in Canada like they do here in the good old U.S. of A. 
Still, he can relate to the stories. "Nobody wants a woman who doesn't have good credit," Violette says, making a joke about the first, perhaps most controversial commercial in the series, "Dreamgirl." (Is bad credit the new "fat?")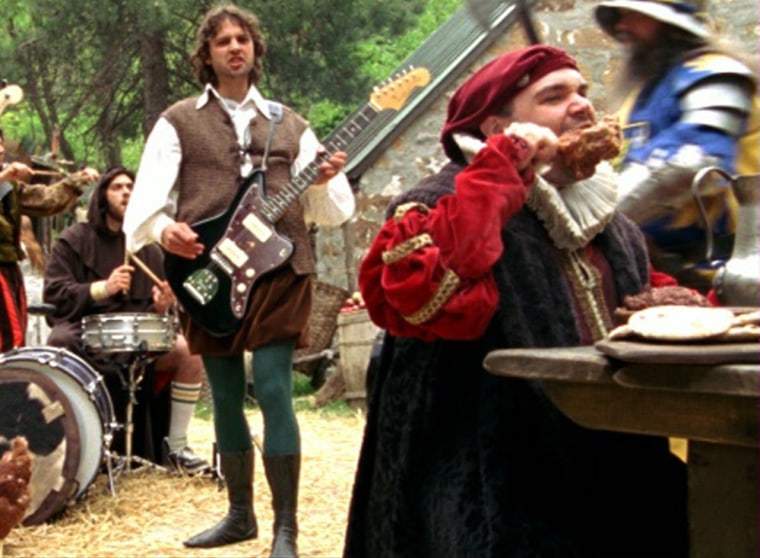 Oh the arguments we've had in the office over whether the singer is a horrible individual holding band practice in a basement apartment so cramped the drummer is forced to use the toilet as a stool. There the guy is, yowling about his gal's lousy credit while she's trying to pick up around that dump.
"We don't know the whole story," is my defense against the majority who find the guy's actions indefensible.
"It's like in real life," says Violette.
Actually, jingle writer Dave Mulhefeld admits that first commercial is somewhat autobiographical. What's more, he did work in a fish restaurant and drive a used subcompact — though a nicer one than the blue beater featured in the commercial. Mulhefeld says the next set of FreeCreditReport.com commercials are inspired more from YouTube comments than his past.
"We looked for currents of things that fans really really liked and were talking about and we used that to inform the new spots," he says. After the latest "Bicycle" commercial, in which our guy is forced to trade in his used subcompact for a fixed-gear bike, you'll find him and the rest of the band rocking the Renaissance Faire (our hands-down favorite) and then working as cater waiters at a rock-star party that sadly, isn't theirs.
As the campaign moves further into the theater of the absurd, you can expect to find the pirate hat and the cranky old lady, viewer "Easter eggs" featured in every episode. Don't expect things to look up for this troika of despair, however.
"I don't see our singer learning his lesson anytime soon," Mulhefeld says.