/ Source: The Associated Press
The giggles and banter echoed those at any typical summer camp, but the name of this lakeside getaway — Camp Homeward Bound — reflected an element of wishful thinking for many of the children.
All were from nearby New York City, nearly all from families that have confronted homelessness.
Among the girls grinning infectiously in a hip-shaking dance class was 9-year-old Angelica Maldonado, who lives with her brother and mother at a shelter in Manhattan — the latest stop in an odyssey caused by family turmoil.
Angelica talked cheerfully about camp, but couldn't remember where she'd last attended school.
"I forget which," she said. "I'm moving different places, so I go to different schools."
Her mother is looking for a job, Angelica said hopefully. "Now, we have just a little space. My mom says that when we move to our own place, I'll have more room."
More families turning to shelters
Angelica and her 90 fellow campers represented a sliver of a dismaying national phenomenon. In New York and many other communities, families with children constitute an increasing portion of the homeless population — roughly 40 percent nationally, according to advocacy groups.
Last year, a daily average of 9,297 families — the most ever — were living in New York City's homeless shelters, according to the Coalition for the Homeless, which operates Camp Homeward Bound.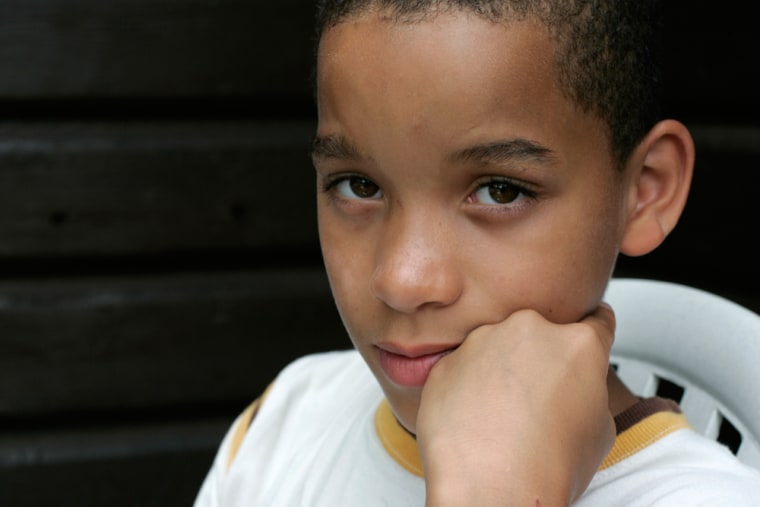 Similar trends have surfaced nationwide. Advocates for the homeless in Massachusetts said the state's shelter system accommodated more families last fall — about 1,800 — than at any time since its founding in 1983. This year, officials in Cleveland, Detroit and Las Vegas reported a sharp increase in the number of homeless students.
In New York, the core problem is a dearth of affordable rental housing. Elsewhere, homelessness is being fueled by job losses and low wages, cutbacks in housing assistance programs, and home foreclosures.
First Focus, an advocacy organization, estimates that foreclosures will force 2 million children from their homes — jeopardizing their school performance and emotional well-being regardless of whether their family finds decent alternative housing.
Whatever its cause, the dislocation of homelessness can be devastating for children and demoralizing for their parents.
Lack of affordable housing
Vinny Robles, a jobless father of five in New York, turned to the city's Department of Homeless Services for help after failing to find an affordable apartment large enough for his family. But qualifying for help is grueling, he said outside the department's intake center in the Bronx.
"There's a lot of red tape, a lot of sitting around — you got to take your whole family to the appointments," he said. "The kids, they watch out for each other, but they get stressed out."
The toll from that kind of stress can be seen an hour's drive away, at Camp Homeward Bound's bucolic site in Harriman State Park. Beverly McEntarfer, in her second summer as camp director, had to send six children home within the first 10 days because of serious misbehavior and other problems she attributed to family instability.
Often campers come from shelters accommodating victims of domestic violence, she said. Some have been physically or sexually abused; others have witnessed assaults on their mothers.
"Some of these families are perpetually in crisis," she said. "They don't have even the basics."
Seeking to ensure that the campers get personal attention, Homeward Bound has 45 counselors for its roughly 90 campers, a ratio far better than called for by state and national guidelines. About half the counselors are from abroad, getting a distinctive look at the United States through eyes of resilient inner-city children.
Warren Steventon, a 28-year-old Briton, is in his third season at the camp and oversees a unit for boys aged 7 to 11. He said some of the children talk openly about the tough parts of their lives, while many are closed — keeping an emotional distance from the counselors in a manner that he thought reflected a lack of supportive adults back home.
Counselors teach social skills
Daily life is challenging for many: Even with campers returning for a second or third summer, counselors often needed to "start all over" in terms of teaching social skills.
Many of the campers' favorite activities were simple, how-to affairs — learning to make pizza and hamburgers, take photographs, use a computer, strum a guitar.
Noah Wilson, 11, said highlights of his summers at camp included learning to swim, sleeping in a tent and catching a glimpse of a deer.
"You have to go back (to the city), you miss camp after a while," he said. "You miss being out in the open. You miss all the trees."
Noah, who has four sisters and two brothers, has attended the camp each summer since his family — which now has an apartment — was living in one-bedroom unit of a homeless shelter two years ago.
"It was kind of tough," he said. "After school, we weren't allowed into the room until our mom came back from work."
'A lot of room to run around'
E.J. Rivera, another 11-year-old from the Bronx, has a father in jail and spent four months in a homeless shelter with his mother and two brothers. Among his memories of the shelter: a lot of fire drills, and some tensions with a stranger who shared their unit.
He raved about the camp, which one of his brothers also attended.
"You get to learn new things you don't know how to do. There's a lot of room to run around," E.J. said. "In the Bronx, you never know what could happen. You could go to the hospital, you could die. ... My mom wanted to get us away from the violence."
One consequence of the camp's vibrancy is that some children don't want to leave when their 16-day sessions end.
"It can be hard going home," said McEntarfer. "But they've learned new skills, how to live in different situations. Their self-esteem gets built up. They go back a little different."