/ Source: The Associated Press
Fred Forsythe finally is out of the FEMA trailer he's called home since Hurricane Rita ripped apart his own place three years ago.
But now his home is a tiny tent, where a nylon screen covered with a weather-tattered American flag helps him fend off hordes of mosquitoes.
Hurricane Ike's ferocious storm surge strew the remains of his government-issued trailer in the weeds and trees and impaled them on what used to be a fence across Gulfway Road, where the thousands of pieces of his former home mingle with the rubble of a neighbor's home.
The neighbor, Wesley Alphin, 48, is sharing the tent with him.
"Mosquitoes will kill you here if you don't know how to survive," said Forsythe, 48.
"Between the snakes and mosquitoes, we got mountain lions and bobcats that tall," he said, holding a chain saw in one hand and gesturing waist-high with the other. "Alligators come through my yard. We're survivors here. That's what we do."
He's not alone.
All along Gulfway, the two-lane blacktop that parallels the Gulf of Mexico through Sabine Pass at the extreme east tip of the Texas coast, many of the some 2,200 residents hadn't even recovered fully from Rita when Ike delivered a second dose of misery.
A FEMA spokesman in Washington said he didn't know how many Rita victims who had not yet repaired their lives were in Ike's path.
But FEMA spokesman Richard Scorza in Austin estimated that only three so-called Rita trailers were still occupied. Told of Forsythe's experience, Scorza said, "There may actually be two now," before suggesting FEMA might be able to help him.
Rita struck here as a Category 3 hurricane on Sept. 24, 2005, unleashing 120 mph winds that tore through East Texas and western parts of Louisiana.
Ike came ashore Sept. 13, some 70 miles to the west at Galveston as a Category 2 storm with winds of 110 mph, but no one in Sabine Pass sees Ike as a lesser storm.
Ike 'a whole lot worse' than Rita
"This was a whole lot worse," said Kristi Heid, 47, whose mud-caked home and its contents are across the street from the Sabine Pass school, where the home of the Sharks — as displayed on the school wall — now reads "HARKS."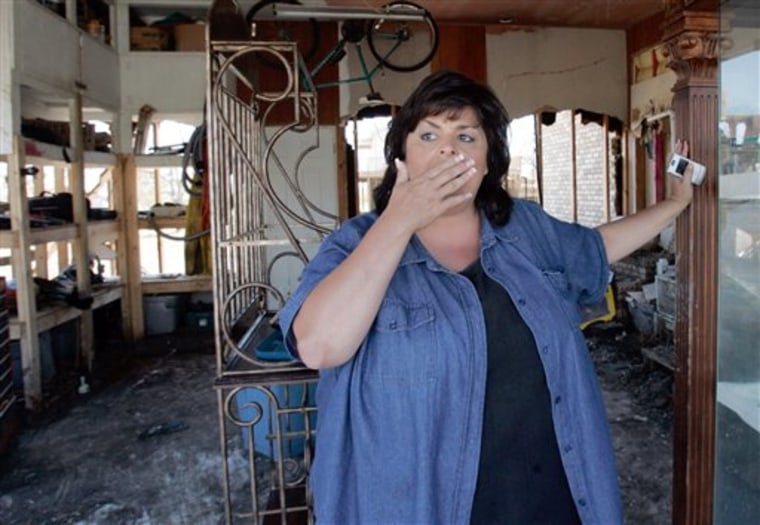 "It's so frustrating," said Heid, who attended school there, taught there, and for the past four years has been principal to 300 kids from pre-kindergarten through 12th grade. "What is the likelihood of doing this again in three years? It is a big downer."
The school was rebuilt and its elevation raised. This time it avoided catastrophe. An auditorium, however, built after Rita by the TV program "Extreme Home Makeover," will have to be rebuilt.
A purple football helmet from the school is among the rubble in the mud in front of Heid's home, where Rita three years ago delivered water to the entry but no serious damage.
"With this one, the back of the house is gone, the whole back of the house," she said. "It took the bricks, the plywood, the whole back."
After Rita, she and her husband applied for a government grant to raise their one-story ranch-style home so the structure, like the school, could avoid catastrophic damage.
"We were approved to raise our house," she said. "We were waiting for the recovery money."
So was Forsythe, who learned that three days before Ike, his application to rebuild had been approved.
"I love this place," he said. "Nobody bothers me. But now I may just turn this into a fish camp."
He said insurance on a rebuilt home likely would be too expensive for him.
"It's not worth paying that," he said.
'FEMA's not even here'
Heid said one frustration now is that with Rita, the post-storm recovery efforts centered on their community because it was where the storm made landfall. "But with Ike, there's such widespread devastation, we haven't even received a disaster recovery center. FEMA's not even here."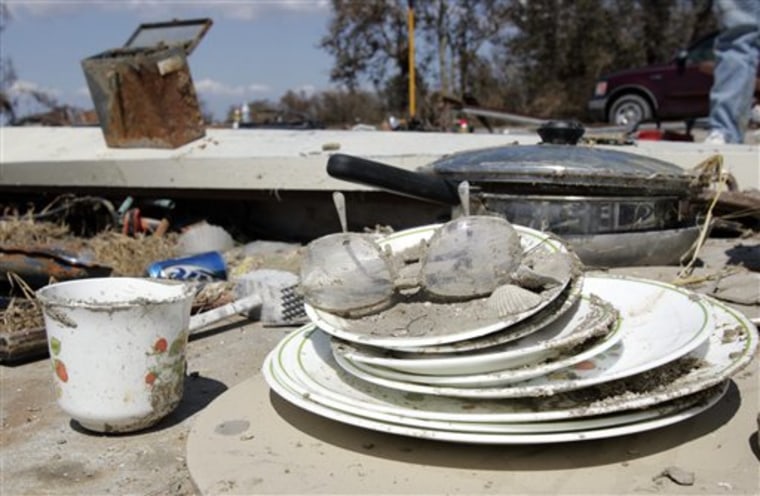 She put up a small tent in front of her house to provide some shade and it's become a gathering spot for folks like Debbie Cox, who lived with her husband, a game warden, at a state-provided house at Sea Rim State Park, west of town. The park has been shut since Rita damaged it and their home.
For a while, they lived in a camper and they'd finally been able to make some repairs, adding a porch and renovating a bathroom.
Now only the pilings remain. Everything else is gone.
"Thirty years of stuff," she said. "I'm just numb."
Heid's sister, Kellie Brown, is in a similar plight. Her house is gone, just a pile of debris.
"Second time around," she said. "When you think things can't get worse, they do."
She received 4 feet of water in her house from Rita. The repairs were almost finished.
"All I had left to do was baseboards and trimwork," she said. "Everything else had been done — three years after the fact.
"It took time, and that's the real depressing thing of it all. It's like ground zero, back to square one, all over again."
In the haste to flee the storm, she left her wedding ring on the table next to the bed. When she and her husband returned, they found the house had imploded from the storm surge.
A workman moving debris offered to use his truck to lift the roof so they could hunt for the ring.
He lifted the roof and told her husband to pull back some carpet.
"I started hollering: There it is! It was caked in mud and sheetrock but I cleaned it up and got it," she said, holding up her hand to display the ring.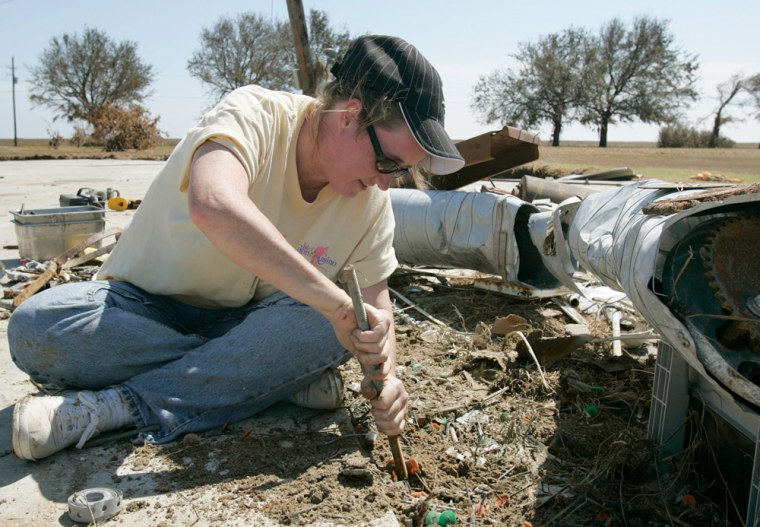 She also retrieved a Virgin Mary statue, a gift from her mother. The white statue, about 3 feet tall, had been holding up the roof. The concrete base broke but Mary survived.
"I was blessed," she said. "I got my Mary and my ring. The rest can be replaced."
Mary now is propped up against a tree at Greenwich and South 13th Avenue, her palms open toward the Gulf, a few yards from the pile of debris that once was the home whose roof she'd supported.
"It's going to take some time," Brown's sister, Heid, said. "We're being tested again. You've got to have faith."