/ Source: ARTHUR FROMMER'S BUDGET TRAVEL
Willunga, Australia
Dan Philips: Founder of the Grateful Palate, an Oxnard, Calif.–based company that sells specialty foods and kitchen accessories, imports wine, and even runs wineries in Spain and Australia (gratefulpalate.com).
There are foodies—and then there's Dan Philips. Founder of the Grateful Palate, a food-related gift merchandiser that bills itself as "a lifestyle for your tongue," Philips runs a wine-importing business, as well as several wineries, and is opening a wine bar in Adelaide, Australia. In addition to splitting his time between Adelaide and Thousand Oaks, Calif., Philips travels four months of the year to hunt down new suppliers for his Bacon of the Month Club and other gourmet groups.
One of Philips's favorite discoveries is the town of Willunga (pop. 5,064), an hour's drive south of Adelaide. "It's in the McLaren Vale region, the greatest area in the world for producing Shiraz and other red wines of just about any sort," says Philips. He always makes sure to stop by the Willunga Farmers Market for the fish and oysters from nearby Gulf St. Vincent, fresh milk and cream, wood-fired bread, and grass-fed beef. "It tastes different depending on how and where the cows were raised," he says.

What really earns Philips's enthusiasm, however, is a local pizza parlor. "Russell's Pizza is like a monastery of pizza, food, and culinary pleasures," he says. "Russell Jeavons built the place himself—even the oven—and he grows a lot of the herbs, vegetables, and fruits served at the restaurant. He plops oysters and squid right on top of the pizza dough, slides it into the brick oven, and cooks it all together. Russell's is only open two nights a week, which makes it feel even more special."
Information: Car rentals, , from $36 a day; Willunga Farmers Market, Willunga Town Square, Saturday mornings; Russell's Pizza, 13 High St., 011-61/8-8556-2571, open for Friday and Saturday dinners only (reservations suggested), pizzas from $23.
Chapada Dos Veadeiros, Brazil
Armenia Nercessian de Oliveira: Cofounder of Novica, a National Geographic–associated organization with eight international offices that enables local artisans around the globe to sell their crafts over the Internet ().
It's hard to catch Armenia Nercessian de Oliveira in one place, let alone one where she has access to a landline. De Oliveira oversees Novica's offices, which are scattered from India to Peru, while also searching for new artists. In the past year, she's spent time in Ghana, Indonesia, and Thailand—and little at her home in Rio de Janeiro. And although she's traveled to some 50 countries over the past 20 years, it's a spot in her native country of Brazil that she returns to time and again.
"I love Chapada dos Veadeiros, in the state of Goiás," she says. "It's where I go to recharge." The 253-square-mile national park, about 150 miles north of Brasília, has vast amounts of natural quartz crystals, which are said to have mystical powers. "Many Brazilians believe this is the highest level of concentrated energy in the world," says de Oliveira. Activities, both in the park and the surrounding region, include bird-watching, hiking, swimming, and exploring waterfalls, such as a breathtaking septet called Loquinhas.
The park's high season is April through September, but de Oliveira says she'll never forget being there on New Year's Eve. "It felt as though we were at the center of the universe. Chapada dos Veadeiros has some kind of unusual and wonderful magnetic quality that I can't quite explain or understand."
Information: , park admission (only with a tour) $2; hotels and pousadas in nearby towns Alto Paraíso and São Jorge arrange day trips to the park for about $40.
Graskop, South Africa
Christian Chumbley: Regional manager of Backroads, a 30-year-old travel company based in Berkeley, Calif., that specializes in small-group, multisport tours ().
Christian Chumbley, a Backroads regional manager based in Cape Town, spends about six months each year on foot or a bike all over southern Africa and Asia, in countries such as Botswana, Laos, Nepal, India, China, Bhutan, and Indonesia, checking in on his team and investigating new itineraries.
But it's Graskop, a tiny artists' community about four hours by car from Johannesburg, that has a special place in Chumbley's heart. He discovered the town a dozen years ago when researching his first itinerary for Backroads. "The town is a crazy blend of hip artists and traditional Afrikaner farmers," he says. "Its artistic scene is vibrant because of a more recent influx of Shangaan, Swazi, Zulu, and other African groups that have come to the area since the end of apartheid."
Once a mining center, Graskop now thrives on galleries and roadside art stands selling sculptures and baskets. Artists even decorated the 37-room Graskop Hotel; the 1960s-era motel displays works including a glass installation and wall hangings made of stuffed cloth arrows.
Information: Car rentals, , from $25 a day; Graskop Hotel, 011-27/13-767-1244, , from $81 with breakfast.
Weymouth, England
John Chatterton and Richie Kohler: Scuba divers who inspired the books "Shadow Divers" and "Titanic's Last Secrets" (, ).
Most people's idea of the idyllic dive spot tends to involve turquoise water and colorful fish, but that's not what John Chatterton or Richie Kohler has in mind. The scuba divers rose to fame through Robert Kurson's 2004 best seller, "Shadow Divers", which chronicled their quest to identify human remains in a sunken U-boat. That led to solving under­water mysteries around the world for the History Channel series "Deep Sea Detectives". Their most recent investigation (which took them to Canada, Ireland, Greece, and two and a half miles under the surface of the Atlantic Ocean) is the subject of Brad Matsen's "Titanic's Last Secrets", due out next month. Given their knack for uncovering hidden clues and treasures, it's no surprise that the divers rank the once pirate-friendly port of Weymouth, England, as one of their favorite towns.
Weymouth's cobblestoned streets, Georgian homes, and sandy beaches along the English Channel are magnets for British sunseekers. But for divers, its waters have their own attractions: "Wars and storms have been sinking ships here for more than 900 years," Kohler says. "In one day, you can rub shoulders with Roman shipwrecks, 16th-century Dutch sailing fleets, and submarines from both world wars."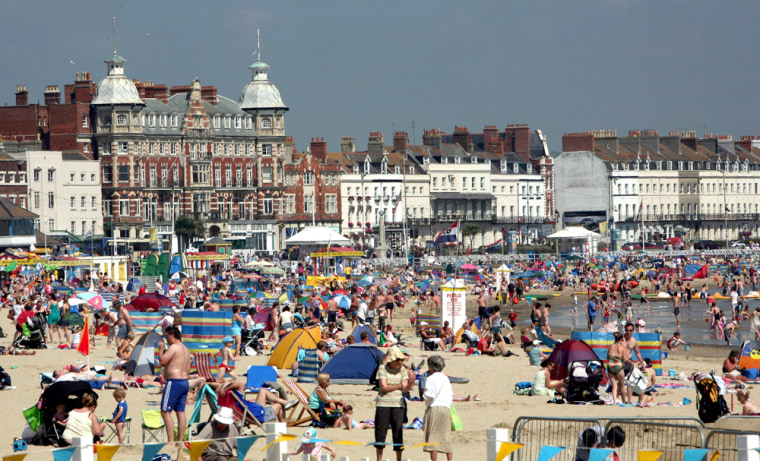 When on shore, Kohler and Chatterton explore nautical antiques stores and old bookshops before sitting down with a pint at The Boot Inn, a 400-year-old pub that's rumored to have been popular with 17th-century pirates. Today, the town's stone quays host a mix of fishing boats—which sell sea bass, scallops, and lobsters—and high-speed catamarans. Since no trip to the English seaside is complete without fish-and-chips, a local introduced the divers to Marlboro Restaurant, where the Johnsons have been serving the dish for three generations. "It's best enjoyed with liberal amounts of salt and malt vinegar," says Kohler.
Information: Trains from London take three hours, , from $24; The Boot Inn, High West St., 011-44/1305-770327; Marlboro Restaurant, 46 St. Thomas St., 011-44/1305-785700, large fish-and-chips from $11.
Purnululu National Park, Australia
Darrell Wade: Cofounder of Melbourne-based Intrepid Travel, which specializes in small-group, experiential tours around the world ().
As a young backpacker, Darrell Wade might have stood out during his travels—he is a 6'7'' Aussie, after all—but he managed to mix easily with locals. So Wade decided to help other tourists do the same: He launched Intrepid Travel with pal Geoff Manchester in 1989 and began leading tours in which clients stay in friendly, no-frills inns, eat at neighborhood restaurants, and explore areas on foot or by bike. "We wanted to get close to the culture and really understand a country," explains Wade. Nearly 20 years later, he has yet to lose his wanderlust. He travels for about half the year, either scouting new tours and destinations for work or vacationing with his family.
Considering how far Wade has traveled, it's ironic that the spot he's most recently fallen in love with is in his home country. Purnululu National Park, a.k.a. the Bungle Bungle, is an otherworldly range of eroded sandstone domes in such a remote part of Western Australia that the natural wonders were only rediscovered by a film crew in 1983.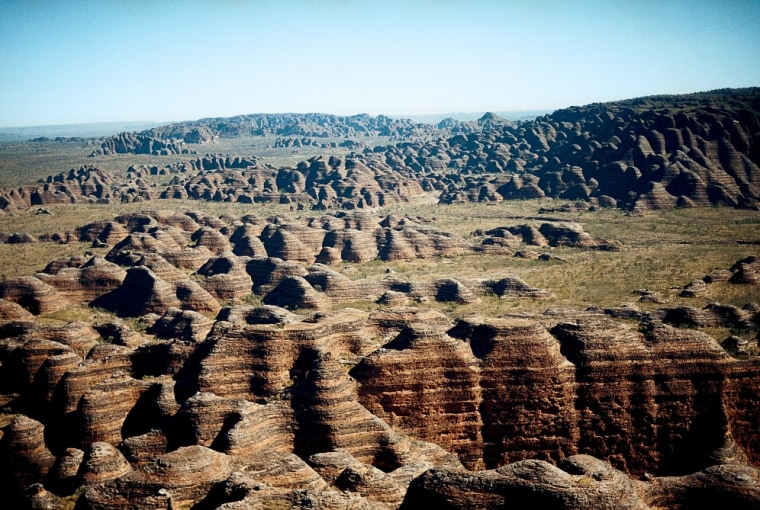 "The silence of the Bungles is amazing," says Wade. "You are confronted by the red, red earth and the blue, blue sky. Somehow the world seems bigger out there—with horizons that just stretch forever. It's easily one of the most beautiful places I've ever been to in my life." Rugged hiking trails meander past palm trees, gorges, and streams that tend to dry up during the Australian winter.
After setting eyes on the area, Wade immediately added a Bungle Bungle camping trip to two of Intrepid Travel's tours, though independent travelers can book their own stay in a tented cabin at the Bungle Bungle Wilderness Lodge.
Information: Purnululu National Park, 011-61/8-9168-7300, , $10 per vehicle, open April–Oct., weather permitting. Purnululu is a 90-minute drive from the nearest town, Halls Creek, which is 14 hours from Darwin. Bungle Bungle Wilderness Lodge, , $175 per person, double, with breakfast and dinner.