/ Source: The Associated Press
Translucent images of long ago, of black men and women, backs bent, picking cotton under an unforgiving sun, are artistically displayed on standing glass panels in a museum carved out of an old brick gin mill in the Mississippi Delta.
They're a reminder of those who labored by day in a segregated society. But at night they escaped to Indianola's Church Street to be entertained by a young man later known as B.B. King, who would throw his hat on the ground to catch coins as he conjured devil's music from his guitar.
More than a half-century after King left Indianola in search of fame, the $15 million B.B. King Museum and Delta Interpretative Center has opened in his hometown and is as much a tribute to him and his blues music as the culture that inspired it.
King's museum is the latest attraction for the state's blues tourism industry, which ironically thrives because so little has changed in the predominantly black Delta since King, Muddy Waters, John Lee Hooker and Robert Johnson got their start there. Enthusiasts from across the nation and overseas vacation in the flatland region, known for fertile soil, its past racial strife and its lingering, unfathomable poverty.
King, an 83-year-old multiple Grammy winner who still plays about 120 gigs a year, says he's honored the story of the blues is being told through the prism of his life.
"It's going to be educational to people, young and old, because it's going to talk about the origins of the blues. I'm just one who carried the baton because it was started long before me," he says.
The details may be different, but the narrative of his life is similar to blues musicians who came before him.
He was born poor and black as Riley B. King in 1925. His parents split, leaving his grandmother to raise him before she died while he was still a young boy. He grew up, and as most blacks did in the Delta, he got a string of plantation jobs. His last was at the cotton gin in Indianola. Somewhere in between, he began developing his playing style, described by some as a mix of Delta, Memphis and Texas sounds.
King started with gospel, but he noticed the spirituals drew more pats than tips at his perch on Church Street.
"I made more Saturday evening than I did all week driving a tractor," King says.
He became known as the Beale Street Blues Boy and then had the nickname Blues Boy, which he shortened to B.B. His career took off in 1948 after performing on a radio program in West Memphis, leading him on a path that would make him an international icon and put him in a class by himself as the only living blues artist with his own museum.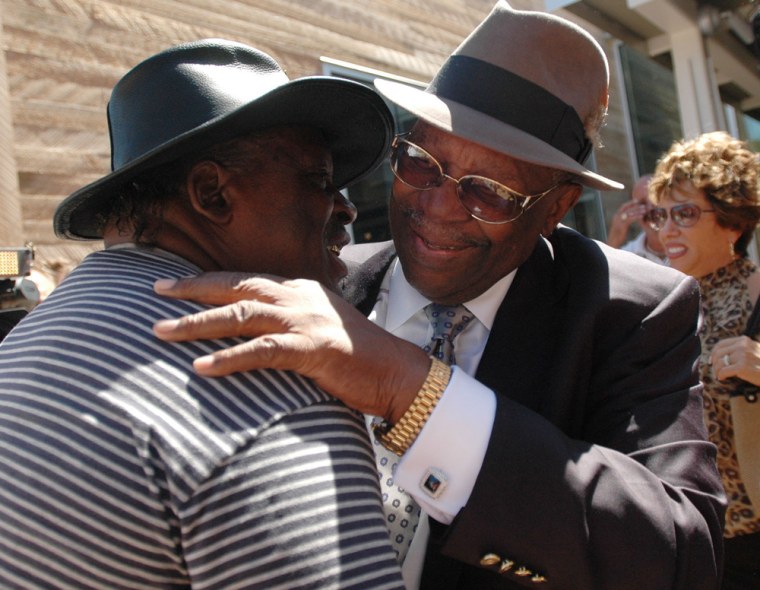 With its sleek, linear design, the 20,000-square-foot museum carved out of the old cotton gin is a convergence of old and new. A touch-screen interactive allows visitors to choose topics of interest, ranging from King's childhood to facts about the Delta Flood of 1927. Music lessons are given through another interactive computer program with King instructing on a video as visitors finger chords on a guitar.
Elsewhere, vinyl blues records by Bobby Blue Bland and Blind Lemon, are hung near decades-old, yellowing contracts signed by musicians, who are now largely forgotten. A Panoram Soundies nearby broadcasts a Cab Calloway performance.
The museum also houses rare photos of Elvis Presley, King's draft card and, of course, Lucille, the storied guitar King used on such hits as "The Thrill Is Gone," "To Know You Is to Love You" and Sneakin' Around."
The significance of the museum in the blues world cannot be overstated, says Mark Camarigg, publications manager of Living Blues Magazine, believed to be one of the oldest blues magazines in the United States.
"You can't overestimate his impact and what he represents. He's virtually transcended blues music in a lot of people's minds. He's on the level of a Sinatra or Willie Nelson," Camarigg says. "Because of his age, it's a great way for people to get a connection to him. Other than Robert Johnson, he's probably the most important person in blues music."
Organizers are betting on King's appeal to draw $8 from at least 40,000 visitors each year to keep the museum afloat. Connie S. Gibbons, the museum's executive director, says fundraisers also will be held and grants sought to generate money.
"Our mission is education," Gibbons says. "What we've done is use B.B. King's life and his experiences to talk about life in the Delta. It's his values, it's his work ethic, it's his commitment to work excellence that provide the inspiration for the message and the story we want to tell."
The museum is to be the centerpiece of the state's blues tourism effort that also includes a developing blues marker trail stretching from Memphis Minnie's grave in Walls, near the Tennessee border, to Farish Street in downtown Jackson, a historic black business district and home of the Alamo Theatre, where artists performed live. The blues trail is a project of a state commission created to market the Mississippi's blues heritage in a region that flourished because of cotton before mechanization eliminated the need for most plantation jobs.
"What state can boast they have two kings — Elvis and B.B.," says Steve Martin, a spokesman for the Mississippi Development Authority, the state's economic development arm. "Just in the last two years, we've really capitalized on our blues heritage. In terms of economic, we see a lot of businesses sprouting up."
Tourism generated $1.3 billion in a 14-county region of the Delta in 2007, according to MDA. The bulk of the money, $1.1 billion, was spent in Tunica County, which has become a major market for casino gaming.
Carver Randle, an Indianola attorney who is also on the museum's board of directors, says the museum can be an instrument to improve the Delta on several levels. It has already been a "blessing in that it brought people together who ordinarily would not have come together," referring to the six years blacks and whites in the region worked together on the project.
King says much has changed since he left Indianola years ago, specifically fewer people working the land. But the area surrounding his museum suggests otherwise. Ramshackle homes line narrow streets and small groups of people stand on street corners drinking beer not far from where King once played.
"No better thing could have happened to our town," Joyce Poore, manager of the Double Quik convenience store, says of the museum, adding that it stands as a symbol for the youth. "By him being a black man and to build the museum in his honor, that's progress."
Indianola Mayor Arthur Marble hopes the museum will "have a profound impact on the local economy," in his town of 12,000, a town that is 70 percent black. He says he's trying to establish a partnership with the city of Clarksdale, the location of the Delta Blues Museum and actor Morgan Freeman's nightclub, Ground Zero.
Marble is convinced that the blues tradition is what will help the Delta survive.
"I think we don't have a choice," Marble says. "It's the common thread we've got to exploit.