/ Source: The Associated Press
Democratic Sen. Daniel Inouye of Hawaii strongly defended the honor of Republican Sen. Ted Stevens at the Alaska senator's corruption trial Thursday, saying he's never heard of his friend telling a lie.
"His reputation for truthfulness and honesty is what, sir?" defense attorney Brendan Sullivan asked.
"Absolute," Inouye answered emphatically.
Stevens, 84, is accused of lying on Senate forms to conceal more than $250,000 in renovations on his house and other gifts from Bill Allen, his close friend and former chief of a major Alaska oil services and construction company, VECO Corp.
But Inouye, who said he's so close to Stevens and his family that the Alaska senator's daughter calls him "Uncle Dan," told prosecutors that he's "never heard of him lying under oath."
"I've never known of him to lie," Inouye said, "and I wouldn't expect him to."
It remained unclear whether Stevens, the longest-serving Senate Republican and patriarch of Alaska politics for generations, would take the stand in his own defense. He has languished in the federal courtroom as a Democratic opponent back home mounts a strong challenge to the seat he's held for 40 years.
Close relations
The GOP icon's lawyers started their defense of him by calling his friends and constituents to testify in front of the jury to the senator's reputation of honesty and truthfulness. Former Secretary of State Colin Powell is expected to testify Friday.
Inouye is one of Stevens' best friends, with the two World War II veterans calling each other "brother" and the Hawaiian senator going so far to as to hold a fundraising lunch for Stevens in Washington in April.
The two have traveled the world together and are the top two senators on the panel controlling the Pentagon budget. For years, they've used the post to deliver federal money to their states. They are also the chairman and top Republican, respectively, on the influential Senate Commerce Committee.
The Pentagon budget gets done quickly in the Senate because of Stevens' reputation for honesty among senators, Inouye said. "This community has absolute faith in Ted Stevens," Inouye said. "His word is good."
Stevens has temporarily stepped down from those positions while he's on trial. If convicted, he faces up to five years in prison on each of seven charges, though under federal sentencing guidelines, he probably would receive much less prison time, if any.
Inouye, who as a Senate chairman is used to asking questions on Capitol Hill instead of answering them, briefly sparred with prosecutor Nicholas Marsh, who tried to get him to answer a hypothetical question about whether he would change his opinion of a person who has lied.
If Marsh was talking about Stevens, "I don't know Ted Stevens ever told a lie," Inouye said.
Marsh kept trying to ask the hypothetical question, until Inouye finally said: "I'm not inclined to respond to hypothetical questions."
Defense lawyers insist that Stevens was too busy in Washington to pay close attention to the renovation of the house near Anchorage, which his wife oversaw. They also say their client assumed that the $160,000 they paid to another contractor covered everything.
Prosecution rests
The prosecution, which rested its case earlier Thursday, relied on testimony by several VECO workers who, starting in 2000, labored for months to transform a modest A-frame cabin into a two-story home with wraparound decks, new electric and plumbing, sauna and a master-bedroom balcony. Prosecutors called as their star witness Allen, who has pleaded guilty to bribery in a corruption investigation resulting in convictions of several Alaska legislators.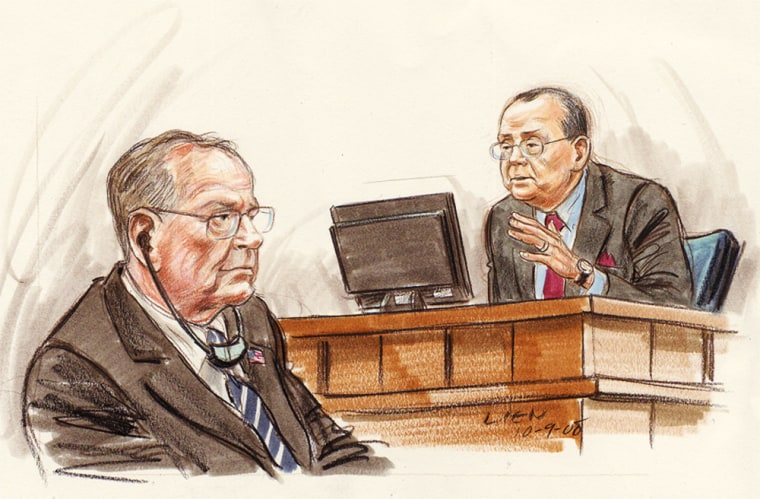 A self-made multimillionaire who's known Stevens for more than two decades, Allen testified that the senator came up with the idea for the house renovation to make room for visiting grandchildren. As the work progressed, Stevens sometimes asked him for invoices, but Allen said he ignored the requests because he liked him too much and the senator never ended up paying VECO.
Following his arrest in 2006, Allen agreed to secretly record phone conversations with Stevens. In tapes played for the jury, the senator coached his friend on how to fend off the FBI, but also said, "I don't think we've done anything wrong, Bill."
Behind the scenes at the trial, Stevens' attorneys have complained repeatedly to the judge that prosecutors have improperly withheld information that was favorable to Stevens and used records they knew were faulty to try to sway the jury.
Though he's rejected four motions for mistrial, the judge on Wednesday threw out disputed portions of the prosecution case, including misleading records saying that VECO welder Dave Anderson logged hundreds of hours on the cabin project. Allen's nephew left for Oregon for a few weeks in the middle of the job, something jurors weren't told when VECO accounting records were introduced as evidence earlier in the trial.
Stevens is hoping jurors will acquit him in time to return to Alaska and defend his seat in an aggressive race against Democratic Anchorage Mayor Mark Begich.