Two months after the first Android phone was released, there are more than 400 free programs from which to choose and the promise of more handsets coming that use the open-source operating system.
The number of "apps," or applications, is anemic compared to Apple's App Store for the iPhone, which launched in July. It has more than 10,000 programs now, from finance to games, some paid, some free.
Among Android's inventive offerings not yet available for the iPhone are Ringdroid, which lets you make your own cell phone ringtones within seconds; ShopSavvy, which turns the phone into a product barcode scanner and delivers up comparative prices online; and Ecorio, which can measure your carbon footprint on a daily basis and help you reduce it.
The first Android phone, also known as the T-Mobile G1, aka the Google phone, aka the HTC Dream, went on the market in late October.
Sales have been strong for the $179 phone available only through T-Mobile. And more Android handsets reportedly are in the works from companies like Samsung, Motorola and Sony Ericsson, as well as a new model from HTC. The Taiwanese company has said it expects to ship 1 million G1s by the end of this year.
Quite a head start
The iPhone was already a phenomenal success a year before the launch of the App Store, which lets users download programs directly to the phone.
The Android Market, which works much the same, is still finding its way. Programs, so far, are free — but free, of course, means no revenue for those who create programs. Many of those with apps in the Market are developers with a passion for the open-source software or those betting on Android's future.
Neither T-Mobile nor Google, the main force behind Android, has said yet when fees will start being charged by the Android Market, the equivalent of Apple's App Store.
Once they are, developers will get 70 percent of revenues, the same percentage developers get from App Store revenues. Apple gets 30 percent, and in the case of Android Market, the wireless carrier will get 30 percent.
Revenue is a huge incentive, obviously, but so are the meat and bones of the device and operating systems that developers have to work with, and Android's programming model is considered elegant and fun by many.
It should get more fun early next year when a major update to Android, known as "cupcake," is released. It will improve e-mail, Web browsing and phone functionality, as well as a host of fixes to the operating system.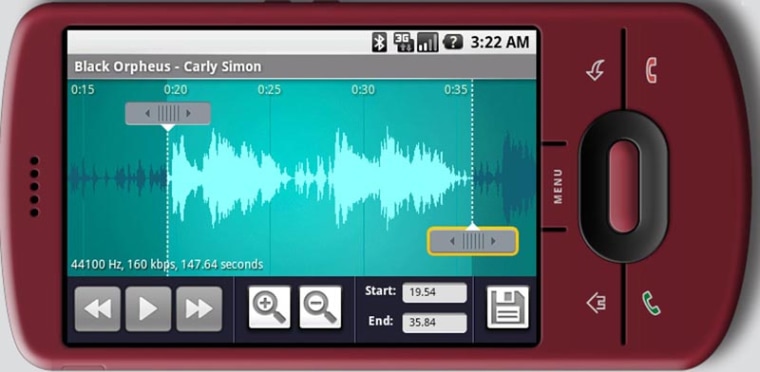 Developers of iPhone programs have had "the advantage of being able to utilize a powerful 3-D engine" in the iPhone to create their applications, said Rana Sobhany of Medialets, an advertising network and analytics provider for mobile platforms.
"That, coupled with the iPhone's accelerometer (motion sensor), microphone and other features make developing for the platform very conducive to creating fun and engaging games," of which there are more than 3,000. In contrast, there are more than 100 games for Android.
Android developers, Sobhany said, "tend to make applications that skew more on the utility side, given the graphical limitations and form factor of the device."
'Pleased' with developer response
But Android's open-source operating system means that there are few rules and anyone who wants to can write programs for the phone. That's in contrast to, for example, Apple's policy with the iPhone, where the company must approve software programs written by developers before those programs can be part of the App Store.
"We've been really pleased with the response from developers and the number of apps we've seen," said a Google spokeswoman.
Among the Android-only programs — those not yet out for the iPhone — that have won good reviews for their utility are:
Ringdroid
Ever wondered what your own voice would sound like as a ringtone? I did — and it's not pretty — but I could do it using Ringdroid.
A better choice for me — and for most people — is to use Ringdroid to create ringtones, alarms or notifications on the phone from digital music files that are already on the phone, or can be added via an SD card. Ringdroid works with MP3, WAV and ARM files.
The program has a "record" button and makes it easy to save whatever you record as a ringtone. Maybe a little too easy.
Ecorio
This green program uses the GPS chip in the phone to monitor where you go and how fast you're moving in a car or a bus, and will give you a daily tally of the trips you make.
The program is also a resource for users who want to know about public transit and carpools in their area.
Five Canadian engineering students came up with the idea and were awarded $275,000 from Google in its "Android Developers Challenge" earlier this year.
On their site, the students say they created the program because "people care about climate change, but don't understand how to connect their daily actions to the bigger picture."
BreadCrumbz
If you don't mind doing a lot of data entry on the go, and want to leave a detailed trail for others, BreadCrumbz is an intriguing way to do it.
The program relies on photos you take, then "geo-tags" with the location, to guide others. You can also add information about stops along the way.
"Picture-based navigation enables creating routes that are simply not possible using maps or satellite images," says the developer on one Android forum. With BreadCrumbz, "you can create routes leading to a specific door, a shop inside a shopping center or an object that's hard to find."
ShopSavvy uses the phone's camera as a barcode scanner, then finds the best prices of the same product on the Web, as well as at stores in your area. CompareEverywhere is another barcode scanner program that will tell you if "that 'sale price' really is a good deal," according to the developers, and provide you with reviews of what other shoppers think.
Cab4Me Light lets you get a cab when and where you need one. You choose your pickup location on the phone's map, and the program gives you a list of cab companies that serve the area; you choose which one to call.
Locale can manage your phone's settings based on location or situation. For example, if you're at work and you don't want your phone to ring, but forget to put it on vibrate, that's not a worry with Locale in place. If you've set the phone to "work," and include the address, every day the phone automatically goes to vibrate once you're at that location.
LifeAware lets you locate friends and family and vice-versa by sending your current location to others. You can also set up geographical zones and notifications for when a child arrives or leaves school, for example, or even when a friend on a trip arrives at their destination.
MyCloset is what it says for those who love their closets and can spend hours organizing it, studying it and figuring out wardrobe functions or malfunctions. The program manages information about your clothes, and even checks the weather to let you know what in your wardrobe would work best.
Cooking Capsules Taster is a fresh take for Rachael Ray-wannabes, or those who just wanna try something different in the kitchen. It's eight little episodes, or "capsules," about mainly Indian and some French cuisine. Each capsule has three steps: watch, shop and make. You watch the demo on your phone, use the built-in shopping list at the grocery store, and then try your hand at the meal, with the recipe in front of you on the phone. Unfortunately, Android can't actually cook the meal — at least for now.