/ Source: The Associated Press
One of two Florida priests accused of embezzling hundreds of thousands of dollars from their church pleaded guilty Wednesday, the same day jury selection was set to begin in the case.
Monsignor John Skehan, 81, pleaded guilty to bilking parishioners at St. Vincent Ferrer Catholic Church in Delray Beach for years. He had earlier planned to plead not guilty.
Skehan, who had been at the church 40 years, had been accused of taking $370,000 between 2001 and 2006, the timeframe covered by the statute of limitations. Church auditors, however, believe the figure stolen over the years was around $8 million.
He and the Rev. Francis Guinan had been charged with stealing to fund lavish lifestyles in what authorities say could be one of the biggest embezzlement cases to hit the U.S. Catholic Church. Prosecutors say the priests plucked cash from the offering plate and spent it on upscale homes, gambling trips to Las Vegas with a mistress, even a $275,000 rare coin collection.
"Father Skehan accepted responsibility for his actions by virtue of his guilty plea," his attorney, Scott Richardson, said outside court. "It's been extraordinarily difficult for him from the beginning."
Sentencing for Skehan is set for March 20. Richardson said he could receive up to 31 years in prison or as little as probation, and was hoping for leniency from the judge.
Second priest to go on trial
Guinan's trial was delayed until Feb. 18. Guinan, who has pleaded not guilty, is accused of stealing $488,000 during the 19 months after he became pastor in September 2003.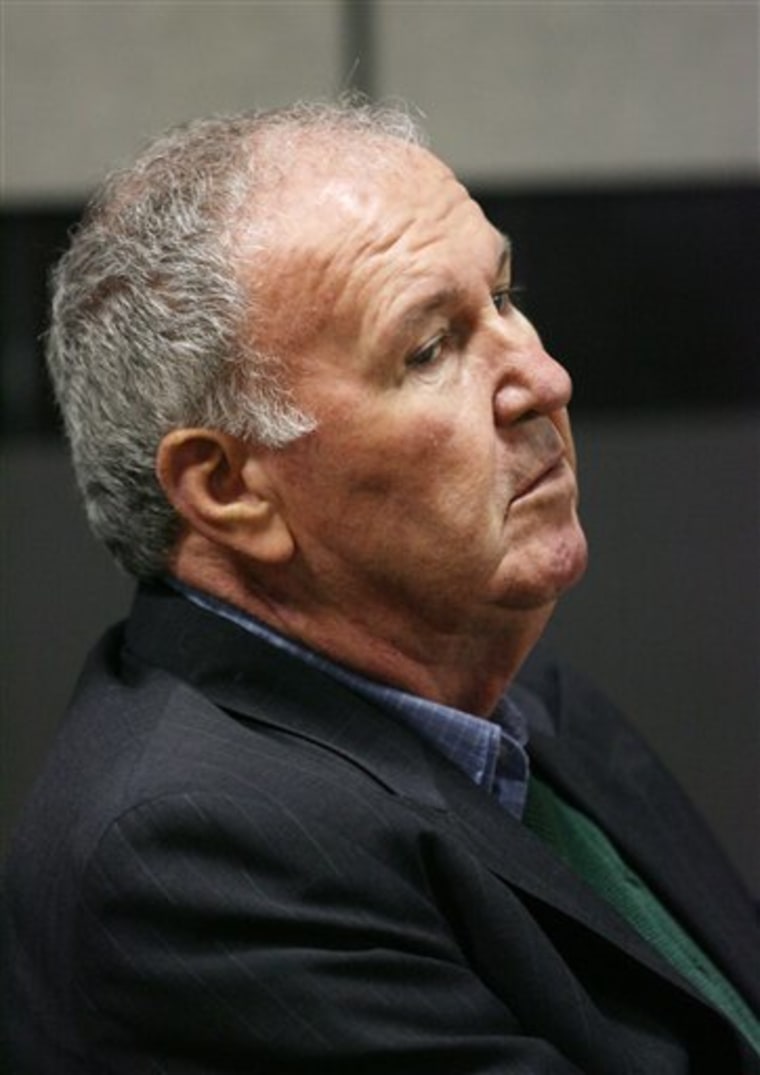 His attorney, Richard Barlow, said he would prove Guinan, 66, did nothing wrong, and that Skehan's plea does not affect his case.
"The fact that they were both priests and were at the same church doesn't make my guy guilty," Barlow said, adding that he would prove Guinan spent the money on church business.
He said most of the money the state accuses Guinan of stealing was spent on cash payments to church employees.
"It's a normal thing to do in the Catholic church, make cash payments," Barlow said. "We certainly can show that the state's allegation is not correct."
Authorities said Guinan had an "intimate relationship" with a former bookkeeper at a church where he'd previously worked and paid her credit card bills and her child's school tuition with money that wasn't recorded on the church books. They also said she accompanied the priest on vacations.
Priest tried to stop audit
An anonymous parishioner tipped prosecutors in April 2005, prompting police to contact the church, which was already conducting its own investigation into alleged improprieties.
Guinan begged the church to stop the audit, writing in an impassioned letter released by prosecutors that priests "devote their lives to the church with little thought for personal gain. They are generous, charitable and compassionate. They have earned and deserve trust, at least until proven otherwise ... May I be so crude as to ask you to 'call off the dogs.'"
Prosecutors did not immediately return a telephone message Wednesday.