/ Source: Forbes Traveler.com
Next time you plan a vacation that includes a rental car, think vintage.
"I believe that everyone should drive an E-Type before they die," says Richard Gaunt, proprietor of the aptly named Aspirations Classic Cars, based in Brisbane, Australia. "There is nothing like driving a car with personality."
One of his enthusiastic clients volunteered about the E series Jaguar, that was unveiled in 1961: "It's sexy to look at and sexy to drive. Most sports cars are stiffly sprung, but this just undulated."
So for those who aspire to drive the iconic Jaguar XKE, a 1959 MGA, a 1966 Ford Mustang or a 1960 Triumph TR 3, there are lots of options worldwide. The rental business for vintage cars, some of which are true automotive classics, is thriving, as drivers cite the allure of the smell of wood and old leather, the thrum of the engine, the whipping wind in an open cockpit.
John Pollack, of Sports Car Rentals in Charlottesville, Va., points out that he's no more than a ten-minute drive from scenic Shenandoah National Park. Dream Car's owner Ted Stevens, calls his 1950s and '60s vehicles "rolling pieces of art."
Pollack never got over his affair with an MGA he owned in college. He sold it when he married and started a family, but in his late 40s after he sold his previous company, he bought an MGB "out of the blue." That launched the Charlottesville business he's owned for the last 15 years, now with a fleet of six cars and growing. Other U.S.-based outfits include Imperial Classic of Albuquerque and Dream Car Rentals in Las Vegas.
Get your own insurance
But stringent insurance requirements can create difficulties for the vintage rental market in the U.S., where the driver is generally required to arrange his own insurance. In the less litigious U.K., says Tony Merrygold of Open Road Rentals near Stratford, England, the situation is completely different: British companies have insurance and don't require a collision damage waiver.
If you're ready to consider a vintage car rental, the next steps are which to choose and where to go. Merrygold has simplified the quest by creating a web site, Classiccarhireworld.com, organized by both the dream car and the country you might want to explore. This and sites like it can put together memorable driving tours, complete with maps, routes, special inns and hotels, and suggestions for wonderful places for a meal. Elsewhere in the U.K. Motorparty Classic Car Hire promises a getaway in the "lovely forgotten South West of Scotland," where owner Martin Edgar says that you might not see another car for an entire day.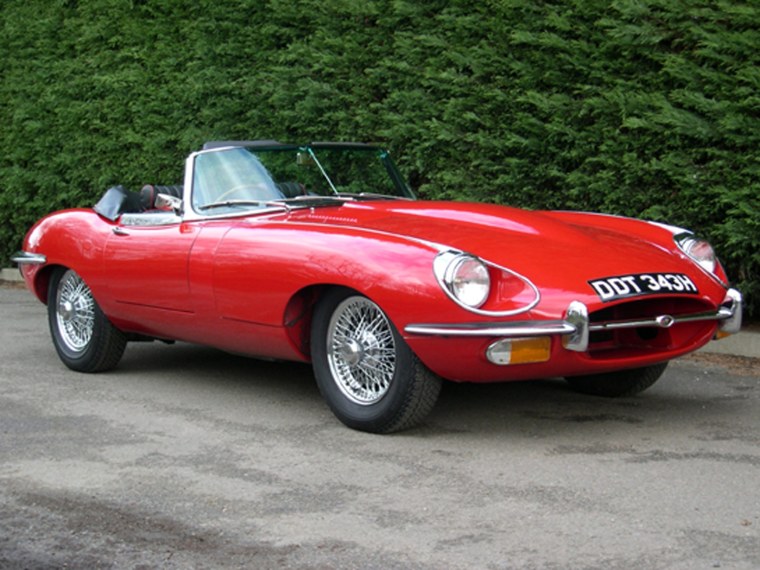 Ask any owner of a classic car rental business how he got into it (and from our informal survey it's usually a he) and you'll find he followed his heart back to childhood and teenage days. "Whatever cars were around when you were growing up and learning to drive" remain the most coveted, says Merrygold.
Scotland's Edgar agrees that by the time people reach their 50th or 60th birthdays they're reminiscing about the cars their dads owned and recalling Sunday drives in the country. To fulfill that dream Edgar offers a 1960s Morris Oxford, "a super practical stylish saloon," or to bring back the way we were in college days, there is his Triumph Herald: "Great fun on hot sunny days and challenging on cold wintry ones."
Although the driver is more often than not a man, it turns out that the majority of customers are women. Merrygold, explains: "The women buy presents as surprises for the men and often keep it a secret until they arrive at our door to collect the cars."
The customer pool also comes from former owners of vintage cars. "If you're only going to use it now and then," Edgar says, "it can get rather expensive. And quite often the novelty wears off." So why not spend a day with his extraordinary 1933 MG Midget ("the sweetest of the pre-war MGs") for 270 pounds rather than buying one for 20,000 pounds and driving it only once in a while?
Philip Rowe, whose Vintage Classics is based near the Cotswolds says, "Buying and maintaining classic cars can be a significant investment and too often people follow their hearts rather than their heads and the car ends up being left neglected in the garage. Old cars can be just as reliable if properly looked after. Today a lot more cars are being serviced by garages. In the '60s and '70s the average motorist in the UK would carry out his own servicing and repairs but today it is a rare sight."
All these experts agree that the cars are in better shape being run regularly than languishing at home. Questioned about the fabled unreliability of so many sports cars, Merrygold speaks for his colleagues when he says, "Not as much of a problem as you would think. They are all well-maintained and the more they are driven the more reliable they are." And Aspirations' Richard Gaunt says, "Having owned classics, we all know the issues that you are comfortable with to 'drive around' if it's your car. We can't and don't do that with hire cars."
5-day drive for $10,950 — per person
For pampering and luxury at the highest level (and price) Vintage Car Tour in Rome is the newest kid on the block, preparing for a "soft opening" this September. La Dolce Vita on wheels, this is a group drive through the Italian countryside comprised of three to eight cars. Their Lancias, Alfa Romeos and Fiats are privately owned and regularly used, which the founders promise means that they are in very good condition.
The three women behind the concept are long experienced in the travel industry in Italy. They'll take care of everything. You can drive with the group or decide on a detour on your own. You'll be assured of overnights in castles, villas, grand hotels and the like, and in a unique wrinkle, the group is accompanied by a host and a valet-mechanic. "Every evening," the promotional material promises, "the valet-mechanic checks the tires and the engine, washes and polishes the car and fills it with gas."
Where will this fantasy on wheels take you? So far, among the available itineraries are Tuscany, the Amalfi Coast, and Abruzzo. The cost? For the five-day Tuscany route, $10,950 per person based on two people sharing a room. We've definitely come a distance from the simple Sunday country drive of memory.