/ Source: The Associated Press
Even the most grizzled investigators were reduced to tears by the disturbing details of the death of 2-year-old Riley Ann Sawyers.
The tot's already decomposed remains had been stuffed into a plastic container that was dumped into Galveston Bay. A fisherman found the container and its contents on a tiny island about a mile (1.6 kilometers) from the shore of the huge bay in October 2007.
On Monday, jury selection is set to begin for the capital murder trial of Riley Ann's mother, 20-year-old Kimberly Dawn Trenor. She and her husband, Royce Clyde Zeigler II, are accused of beating the toddler to death in July 2007.
After the gruesome discovery in Galveston Bay, the toddler was dubbed "Baby Grace" until authorities were able to identify the tiny remains as Riley Ann.
"I saw a lot of real tears from a lot of old-time, seasoned detectives who took this home with them every night," said Tim Miller, director of Texas EquuSearch, a volunteer search organization that helped in the investigation.
Finding jurors might be tough
That community reaction could easily complicate the task of choosing jurors.
Trenor told police the beating began during a discipline session when Riley Ann forgot to say "please" and "yes, sir" to Zeigler, her stepfather.
According to an arrest affidavit, Trenor said she and Zeigler used two leather belts to beat Riley and also held her head under water. But she claims it was Zeigler who grabbed Riley by her hair and flung her across a room onto a tile floor, fracturing her skull in three places and killing her, an autopsy concluded.
Authorities said the couple hid the little girl's body for a month or two in a storage shed at their home in Spring, a northern Houston suburb, before dumping it in the bay 70 miles (113 kilometers) away.
The break in the case came when Sheryl Sawyers called authorities from her home in Mentor, Ohio, saying she had seen an artist's sketch of the unidentified little girl and believed it was her granddaughter, Riley.
Trenor had moved to Texas with Riley from Mentor, a Cleveland suburb, in June 2007 to be with Zeigler, whom she had met playing the online game World of Warcraft.
Sheryl Sawyers is scheduled to testify at the trial.
A guilty plea on one charge
Last week, Trenor pleaded guilty to a charge of evidence tampering and will be sentenced for that after her murder trial.
"It is a small relief to hear Ms. Trenor is taking some responsibility for her role in this tragedy," said Laura DePledge, an attorney for the Sawyers family, referring to Trenor's admission that she tampered with evidence. "Most of the shock having passed, the family has been focused on dealing with their loss. The onset of trial, however, will force them to relive the trauma and expose them to extraordinary pain again."
If convicted, Trenor faces up to life in prison
If convicted, Trenor faces up to life in prison without parole. The jury could also convict her of a lesser charge. Zeigler, 25, will be tried later.
"The charges against her are she intentionally killed her daughter and we contend that is not what happened," said Trenor's attorney, Tommy Stickler Jr.
Zeigler's attorney, Neal Davis III, points the finger at Trenor.
"Royce didn't kill, didn't murder Riley," Davis said. "I think her trial will hopefully refute some of her story."
Galveston County District Attorney Kurt Sistrunk declined to comment about the case before the trial starts.
Prosecutors declined to seek the death penalty against either defendant because they didn't think they could prove that the pair would be a future danger, a requirement for such a punishment. Trenor and Zeigler remain in the Galveston County Jail in lieu of $850,000 bail each.
Gave birth to boy while awaiting trial
Last June, Trenor gave birth to a boy, Shawn, while awaiting trial. She relinquished her parental rights and the boy is living with distant relatives in the Dallas area. Zeigler has not relinquished his parental rights, child welfare officials said.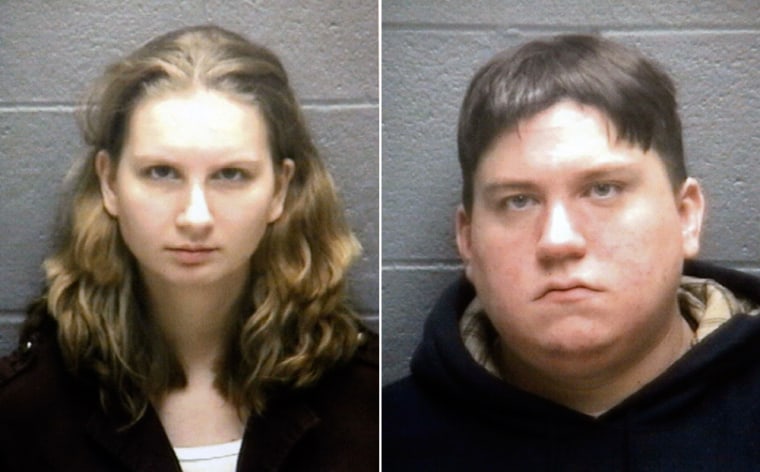 Riley's killing and the investigation generated intense media coverage and Galveston County District Judge David Garner tried to weed out people in the initial jury pool who already had made up their minds about the case.
The island where the toddler's body was found was officially renamed "Riley's Island." A wooden cross bearing a plaque with her name was placed there as a memorial, but Hurricane Ike washed it away on Sept. 13.
Miller, who made that cross, said he is making a new one and hopes that he and Riley's family can place it on the island at the end of Trenor's trial.
"It's sad the cross is gone. But as much damage as the hurricane did, I was afraid the whole island would be wiped away," he said. "God did not want that to happen. The cross will be put there again in her honor."