/ Source: The Associated Press
A fire burned for more than two hours Wednesday at Holy Name Cathedral, severely damaging the attic and leaving gaping holes in the roof of the 134-year-old landmark and seat of Cardinal Francis George.
Firefighters battled the blaze in frigid temperatures at the iconic church, which had been destroyed in the Great Chicago Fire and rebuilt.
"First we have to thank God no one was injured," George said after surveying the damage inside the church. "Chicago has always bounced back from fires."
Flames shot through Holy Name's roof for about an hour before being replaced by plumes of white smoke. The fire was out around 8 a.m. Afterward, icicles hung from pews and water dripped from light fixtures, George said.
No smoke, damage in sanctuary
While no injuries were reported from the blaze, a firefighter suffered a minor back sprain after slipping and falling.
There was no smoke or fire damage in the sanctuary, fire department spokesman Larry Langford said. The cause is under investigation.
Holy Name's pastor, the Rev. Daniel Mayall, said the fire set off the sprinkler system, which kept the flames from extensive wood paneling and ornate decorations.
But Chicago Archdiocese Chancellor Jimmy Lago described the water damage to the church as "humongous," and said crews were pumping water from the basement.
Church officials said it was too early to estimate the full extent of the damage, but Lago said he expected the cathedral to be closed for months.
Lourdes Mayback, 54, a parishioner for 25 years who has helped distribute communion and served as an usher, stood across the street from the cathedral and cried as it burned.
"My heart is breaking in pieces," she said. "This is my life here, my home."
A member of a crew doing repairs to the church discovered the fire, which appeared to have been burning for awhile, said city Fire Commissioner John W. Brooks.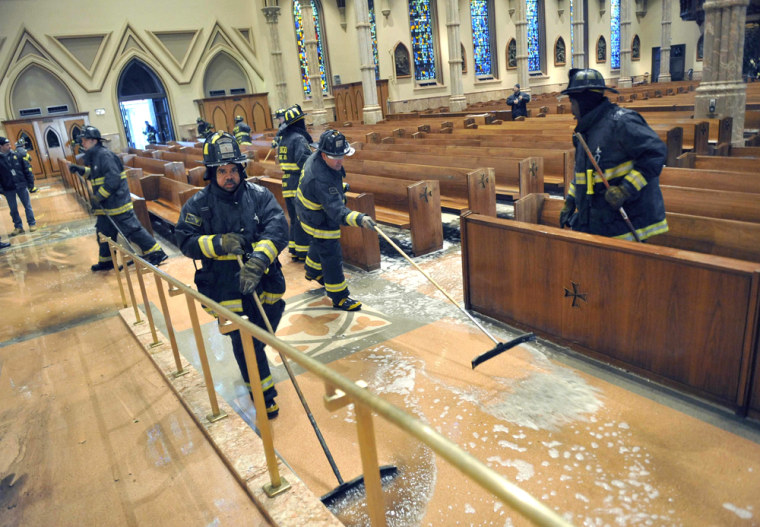 Restoration and repair work on the building had been ongoing after engineers determined structural weaknesses in the roof caused a 10-pound piece of decorative wood to fall 70 feet from the ceiling last February. No one was injured in the incident.
"We have gone through a lot in the last year and it's a shame to see that we're back to square one again," Mayall said.
The church and its nearby buildings, including a school and a rectory, take up an entire block in downtown Chicago. The fire did not damage other buildings.
Holy Name Cathedral, built in the Gothic revival style, can seat 1,520 people. Its spire reaches 210 feet.