/ Source: The Associated Press
Annette Busch walked away from her distillery tour with a souvenir to savor, sip by sip, as she sported a bottle of Maker's Mark bourbon topped with her own personal touch.
Having bought the whiskey at the distillery gift shop, Busch then donned protective gear to dip her purchase in hot red wax to create her rendition of the distinctive seal topping every bottle of Maker's Mark.
After a quick lesson, the woman from Reading, Pa., grabbed the bottle and dunked the top in a tub of wax, swirled the bottle, then pulled it out. She then signed and dated her bottle.
"It's pretty cool," Busch said after completing her visit to the bucolic distillery nestled in the hills of central Kentucky, where whiskey-making has been a tradition for more than two centuries.
Kentuckians like to brag about their whiskey, and distillery tours along the Kentucky Bourbon Trail let them show off the craft of turning grains and a few other ingredients into fine whiskey in an age-old process.
Visitors get a glimpse into production from start to finish. They see clear whiskey — called "white dog" — come off the still. Fresh whiskey is placed in new charred white oak barrels for aging in rackhouses. During years of maturation, bourbon acquires its caramel color and aroma — a blend of caramel, vanilla and fruits.
The sampling comes last, though there's one catch — anyone taking a nip has to be at least 21 years old.
Kentucky produces more than 95 percent of the world's bourbon. Production has doubled since 1999 — from 455,078 barrels to 937,865 barrels in 2007, according to the Kentucky Distillers' Association. About 4 1/2 million barrels of bourbon were aging in Kentucky at the end of 2007, it said.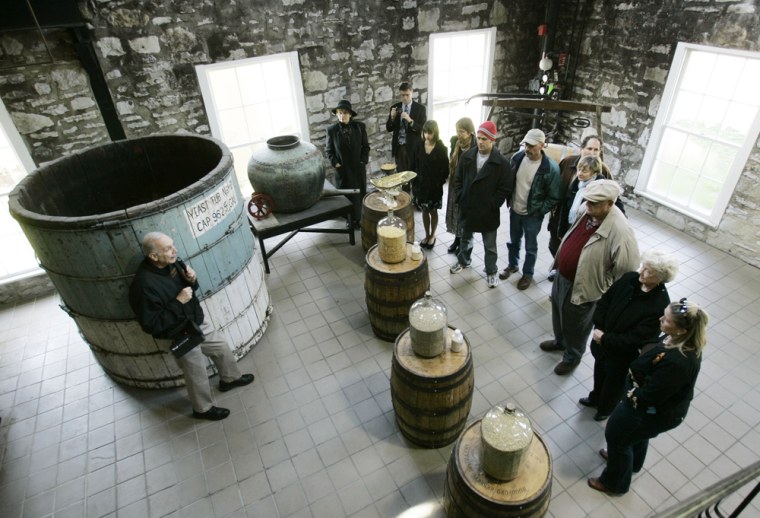 To earn the name, bourbon must be made in the United States, contain at least 51 percent corn in the mash and be distilled at 160 proof or less. It then goes into the barrels at 125 proof or less for at least two years of aging.
Along with Maker's Mark, other bourbon makers featured on the decade-old Bourbon Trail are Buffalo Trace at Frankfort, Wild Turkey and Four Roses near Lawrenceburg, Heaven Hill and Tom Moore at Bardstown, Jim Beam at Clermont and Woodford Reserve near Versailles. Each has its own distinctive features.
At Heaven Hill's Bourbon Heritage Center, visitors sip bourbon in an eye-catching barrel-shaped tasting room. Four Roses Distillery features Spanish Mission-style architecture. Wild Turkey sits on a hill crest overlooking the Kentucky River. At Jim Beam, visitors trace the rise and influence of the "First Family of Bourbon." Buffalo Trace is on a site settled by surveyors where the Kentucky River intersected a buffalo trail. Tom Moore offers an interesting behind-the-scenes tour.
No single road connects the distilleries, spread out across several counties in central Kentucky.
Spring is a popular time for tours, with visitors treated to Kentucky landscapes bursting in color from budding trees and flowers. Bourbon tours mix well with another signature Kentucky industry for a day of bluegrass bliss. Some people combine bourbon tours with visits to area thoroughbred farms or spend an afternoon at horse races. Keeneland race track at Lexington has live racing for most of April, followed by the spring meet at Churchill Downs in Louisville, home of the Kentucky Derby.
Bourbon and horses mature near one another at the Woodford Reserve Distillery, nestled in Kentucky's Bluegrass region. Visitors heading to the distillery on country back roads drive past picturesque horse farms bounded by miles of black wood fence snaking along the countryside.
The distillery is a collection of stone buildings on a site where bourbon has been made since 1812.
The visitor center features an inviting front porch with a row of rocking chairs. Inside, there's memorabilia and a gift shop featuring regionally produced foods, gifts, apparel and stocks of Woodford Reserve. A popular local restaurant offers catered lunches that can be eaten on the back porch.
The tour takes about an hour and gives visitors an inside look at bourbon making.
They peer into cypress fermentation tanks in which cooked grains and water — forming a bubbling, brownish mash resembling oatmeal — are combined with yeast, which transforms sugar into alcohol.
In a rackhouse teaming with barrels from top to bottom, tour guide Dave Salyers described how aging whiskey is sampled to determine if it has reached maturity.
Tasters drill into the bottom of the barrel to extract whiskey. They sniff the bourbon — called "nosing" — and check its color. They put a small amount in their mouths, swish it around and spit it out.
Why spit rather than swallow? Salyers said they take multiple samples each day.
"I wouldn't be much good after about two or three samples," he said.
The return to the visitor center means it's sampling time. Salyers offered suggestions on how to taste test Woodford Reserve, a super-premium, small-batch bourbon.
"Now if you're the John Wayne-type, down it," he said, drawing laughter. "I had a guy did that one day last week. It really shocked me. We suggest that you sip a little bit on your tongue, let it sit, swallow and get ready for it. And then do a little bit more sipping."
Adding water and ice was optional. Adding a splash of cola wasn't, though.
"Now after you've purchased a bottle, you may do whatever you like with it," Salyers said.
At Maker's Mark, visitors are encouraged to dip their fingers into two fermentation tanks for a taste. In the first tank, the grainy mash is sweet. In the second tank, the mash is bitter, having cooked for three days.
In the rackhouse, there are chuckles when tour guide Herb Stucker tells visitors about the "angel's share," the portion of bourbon lost to evaporation while in the barrel.
Bourbon-inspired foods are popular at the Toll Gate Cafe on the distillery's grounds.
The eatery, on the site of a former toll house, seats about 15 people with additional space on an outdoor patio. Favorite dishes include bourbon barbecue pulled pork and chicken breast.
The most popular stop on the Maker's Mark tour is the bottling line. Cameras click as five workers methodically dunk bottle tops into tubs of hot red wax. It's the last stage before the bottles are boxed.
Visitors then sidle up to a bar next to the gift shop. Two glasses are placed in front of each guest — one glass containing a small amount of clear, new whiskey. The other has mature Maker's Mark.
One woman laughs, saying she choked after tasting the stiff, clear whiskey.
"You can choke, whatever you want to on this one," Stucker replied. "Just the next one, you've got to smile."
The group then sniffs the mature bourbon, followed by tastes.
"See I told you, nothing but smiles," Stucker said.
The tour might have made a convert out of David Smith, who favors premium beers.
"I liked it," the St. Clair, Mich., man said.