Grades in the gutter, cutting classes, expelled from Elkhart Central High School for fighting: Yamilette Colon was as close to becoming a dropout as a ninth-grader can get.
"I'm not even going to lie to you, I was bad," said Colon, who admits she had a knack for attracting trouble.
Three years later, though, Colon, now 18, is an alternative school honor student on track for a May diploma, spurred in part by a sense of self-pride, but also, she says, by the economic calamity that has shuttered plants, claimed jobs and dimmed the future for many young people in this hard-hit county dubbed the "RV Capital of the World."
"It's a huge factor," Colon said. "It comes down to, the longer you stay in school, the more education you get, the more money you make."
That's a big shift in attitude in a community where 24 percent of adults older than 25 have less than a high school education, where only 66 percent of students graduate from high school in four years, and where generations of kids dropped out because it was always easy to find a decent job.
But in Elkhart and across the country, education leaders say they're seeing what may be one bright spot in the dismal downturn: more students opting to stay in — or return to — school.
"I'm hearing kids clinging to their education as the economy gets worse," said Clyde Riley, principal at the Tipton Street Center alternative school, where Colon is one of 240 students in a district that serves some 13,500.
Here and elsewhere, long waiting lists for adult education and GED — General Education Development — classes, spiking enrollments at community colleges and, perhaps, a surge in returns by high-school dropouts and a decline in those who leave in the first place, may all point to a renewed focus on education, experts say.
"If there's anything good to come out of this recession, it's to make educational lemonade out of these lemons," said Bob Wise, the former West Virginia governor who now heads the Alliance for Excellent Education, a national policy and advocacy group.
When times are tough, kids stay in school
It's too early for data to validate any shift in graduation or dropout rates related to the bad economy, Wise said, although he and others expect some improvement as early as next fall.
Some experts say that both research and common sense suggest that when times are tough, kids are more likely to stay in school. Two studies included in a review of 25 years of research on reasons students drop out found that states with higher unemployment rates had lower dropout rates and higher graduation rates, said Russ Rumberger, a professor of education at the University of California, Santa Barbara and director of the California Dropout Research Project.
One state study estimated that for every 1 percentage point rise in the unemployment rate, the contemporary dropout rate fell by 5 percent, the research showed.
"It's what economists call an 'opportunity cost.' You don't have a lot of other options," Rumberger said. "It makes college more attractive and it makes it the same for high school."
That message has been underscored, Rumberger and others say, by support from the top: President Obama's $141 billion boost to education through the federal stimulus plan and his recent assertion that "dropping out of high school is no longer an option."
"It's not just quitting on yourself, it's quitting on your country, and this country needs and values the talents of every American," Obama said in a February speech to a joint session Congress.
Some critics say it's far too optimistic to expect a recession to affect the intractable problem that leads to an estimated 1.2 million dropouts — or nearly a third of the nation's graduating class in the U.S. each year.
"Unless we're changing the support systems for schools, we're not going to see a change," said Jonathan Plucker, director of the Center for Evaluation and Education Policy at Indiana University in Bloomington.
Even in Elkhart, Central High principal Frank Serge notes that students don't traditionally drop out for financial reasons, or think far enough ahead about the very real long-term consequences of their choices.
But the severity of the current downturn may change that, Wise observed, making education a priority fueled by a very practical reality.
"This is the first recession that truly discriminates based on education," he said.
More education, better income
March unemployment figures from the federal Bureau of Labor bear that out. The overall unemployment rate was 8.5 percent, but it was 13.3 percent among people 25 and older with less than a high school diploma and 9 percent among high school-only graduates. For those with some college, it was 7.2 percent and for those with a bachelor's degree or better, the rate fell to 4.3 percent.
Those differences typically translate into greater income overall, with a high school dropout earning about $260,000 less on average during a lifetime than a high school graduate, Wise noted.
According to the U.S. Department of Commerce, an American worker with less than a high school education can expect to earn an average annual salary of $19,000 a year, compared to $26,200 for a high school-only graduate  and $42,200 for a worker with a bachelor's degree.
In Elkhart County, where the unemployment rate hit 18.8 percent in March, the paycheck-boosting need for new skills has become more than obvious, said Deb Weaver, director of community education for the Elkhart Area Career Center.
She had to halt orientations for GED classes last summer because of long waiting lists. When they resumed this year, 139 people showed up for 100 slots.
Most of the more than 700 students Weaver serves now are unemployed workers in their late 20s to mid-40s who never finished school. Increasingly, though, younger students, those 16 to 24, understand earlier than ever that they need the credential.
"They have 90 stories about why they dropped out," said Weaver. "But for all of them now, it's regrets, regrets, regrets."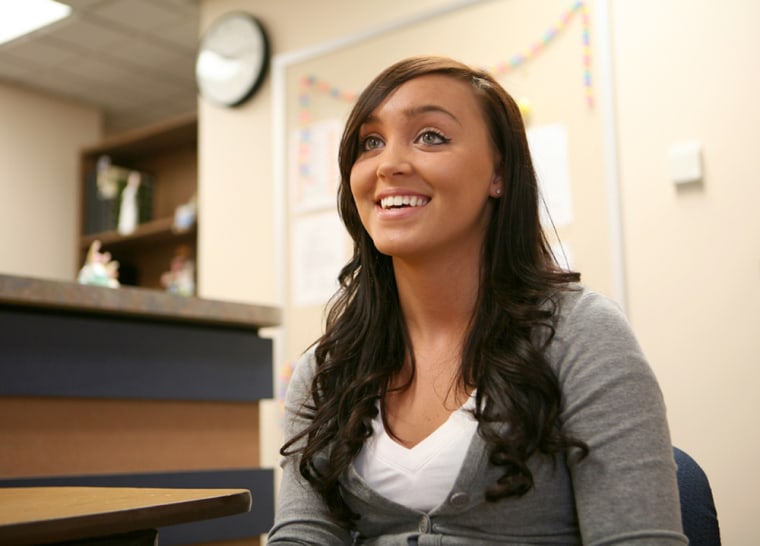 Paige Bowers, 18, of Elkhart, enrolled in GED classes soon after leaving Elkhart Central at the end of her junior year following a classroom fight that left her dreading school. She got a job making $6.55 an hour at a local tanning salon, but hopes to go to college — maybe in Elkhart, maybe in Texas or California — and she said she knew it was important to finish.
"You don't just want to be a dropout and have nothing going for you," said Bowers. "I'm not dumb."
Ashley Van Wormer, 20, of Elkhart, returned to complete a GED program four years after she dropped out of nearby Jimtown High School because she was pregnant. She later married the baby's father, Chad Van Wormer, 21, who got a GED certificate after dropping out of Concord High School four credits shy of a diploma.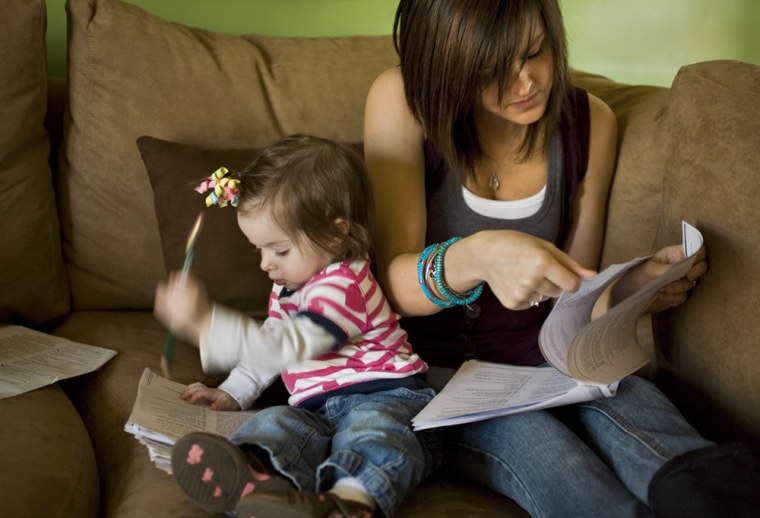 The young mother of Braydon, now 4, and his sister, Payton, 1, says she doesn't regret leaving school so early to have children, but she wants to make sure to set a good example.
"I want to be someone my kids can look up to and I want to feel good about myself," said Van Wormer, who hopes to train to become an ultrasound technician. "I want them to have a great life, get through schooling, have their lives set so they don't have to worry about anything."
Long waiting lists for GED classes
Returning students are having to wait longest in hard-hit places like Elkhart, and Saginaw, Mich., where 1,000 people can't yet get into adult education classes, according to Dianne Duthie, director of lifelong learning in the state's Department of Energy, Labor and Economic Growth.
But adult education experts say the numbers are spiking in a country where about 676,000 students took GED tests in 2006.
In Arizona, the number of people taking the GED tests in the first few months of 2009 climbed 9 percent over the first few months of 2008, a rate nearly double previous growth, said Karen Liersch, deputy associate superintendent of adult education services at the state's education department.
At the same time, enrollment in adult education classes was up 21 percent from 2007 to 2008, and projected  to rise another 17 percent this year, she said.
Increases are also being logged in states from Georgia and Alabama to Delaware and Missouri, said Lennox McLendon, president of the National Adult Education Professional Development Consortium.
"They say people are just beating down the doors, especially in places where there have been layoffs," he said.
Community college enrollments up
That surge has been matched by a rise in community college enrollments in Elkhart and elsewhere.
At the Elkhart campus of Ivy Tech, a statewide system of community colleges, enrollment is up more than 24 percent than this time last year, a record, said Tracie Davies, a spokeswoman. In the north-central Indiana region, it's up by a record 15.8 percent as well.
Nationally, firm data about enrollment is not yet available, but informal polls suggest numbers began to rise last fall and have continued to climb, said Norma Kent, a spokeswoman with the American Association of Community Colleges.
A survey of 100 schools in March showed numbers are up over the previous year from 4 percent to as much as 27 percent at one Louisiana community college, Kent said.
The reason is obvious, said Marguerite Kondracke, chief executive officer of America's Promise Alliance, a collaborative agency aimed at boosting achievement among children and youth. She's been conducting "dropout summits" in all 50 states and in 55 cities with the greatest concentration of low-performing schools, using the economic downturn to call attention to the need for education.
"A high school graduate could count on a factory job or a Rust Belt job, but no longer," Kondracke said.
Anecdotally, Kondracke has heard of boosts in dropout reenrollment rates and in hints of graduation rate improvements linked to the downturn. She believes that the hard times will accelerate education as a priority.
"The economic crisis creates a sense of urgency and it forces us to focus on things we should have been doing all along," she said.
'I don't want to be stuck in a factory'
Yamilette Colon, the alternative school honors student, works nearly full time at a local Taco Bell restaurant and feels fortunate to have a job in a community where so many have been laid off. But she knows if she wants to achieve more, she'll need education beyond the diploma she's worked for so hard.
"I don't want to be stuck in a factory," said Colon, who hopes to go to nearby Indiana University South Bend to study nursing.
That's a message emphasized by Colon's mother, Linda Delgado, 35, who works as a human resources manager at Flair Interiors, a supplier of recreational vehicle upholstery in Goshen, Ind. Because she's bilingual and can communicate with the firm's Hispanic employees, Delgado says her position is fairly secure. But she's not taking any chances. She's working, one class at a time, on an associate's degree at Ivy Tech.
Delgado said she's trying to set a good example for Colon, her oldest, just as she expects the 18-year-old to be a role model for her three siblings, ages 6 to 15.
"I made sure she understood that dropping out was not an option," Delgado said. "There are alternatives, but that was not one."
Finding ways to keep kids like Colon in school has long been a challenge in Elkhart and elsewhere, said Mark Mow, superintendent of the Elkhart Community Schools corporation, or district, where 302 students were classified as "non-graduators" in 2007.
"Our graduation rates have historically been lower than the state," he said. "Kids didn't have to have a high school diploma to get a decent job."
In the past, it wasn't unusual for a teenager just out of high school to make $15 or $16 an hour in a manufacturing plant, with room to improve, local residents said.
Elkhart also contends with social problems that contribute to lower levels of graduation. About 12 percent of families lived below the poverty level, twice the rate in Indiana overall, according to the 2000 census. At least 52 percent of students are enrolled for free school meals, compared with about 32 percent in the state. And about 48 percent of students are minorities, compared with about 25 percent in Indiana as a whole.
Students leave for reasons ranging from pregnancy and poverty to discipline problems, and, for many, a simple lack of interest in the curriculum, Mow said.
The result? Nearly 22 percent of Elkhart County's 16- to 19-year olds are neither enrolled in high school and nor high school graduates, according to the 2000 census. Among some 3,140 counties in the U.S., Elkhart ranked 73rd in that category.
Overall, the graduation rate for Elkhart Community Schools now hovers at about 66 percent, Mow said. It appeared higher before 2005, when Indiana changed the way it calculates graduation rates, joining a growing national movement to implement a uniform measure.
By that same standard, rates in Indiana are about 76.5 percent, and the U.S. level stands around 70 percent.
'It's not OK not to have a diploma'
However they're counted, losing a third of the students before graduation clearly is not acceptable, said Mow, a former science teacher and district business manager.
"How do we make it an expectation that it's not OK not to have a diploma?" he said.
Mow said he has implemented several improvement programs in the past five years, ranging from mandatory training to update teachers' skills to "freshman academies" that give new high-schoolers a nurturing experience. His district was among the first in Indiana to offer full-day kindergarten to all students, and he's committed to referring at-risk students to whatever program can work.
That includes alternative schools like the Tipton Street Center where Colon went and to programs such as The Crossing, a Christian-based private school run by Rob Staley, who spent 25 years as a principal at nearby Concord High School before starting his own program.
"There's a huge number of kids we are missing," said Staley, who was spurred to leave public education in part because he felt it failed to meet so many needs. He has has enrolled 1,500 students since 2005, including many who come directly from jail or prison.
Staley has no doubt that the economic downturn will send more people — adults and kids alike — clamoring for classes. 
"If there's anything good that's happened through all of this, it's that people are getting their education," he said.
That's a sentiment echoed by Linda Delgado, who is already anticipating watching Yamilette accept her diploma after such a long struggle.
"Oh my God, I think about it and I get emotional," she said. "When her graduation day comes, I'm going to need a lot of tissues."