Quaint and storied, this little town is one of the state's 78 National Historic Districts and served as the set for a hit TV show. The surrounding forest draws visitors to the eastern foothills of the Cascades and helps keep this community of 1,000 on the map. Yet the verdant backdrop remains a constant threat.
Fire is never far from residents' minds. Dozens of blazes burn each year in nearby Wenatchee National Forest. The local cemetery includes a memorial to four firefighters who died in the Thirtymile Fire of 2001.
With the town at such risk, the state Department of Natural Resources used $340,000 in federal money to build a fire break around Roslyn. No one would claim the break, 80 acres of trimmed trees and thinned underbrush ringing 864 homes, could stop a fire. It is intended to be "defensible space," a ribbon of land wide enough to drop a fire to the ground and allow fire crews to battle the flames.
"Firefighters need a margin of safety. None of us got into this business to be martyrs. We're here to help people," says George Flanigan, a veteran state administrator and fire commander who managed the project. "In this particular case, it was an effective way to protect a lot of homes."
Roslyn's history and its familiar look — it did a star turn as Cicely, Alaska, in the television show "Northern Exposure" — made it a great demonstration project for the 11,000 towns across the nation that abut wild lands, and an example of how rural communities could balance safety and aesthetics.
The project also represents a key goal of modern fire policy: making communities safer before fires occur. Some homeowners have balked at such a mandate, but still expect protection with publicly funded resources when flames do lick at their doors.
Two trends may persuade them to take preventive measures to protect their homes — higher insurance rates and a new policy by some firefighters to focus on saving homes that have a better chance of withstanding a fire.
"You can educate with a stick or you can educate with a carrot," Flanigan says. "Right now we're educating with a carrot."
The nation's wild lands have beckoned to Americans since the country was founded. But that frontier spirit comes with a cost.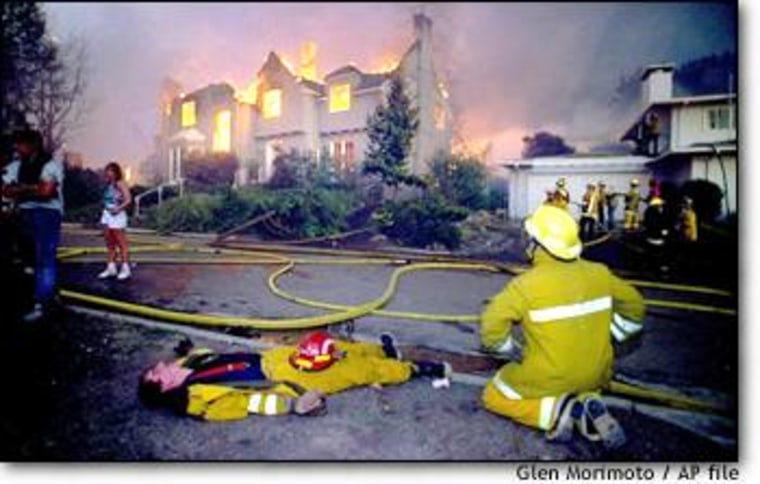 "The very qualities they move there for are the ones that put them at risk," says Jerry Williams, the U.S. Forest Service's top fire official. "I think they have a misconception of the type of forest they live in."
Today, many new subdivisions, especially in the foothills of the fire-threatened West, are touted for their livability, scenery and convenience. The risk of fire rarely is mentioned by developers — until it's too late.
Nowhere was this lesson more devastatingly demonstrated than in Oakland, Calif., in 1991, when monstrous fires tore through the foothills, destroying 3,000 homes and killing 25.
Oakland was a case study in fire don'ts:
The hills above San Francisco Bay were densely packed with tiny lots.
Homeowners planted thick vegetation on their property, providing fuel for the flames.
Fire hydrants were sparsely located.
Steep, winding roads proved an impassable challenge for most fire equipment.
Millions in federal aid and more than $1 billion in insurance money poured in to rebuild the community, but political pressure by developers and even residents themselves left the area even more densely built than before. When the Oakland foothills burned 11 years ago, little incentive existed for communities to protect their property from wildfires. But a decade of worsening fire seasons has spurred momentum for safety. Towns like Perry Park, Colo., are now prepared for the worst.
Officials there decided two years ago that the 550-home subdivision 45 miles south of Denver had to protect itself from potential ruin. Through the 1990s, huge fires had burned nearby. A blaze in 1996 destroyed much of the town of Buffalo Creek, on the other side of the Pike National Forest.
"The first thing we knew we needed to do was get people educated about the problem," says Keith Worley, a private forester and secretary of the Perry Park Metropolitan District council.
Residents knew there were significant fire dangers in their area — not only the condition of many homes but also the single road in and out of town that would be a choke point for fire crews and fleeing residents.
At the same time, the National Fire Protection Association expanded its Firewise education program, certifying towns that implemented wildfire protection plans. The two were a great match. Using national guidelines, Perry Park created instructional courses for its residents.
"We teach people to use hand saws and pruners and all the tools they need to do this work," says Worley, who leads many of the classes. "We call it 'extreme gardening.'"
The town built a fire break not unlike Roslyn's, a greenbelt of fire-resistant plants and rock formations to block flames, and began curbside pickup for "slash," the low tree limbs and dead wood that residents were taught to clear from their property.
Some residents initially ignored the new fire sensibilities, but resistance withered as the courses' popularity grew and word spread of the potential to cut risk.
"People kind of get religion," says Michele Steinberg, communities support manager for Firewise. "They get their property much safer, but then they look at their neighbor's yard and say, 'They're going to burn and they're going to take me down with them.'"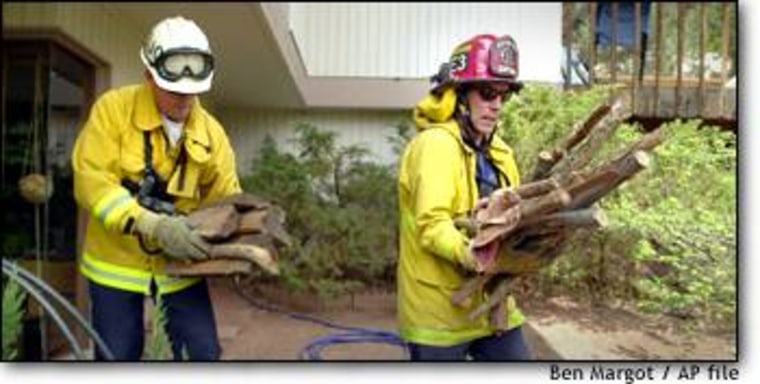 Jump forward two years to this June: With the Hayman wildfire — the worst in the state's history — closing in, residents of Perry Park began to evacuate.
Homeowners who had refused to take steps to protect their homes got a shock when fire crews arrived. Most homes at risk were red-flagged: If the fire came, crews wouldn't try to save them. At one point, Worley chatted with firefighters hunched over a map, marking off untreated properties, mumbling, "Historic, historic."
What did they mean? he asked one.
"As in, 'history,'" the fireman replied.
The subdivision escaped unscathed. A couple months later, almost all the homes in Perry Park had been treated.
If this year's massive fires weren't enough incentive, the reaction of insurance firms to the Hayman blaze, which eventually charred 137,000 acres, provide more.
"At one point the insurance companies would not issue a new policy or expand anyone's coverage," says Worley. "That was a wake-up call to owners."
With some 800 buildings a year burned by wildfires and rising insurance costs, the insurance industry has good reason to nudge homeowners into action.
Companies have begun to assess the financial liability of insuring those who live areas at risk. Insurance Services Office, which maintains risk databases for the industry, is building a geographic database, Fireline, that uses road maps, topographic data and satellite imagery to assess danger to a particular property. The database already covers California and will expand to other states at risk.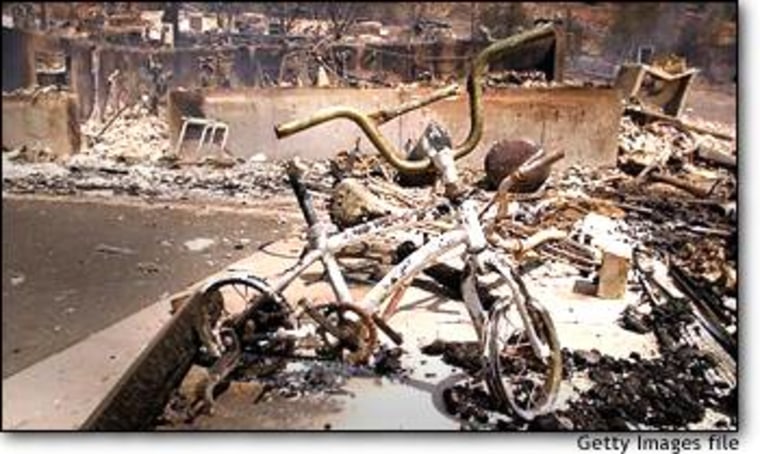 "The insurer wants to check their overall concentration of risk ... especially in very tight areas — one county, for example, where one fire could wipe out dozens of homes they insure," says Bill Raichle, ISO's assistant vice president for risk decision services. "That was the type of thing they couldn't do before."
Firms won't generally discuss possible rate increases for high-risk areas — though they seem a fair bet in the near future.
There are ways to avoid that. Towns at risk can sign up to become a Firewise community and educate their residents, train local fire departments to fight wildfires and create townwide safety plans.
"I know part of the solution has got to be the landowner," says Gordon Schmidt, a retired Forest Service official who's helping federal fire officials coordinate fire safety plans.
In weighing their risk, homeowners should consider some basic property issues.
Home construction: Does your home have exposed areas that could easily burn: cedar shake shingles, untreated wood decks?
Landscaping: How close does the woods come to your house? How dense is it? Fire officials recommend at least 150 feet of space where trees have been thinned and the ground is relatively open.
Accessibility: Could you escape if a fire approached? How easily could a fire engine drive up your road? Since fire often spreads uphill, do you live on a hilltop?
Community: If you think you've made your property safe, consider your neighbors. Have they taken similar precautions?
Local officials are usually willing, often eager, to help homeowners address wildfire risks. But sometimes residents takes matters into their own hands.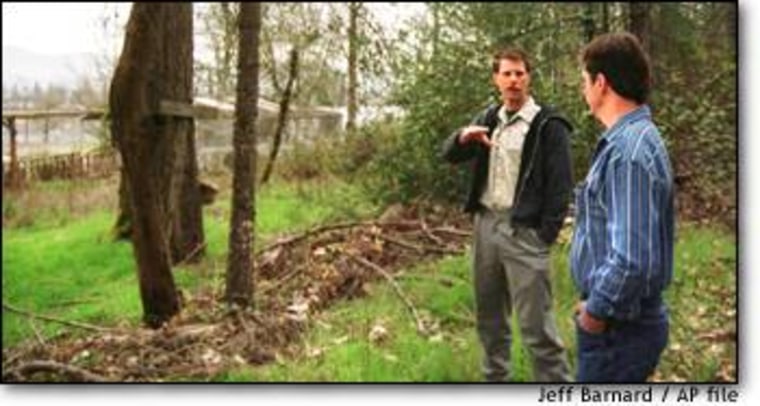 That was precisely what happened in Alpine, Ariz., where fire historian Stephen Pyne keeps a cabin. Tucked in the eastern Arizona hills, Alpine borders the Apache-Sitgreaves National Forest, where this year's Rodeo-Chediski fire became the state's worst on record.
Over the past four years, the residents of Alpine have replaced flammable roof tiles, increased access to fire hydrants and learned how to keep flames from their homes. It began with some simple concerns of local townspeople enjoying life on the edge of the dry Western forest.
"Nobody legislated this, the county didn't do anything," says Pyne, a professor at Arizona State University. "People just said, 'We get the message.'"