/ Source: The Associated Press
A storm front that produced tornadoes, hail and damaging winds across the central Plains and mid-Mississippi Valley marched eastward Thursday after claiming three lives in Missouri.
The front on Wednesday tore through four Midwestern states, damaging dozens of homes and leaving thousands without power.
Moisture from the Gulf of Mexico interacted with the front on Thursday, generating widespread showers and thunderstorms from parts of the Southern Plains to the Great Lakes, Ohio Valley, Tennessee Valley, mid-Atlantic and Northeast.
Wednesday night, at least two tornadoes touched down in Missouri's Adair County, authorities said. In Kirksville, the twister damaged at least 60 buildings and scattered cars and glass across a car dealership. Ten homes were destroyed.
A couple living in a modular home died when their home "just exploded" from the force of the wind, said Adair County coroner Brian Noe. Gustavo Ochoa, a 47-year-old Bank of Kirksville vice president, and Alisha Brune, 29, were newly engaged and had bought the home just two weeks ago, Noe said.
To the west in Sullivan County, a 56-year-old woman died when her mobile home was thrown an estimated 40 feet by the storm, said emergency management director Rick Gardner. The woman's husband, who was working in his wood shop in an adjacent building, survived.
'It was just a blur'
Don Williams rode out the storm in his basement with his wife and four children. He described a "wall of rain shooting sideways" that ripped the roof off his home.
"It just tore everything up," he said. "It was just a blur. Insulation and trees blowing everywhere. I could see stuff just flying through my house." The family spent the night in a motel and Williams told his frightened children, "Don't worry, we'll get a new house."
Six people were treated for storm-related injuries at Northeast Regional Medical Center, but their injuries were considered minor.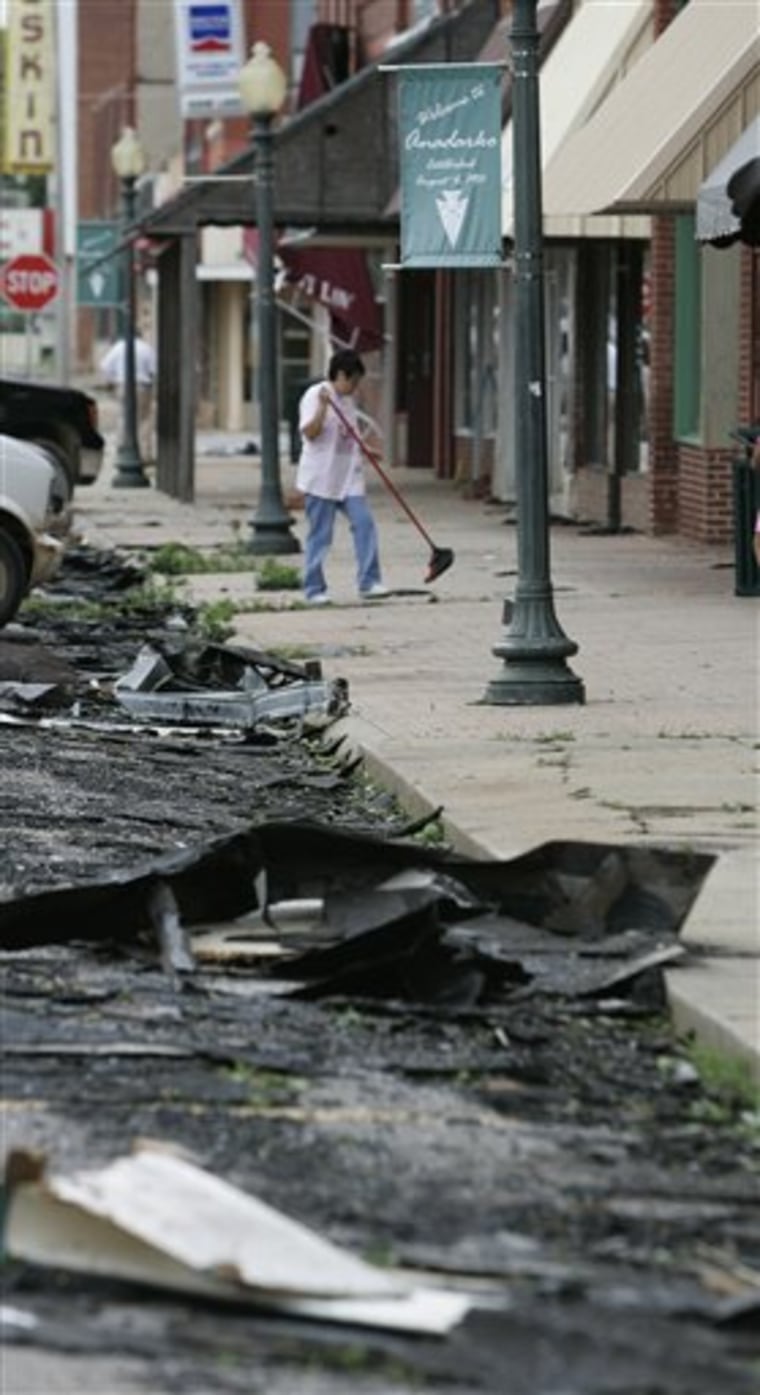 The Kirksville-area tornado was a half-mile wide and stayed on the ground for about a mile and a half, county officials said Thursday morning.
In Caddo County in southwest Oklahoma, a possible tornado tore roofs off homes and businesses in Gracemont and Anadarko. School officials canceled classes for the day because of widespread power outages.
Anadarko's downtown was in shambles, with pieces of roof and glass shards littering the streets, said Eddie Ladd, who runs an insurance business there. "I'm looking at my roof on the curb here we've been shoveling," he said.
Dozens of inmates were evacuated from the Caddo County jail because of a gas line break, said the county's emergency management director, Larry McDuffey.
In northeast Oklahoma, a 100 mph wind gust was recorded west of the Bartlesville airport in Washington County, authorities said. The high winds downed trees and power lines, temporarily cutting power to thousands.
Parts of the roof were blown off the Lighthouse Mission homeless shelter in Bartlesville, displacing 15 people staying there, but no one was injured.
Flooding, heavy rain
Central Indiana saw wind gusts of up to 60 mph and street flooding was reported in Vincennes, Linton and Rockville, authorities said. Utilities reported 8,000 were without power in and around Indianapolis early Thursday.
In Illinois, a range of storms dumped as much as 3 inches of rain within 50 minutes. National Weather Service meteorologist Ed Shimon called the accumulation "unbelievable," comparing it to heavy rainfall in the tropics.
School was canceled Thursday in the southern Illinois town of Gillespie because much of the town was without power and some school buildings were damaged.
The latest storms come less than a week after another batch of severe weather, including at least a dozen confirmed tornadoes, ravaged parts of southern Missouri. Those storms killed four people and damaged or destroyed several hundred homes.