/ Source: NBC News producer
An experimental NASA spacecraft could well be the harbinger for a small armada of billion-dollar space bombers — "space operations vehicles" that could be launched from a U.S. base and fire weapons at almost any target on Earth, all within 90 minutes of a presidential order.
Last May 19, well out of the glare of the media spotlight, the stubby 22-foot-long unmanned spacecraft rolled to a stop at 6:17 a.m. on the hot, dry lakebed of NASA's Dryden Flight Research Center at Edwards Air Force Base in California.
It was the seventh and final flight test of the subscale mockup of Boeing's X-37, called the X-40A. The experimental space plane, being tested by NASA but funded in part by the Air Force, had been dropped just two minutes earlier from an Army Chinook helicopter at an altitude of 15,005 feet. It had reached a maximum speed of only 304 mph. None of the numbers was earth-shattering or even remarkable.
What was remarkable, however, was the long-term vision of Air Force planners.
The next generation of America's bomber fleet will be a far cry not only from World War II's B-17 but from the stealthy B-2 bomber as well. Speed to target is likely to be just as high a priority as a bomber's payload in the 21st century.
In interviews and in computerized briefings obtained by NBC News, Air Force planners and others have provided the most complete details yet on the outline of the space bomber program, showing just how it would work, what it could target and what munitions it would use.
This program isn't merely a planner's blue-sky vision. Pentagon officials and Boeing admit it is currently on the table for funding beyond the minimal $16 million the Air Force has already sunk into testing the prototype.
"I think it will be built," says William Martel, a member of the Air Force Scientific Advisory Board and the editor of "Technological Arsenal," a new book about the military's latest technologies. "This is the most advanced of the space operations vehicle programs. It may be 10 to 15 years away, but it fits nicely into (Defense Secretary Donald) Rumsfeld's revolution in military affairs. It gets into defending the high ground, quick strike capability, quantum leaps in technology and the need to focus on Asia."
In June, Rumsfeld directed the Pentagon to investigate "suborbital space vehicles" that "would be valuable for conducting rapid global strikes," according to a Pentagon planning document issued under his name. And as recently as last month, Boeing said it was talking to the Air Force about investing millions of dollars more in Boeing's X-37.
Then, in congressional testimony this month, Gen. Michael Ryan, the Air Force chief of staff, acknowledged that a futuristic "space bomber" is being contemplated by the Pentagon's long-range planners.
A rocky flight
Before President Bush came into office, the space bomber idea had a rocky flight.
In 1998, the Clinton administration used a line-item veto to force the Air Force into folding its military spaceplane ambitions into the NASA X-plane program. In return for its minimal investment, the Air Force got an agreement from NASA to increase the X-37's ability to stay on orbit and maneuver, preserving its military utility.
NASA's X-plane testing program is, for now at least, the prototype for the Pentagon's planning. While there was a lot of publicity about the freeze on NASA's X-33 "Venture Star" program this March, two months before the Edwards test, there has been little about the continuation of the military space plane project.
John Pike, director of GlobalSecurity.org and a critic of increasing use of space by the military, says that the Pentagon does not want to draw attention to the program.
"The clandestine aspect is integral to why it would be fun for them," said Pike, referring to Pentagon planners. "While it's not black, it is an awful dark shade of gray. The plan appears to be to sort of acquire a momentum outside of public purview. At other times, that wouldn't be interesting, but with Darth Rumsfeld at the controls, saying, 'We have to control the cosmos,' the practical instrumentalities carry a greater significance."
"In other words, these guys might actually do it."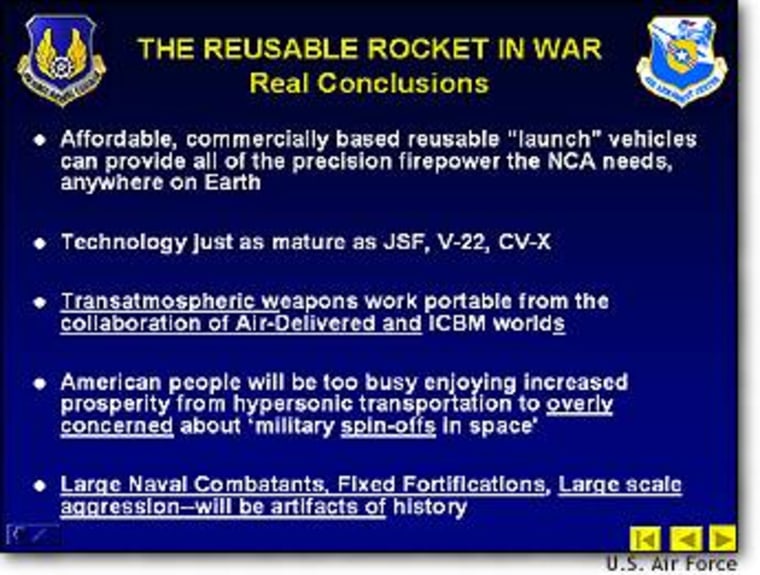 A 1998 Air Force briefing on the program argues for encouragement of commercial exploitation of the technologies, such as one-day worldwide mail delivery — followed by a push for the military side.
"The American people will be too busy enjoying increased prosperity from hypersonic transportation to (be) overly concerned about 'military spin-offs in space,'" according to the briefing.
Boeing, which has never shied away from discussions of the X-37 as a model for a space bomber, remains optimistic about continued Air Force funding.
"We are having discussions with the Air Force on what its future involvement might be on the X-37," said Erik Simonsen, a Boeing spokesman in Seal Beach, Calif., where the 27.5-foot long unmanned prototype of the space bomber is being built. In 1999, NASA and Boeing announced they would each invest $78.5 million to develop the X-37. The Air Force also invested $16 million in the project. The plane is expected to begin drop-testing from a B-52 next year.
Discussions go back to 1997
The vehicle, originally characterized as a mini-spaceplane called "Refly," was marketed as a "reusable weapon delivery platform" in an April 27, 1997, briefing to Air Force officials, according to a Boeing computer presentation obtained by NBC News.
Boeing described its ability to be launched on a rocket — preferably on one of its new Delta rockets — to fly across the Atlantic, release its conventionally armed re-entry vehicles over the eastern Mediterranean, and strike targets in Iraq before returning to Earth after one orbit. Similarly, a launch from Vandenberg Air Force Base in California would permit the bombing of targets in Asia on a "once-around" mission, Boeing noted.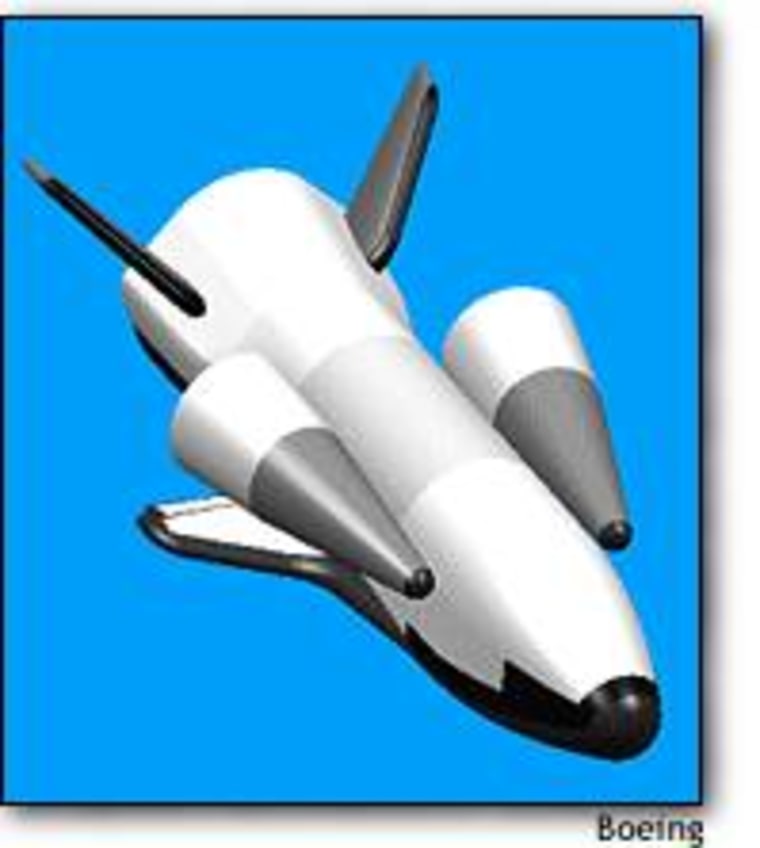 In each scenario, the space bomber is shown fitted with two 1,000-pound re-entry vehicles that could be fired at ground targets.
"We're talking about a quick lethal kill," says Martel, who has taught at both the Air War College and the Naval War College, where he currently works. "It's all in the physics. Something moving at 4 to 6 miles per second from such an altitude has enormous kinetic energy and explosive power. We have enormous capabilities now in terms of re-entry vehicles. So I would argue for purely conventional arms. Everyone pretty much agrees that nuclear arms do not have much military utility."
Indeed, another Boeing computer presentation puts the downward speed of the re-entry vehicle at 24,500 feet per second — nearly 17,000 mph — with an accuracy of around 10 feet. Such missions could be complemented by other war-fighting operations — as Martel says, "kill something in space, track something, bomb up against something, refuel something."
War-changing potential
Lt. Col. John E. Ward Jr. of the Air Force Space Command wrote of the space bomber's potential for changing war in "Technological Arsenal."
While noting that true global strike capabilities would not be a likely use for first-generation space bombers, he said "using reusable launch vehicles to launch weapons from space would radically change how states conduct war." The vehicles could reduce the need for F-16s, F-117s and F-15Es, he said.
Martel notes that the real crunch time for the space bomber could come when it moves from development into being a potential threat not just to other nations' targets, but to the U.S. Air Force's Air Combat Command. He observed that the cost of one space fighter could reach $1 billion — or 20 percent more than the B-2 bomber.
"We are not going to have a lot of them," said Martel. "We can't use them in a regular fashion, like we use the aircraft or ships. We are talking in terms of ones and twos and fives. The question is, is there enough special circumstances to justify such expenditures? Ten years from now, if we learn that Iran or Iraq or North Korea is preparing a missile for a launch, we would want that ability to move within 90 minutes.
"The debate is not yet bubbling inside the operations community. It will emerge when the Air Combat Command starts looking at it and asks, 'What are the payoffs, the tradeoffs: Is one of them worth a squadron of F-22 fighters?'"
Pike says there is another tradeoff — and one that is not positive for the United States in general.
"The persistent judgment is that we don't need it. It's been discussed in viewgraph land: physically possible, but not militarily useful. Military planning is no longer threat-driven, but technology-driven. Previously, the question was 'What problem will this solve?' Now, it's 'Isn't this astonishing?' The idea is to astonish them.
"It's gratuitously provocative. America has more than enough hegemony as it is. And frankly, military dominance provokes responses. The easy way is to corrupt them with our culture. That's the tradeoff."
Robert Windrem is an NBC News investigative producer based in New York.