There's no question that Albert White has earned the right to don a cap and gown for the march across the stage at the Elkhart Memorial High School graduation on May 31.
But until a few weeks ago, the 19-year-old Indiana senior wasn't sure he could afford to.
In a year when both parents lost jobs in this city's hard-hit manufacturing industry, White's family has had a tough time paying basic expenses — and the $38 for the required graduation regalia was a luxury.
"I always knew I needed help, but I was always kind of shy to ask," the teenager said.
White might have had to skip the ceremony, if not for a small payment by Principal Mark Tobolski, one of a growing number of school officials in Elkhart and elsewhere who say the economic downturn has jeopardized even this traditional rite of passage.
"Families who were making it are no longer making it now," said Tobolski, who has seen the number of kids who need help paying for caps and gowns quadruple at his school this year.
Across the nation, school staffers privy to teen problems say more students are having a hard time footing the costs of graduation. From Florida and Texas to Indiana and California, education officials are soliciting donations, recycling old gowns and, in some cases, ponying up the money themselves.
"When you hear some of their stories, you're like, 'We'll do it,'" said Vanessa Gomez-Lee, a student assistance program manager at Valley View High School in Moreno Valley, Calif. "We don't want that to be the reason they don't walk."
At her school, 30 students out of nearly 400 graduating seniors need help, up from only a few in previous years, said Gomez-Lee, who has helped pull together a $1,500 fund. In Sherman, Texas, organizers at the city's single high school have asked previous graduates to donate their robes for reuse by cash-strapped graduates, said senior counselor Michelle Burton.
And in Ocala, Fla., community donors came up with $5,000 to help more than 100 students who couldn't afford regalia, said Suzanne McGuire, a liaison between homeless students and the Marion County School District.
"In our town, like everywhere else, things are tough," McGuire said.
At Ocala's Marion Technical Institute, where 28 students have received assistance so far, counselor Susannah Bender said some families planned to cover graduation expenses, but when the fee came due, had to choose between paying utility bills or paying for a cap and gown.
"One father said, 'Without this, I don't know what I would have told my daughter,'" she recalled.
Certainly, there always have been students who need assistance with graduation expenses, officials say. Many schools have long kept special funds for just such emergencies, small coffers that can make up the price of a prom ticket, a college test fee or other costs in special circumstances.
But now, with unemployment rising nationwide and family incomes stretched farther than ever, some schools say the demand for those resources is rising.
At Elkhart Memorial High School, teachers took up a collection earlier this year, after they noticed that several students had not placed graduation orders, said Peggy Presser, an administrator who coordinates student internships.
Under gentle questioning, the students admitted they couldn't afford the cost. Many are from formerly comfortable families devastated by job losses that nudged Elkhart County unemployment rates to 18.8 percent in March. In previous years, perhaps three or four students would have been in that position. This year, it's nearly 40.
"Parents' situations have changed drastically," Presser said.
Tobolski said he knows families that have lost 40 percent to 50 percent of their incomes, making minor expenses a major issue.
So far, the gaps in ability to pay remain regional — and anecdotal. Jostens, one of the nation's largest suppliers of caps and gowns, says orders for commencement packages that can range from $50 to more than $200 have held steady in a year when some 3.3 million students are expected to graduate from United States schools.
"We certainly haven't seen a trend," said Rich Stoebe, Josten's director of communications. "It really hasn't come up as an issue."
Stoebe declined to say how many caps and gowns his company sells each year or what percentage of the lucrative graduation market it holds.
But smaller companies that supply graduation regalia say they've received calls from parents trying to cut costs. Mike Sklar, general manager of American Cap & Gown Inc., based in Springfield, N.J., said orders are up for his less costly $17.95 cap, gown and tassel package.
"They might not match [the other students]," cautioned Sklar, who said he sells 50,000 packages in the U.S. each year.
The notion that students can't afford graduation expenses comes as no surprise to school districts that have long grappled with poverty. At Campbell High School in Smyrna, Ga., where more than half the students qualify for federal meal assistance, the issue is not new.
"It's such a norm here, they don't mind saying they need a fee waiver," said Julie Hartline, the lead counselor, who said the school sets aside extra caps and gowns just for that purpose.
But in schools where the issue has emerged only recently, providing assistance can be a delicate matter.
"It's almost like they're wearing a badge of shame when they come in and very privately ask," said Susan Strickland, a counselor at a Cobb County high school in Georgia. "We have to be able to help people and allow them to keep their dignity at the same time."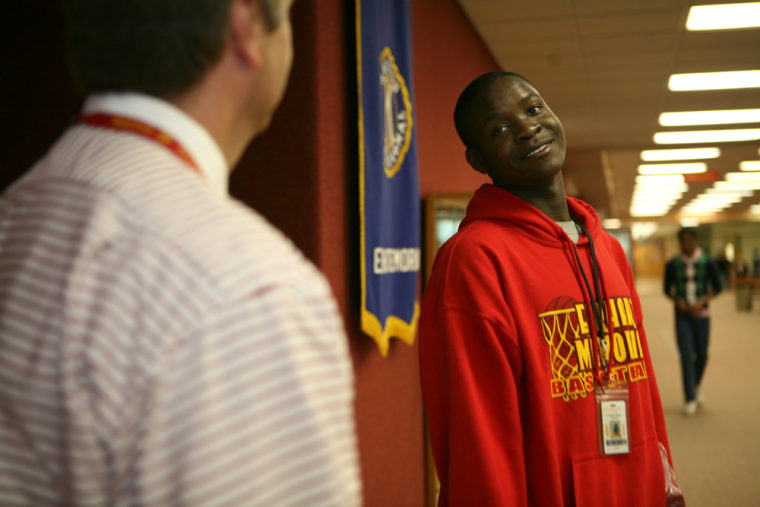 Students on the receiving end said they're mostly relieved and grateful at being able to take part in an important rite of passage. Rosellen Collins, 19, of Gainesville, Fla., said donning a cap and gown will help prove that she could persevere, despite an unintended pregnancy. Her 5-month old son will be one of the witnesses to her June graduation from North Marion High School.
"It's been pretty hard to study and to take care of a child," said Collins. "None of my people thought I was going to make it."
Back in Elkhart, Albert White said the cap and gown fee was only the latest boost from his principal, Tobolski, who has been a mentor since White was in middle school. But it may just be the most important.
"It's going to mean a lot to me," White said. "I'm going to be the first one in my family to get a diploma. When I walk out there, my parents are going to be so proud."