/ Source: The Associated Press
A Bolivian religious fanatic briefly hijacked a jetliner from the beach resort of Cancun as it landed in Mexico City on Wednesday, police said. All passengers and the crew were released unharmed.
The Bible-carrying hijacker used a juice can he said was a bomb to hold the 103 passengers and crew on the tarmac for more than an hour.
Masked police stormed the aircraft with guns drawn and escorted several handcuffed men away without firing a shot. Police later said there was only one hijacker, and the other men aboard were detained because the suspect had told a flight attendant he had three accomplices. The others were quickly released.
Jose Flores, 44, later told police his three companions were "the Father, the Son, and the Holy Ghost."
Flores hijacked Aeromexico Flight 576 after a divine revelation, according to Public Safety Secretary Genaro Garcia Luna. Flores said Wednesday's date — 9-9-09 — is the satanic number 666 turned upside down.
Flores, speaking to reporters after he was detained, said he took control of the aircraft with "a juice can ... with some little lights I attached."
"Christ is coming soon," he added, smiling.
As the plane was landing, Flores stood up and showed his contraption to a flight attendant, Garcia Luna said.
He ordered the pilot to circle over Mexico City seven times and asked to speak with Mexican President Felipe Calderon, saying he wanted to warn him of an impending earthquake, Garcia Luna said.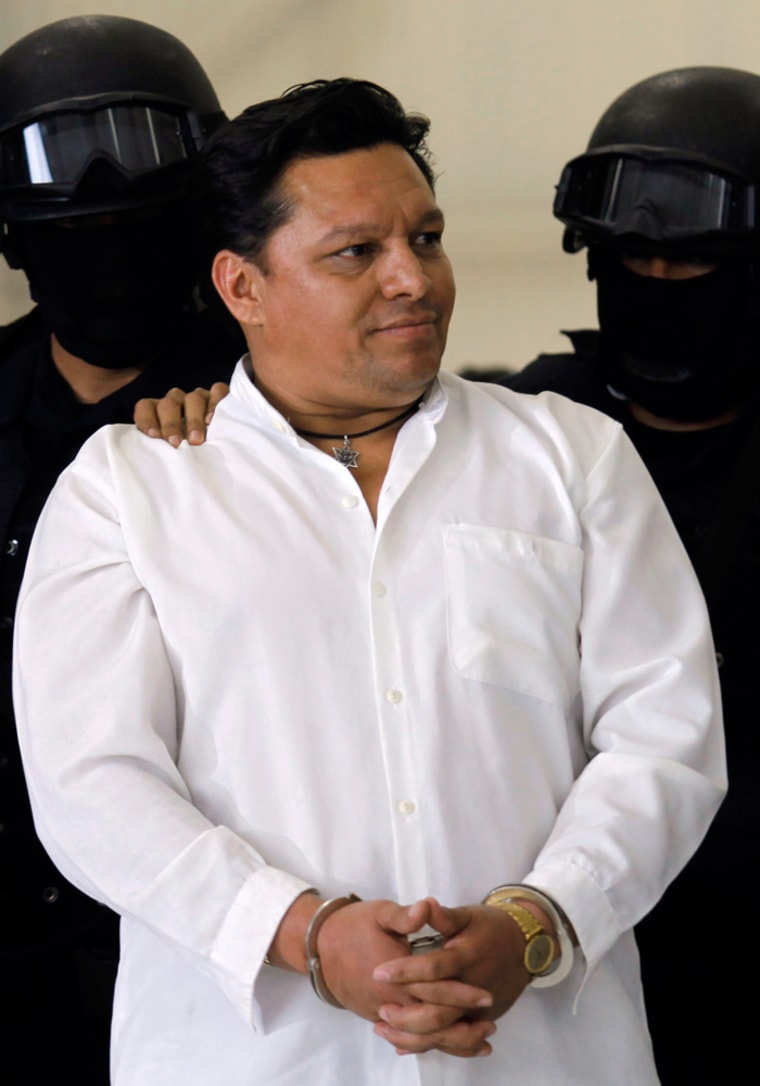 His wife, Elizabeth Melgar, told W Radio that Flores "always told me that he was looking for a way to attract the attention of the media ... he always told me that he was waiting for a signal from God to do something.
"Don't worry if they put me in jail," Melgar quoted him as saying. "(It will be) glory to God."
Garcia Luna said Flores is a drug addict who was convicted of armed robbery in Bolivia, and has lived in Mexico for 17 years. Flores described himself as a pastor in southern Oaxaca state who had gone to Cancun to preach.
He is also a Christian music singer who in videos posted on YouTube sings of leaving drugs and finding God. "I was in jail, I was a despicable drug addict, but Christ freed me a few years ago," he sings along with recorded music at a crowded stadium.
In other videos, Flores, who goes by the stage name Josmar, is seen playing with nunchakus or shooting at a coin he tosses in the air.
U.S., French and Mexican citizens were among the passengers, according to a U.S. official in Washington who was briefed on the situation. The official was not authorized to discuss the case and spoke on condition of anonymity.
A U.S. Embassy spokesman said at least 14 U.S. citizens were on the plane and were being interviewed by Mexican authorities at the airport.
Aeromexico said in a statement that neither passengers or crew suffered any harm.
Passenger Pamela Cheatham, 48, an insurance industry employee from Colorado Springs, Colorado, is cautious about flying on "fateful" dates, but said she didn't make the connection with "9-09-09" — the number that obsessed the hijacker — until after the fact.
"When I was doing my flight I was like, 'I don't want to fly on 9/11, but then it didn't hit me until this was all over," Cheatham said. "I should have evaluated that a little better."
Cheatham said passengers "had no idea anything was wrong until we landed," when the pilot announced that they would be delayed on the tarmac for a security check.
But "when I saw the police with big guns and the SWAT teams on the side of the bus, then my anxiety started to happen," she added. "When they said women and children off, then I knew something had to be on the plane."
The pilot continued to walk back from the cabin to talk with the hijacker, who apparently remained in his seat during the flight. Cheatham said of the pilot — who acted as a mediator and whose performance was praised by federal police — "I could see the anxiety on his face; he didn't panic but I could tell he was anxious."
Randy White, 54, a former law enforcement officer from Houston, Texas, said that "it wasn't a big struggle" when the hijacker was taken into custody, but the toughest moment for him and his wife, Susan, 52, was when women passengers were told to leave while the men stayed aboard.
"I heard they were keeping them hostage," said Susan White.
Susan said her children told her by phone there were reports on the Internet that there was a bomb on the plane.
"I didn't know what was going to happen and I didn't want to be separated, so I said I love you and gave him a kiss," she said.
Passengers said the hijacker — who was seated toward the rear of the plane — did not draw their attention during the flight. Randy White said he had a very serious demeanor, unlike the wildly smiling, disjointed attitude the suspect displayed after he was caught.
Once Mexican officials negotiated the release of women and children through the pilot, they sent in the police. The plane was isolated at the end of a runway in an area designed for emergencies and the airport remained open.
Mary Pereyra de Flores, the suspect's mother, told PAT television in his native Bolivia that "I knew that my son had this revelation a year ago, I knew he was going to try to talk to the president of Mexico."
She also said she knew that 9-9-09 date had significance. "There was a revelation for that date ... today there is a promise for the people of God and retribution for everything that the enemy has stolen."
The most recent hijacking attempt in the Americas occurred April 19, when a man with a handgun tried to commandeer a Canadian jetliner in Jamaica. The standoff ended before takeoff at Montego Bay's airport when military commandos burst onto the plane and disarmed the man, who was described as "mentally challenged."