/ Source: The Associated Press
After being locked away for 25 years for sex crimes, Donald Robinson moved to a little block of unassuming homes in this city on the San Francisco Peninsula on Aug. 27.
The timing couldn't have been worse. It was the day after Philip Garrido was arrested just 40 miles away on charges that he kidnapped 11-year-old Jaycee Lee Dugard and held her captive for 18 years despite his long criminal record as a sex offender.
Police distributed fliers in Robinson's new neighborhood, alerting residents that he was living there. He has been targeted by a protest rally organized by the mayor and daily picketing outside his house. And the state is paying two security guards $800 a day each to protect him.
Robinson's case underscores just how hard it is for the government to move sex offenders back into society, especially at a time there is widespread outrage over the Garrido case and the missed opportunities to catch him.
'A number of challenges'
It's an issue that communities around the country have faced in an era when community notification laws in all 50 states let residents know where sex offenders live.
"There's a number of challenges for everyone involved in sex offenders going through re-entry," said Richard Tewksbury, a University of Louisville professor who has studied community reactions to sex offenders. "There's the stresses and pressures on the sex offenders as they face community opposition. There's certainly stresses on communities as they have concerns about potential dangers."
Robinson was convicted of raping two women in 1976. Authorities say he first raped a 71-year-old victim, then returned to her home 10 days later to attack her again. But he could not break into the house, so he beat and raped another woman that night. He was sentenced to three years to life in prison.
In 1984, he was convicted of raping a 19-year-old girl and sentenced to 21 years in prison.
Robinson was classified as a sexually violent predator based on his likelihood of committing another sex crime, his mental state and criminal history, and forced into the state mental hospital in Atascadero in 1998 instead of being let out on parole.
He completed 11 years in state mental facilities before landing in East Palo Alto as part of a state-sponsored outpatient program. The Department of Mental Health and a contractor that manages its outpatient program for sexually violent predators looked at 1,100 properties over about six months before it found a suitable location with a landlord willing to rent to Robinson, said Nancy Kincaid, a spokeswoman for the department.
Neighborhood outraged
But neighbors on the street where Robinson lives in a three-bedroom corner house are furious.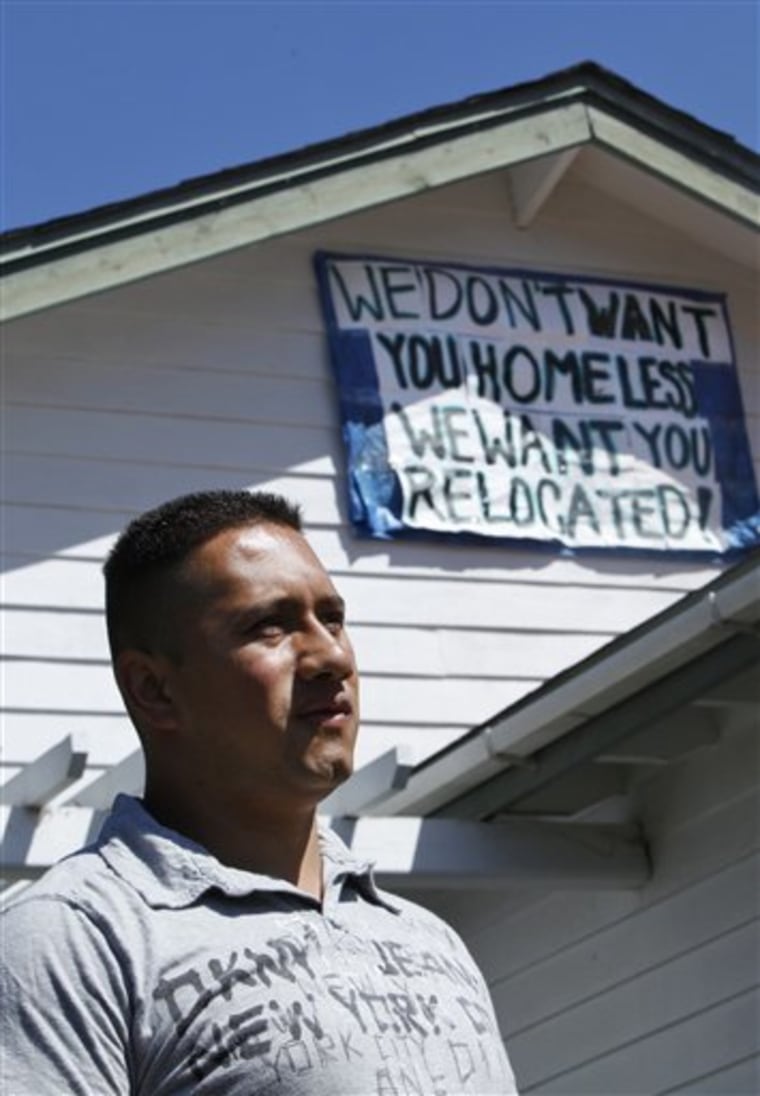 Mayor Ruben Abrica had every resident in the city phone book alerted to attend a protest in front of the house. "A sexually violent predator doesn't belong here, with old people and families," Abrica said.
The mayor's office cited the Dugard kidnapping case in voicing its opposition to the placement of Robinson in this town.
"The tragic case of Jaycee Dugard ... underscores the dangerous nature of sexually violent predators and brings into question their supervision and monitoring," the office said.
Garrido, who has pleaded not guilty along with his wife, is a registered sex offender who was convicted of abducting and raping a Nevada casino worker three decades ago. He was required to wear an ankle bracelet and was under parole supervision before his arrest on Aug. 26. Police are investigating Garrido in other crimes as well, including searching his home this week for new clues into the disappearance of two girls in the 1980s.
The Robinson case and others like it illustrate the difficult balancing act between community safety and the rights of ex-offenders to live in peace and resume a normal life.
"It's hard to blame the community for a natural reaction to a horrific sex crime," said Dr. Deirdre D'Orazio, a clinical psychologist who works with sexually violent predators. "We're trying to integrate this person into being a law-abiding citizen again. On the other hand, we're treating him like he's going to be a predator forever."
Extensive treatment
Unlike Garrido, state officials and experts say Robinson completed a rigorous treatment program for sexually violent predators that only 15 others have completed.
At the mental hospital, Robinson was taught to examine what factors led up to his crimes and could put him at risk of committing similar ones. In an interview with a mental health evaluator, Robinson said he hated his mother for exposing him to an abusive stepfather and took that hatred out on other women.
But he credited his treatment with helping him make sense of his behavior and said he was no longer angry. "I know that I made myself a better person," he told the evaluator.
Three mental health evaluators concluded Robinson could safely continue his treatment as an outpatient.
The state of California has to pay for Robinson's re-entry into society, including his $3,500-a-month house. He also receives about $600 per month for groceries, utilities and other necessities although state officials say he has signed a promissory note to repay at least some expenses.
State officials estimate the cost of confinement and treatment of sexually violent predators in state mental institutions at $185,000 a year per patient.
But Robinson is barely free. He wears a satellite tracking device and must submit to random drug testing and polygraph tests. He cannot drink alcohol or use the Internet, has a curfew and needs permission to drive a car or even walk through a residential neighborhood.
Santa Clara County Deputy District Attorney Dana Overstreet said Robinson will be monitored most likely for the rest of his life. "Every year, we have to petition to have him continued to be monitored," she said, "and we plan to do that."
Meantime, Robinson, balding, bespectacled, with arthritis in both knees and a heart condition, has barely been glimpsed since his arrival. A few neighbors said they have seen him peek at their protests from behind living room curtains.
"The judge said that if Robinson weren't here, he'd be homeless," said Kenneth Barilla, 32, who lives next door to Robinson and has two daughters, ages 3 and 5. "We don't want him to become homeless. We just don't think he belongs among families."
More on  Phillip Garrido