/ Source: msnbc.com staff and news service reports
As police charged a Yale animal lab technician with killing a graduate student who worked in his building, a portrait began to emerge Thursday of an unpleasant stickler for the rules who often clashed with researchers and considered the mice cages his personal fiefdom.
Police charged 24-year-old Raymond Clark III with murder, arresting him at a motel a day after taking hair, fingernail and saliva samples to compare with evidence from the grisly crime scene at Yale's medical school.
Bond was set at $3 million for Clark, who said "Yes, your honor," when asked whether he understood his rights.
The muscular former high school baseball and football player is charged in the death of 24-year-old Annie Le, a pharmacology doctoral student at Yale who vanished Sept. 8. Her body was discovered five days later — on what was to be her wedding day — stuffed into a utility compartment behind a wall in the basement of the research building where she and Clark worked.
Authorities offered no details about the crime Thursday. They would not discuss a motive, largely because Clark will not talk to police, and would not disclose the DNA test results or how they connected Clark to the slaying.
The Rev. Dennis Smith, a Le family spokesman, said he was not authorized to comment on the arrest. Smith said he did not know whether Le had ever complained about Clark.
'Control freak'
Clark appeared in court with two public defenders who were new to the case. A private-practice attorney who had represented him during the investigation did not attend the hearing and said Thursday he no longer represents Clark. The attorney declined to give a reason.
Public defender Joseph Lopez said he was still reviewing the case and declined to comment.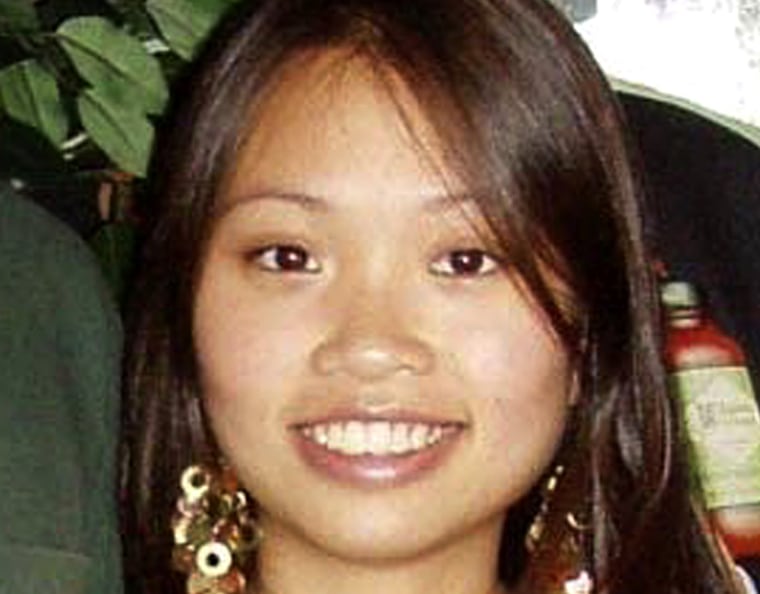 Co-workers told police that Clark was a "control freak" who viewed the laboratory and its mice as his territory, according to a law enforcement official who spoke to The Associated Press on condition of anonymity because the investigation is ongoing and many details remain sealed.
The official said police are looking into whether Clark's attitude led to a deadly workplace confrontation with Le, who was just 4-foot-11 and 90 pounds. But investigators say that's just a theory at this point.
The investigator also said authorities do not necessarily need to prove a motive because they have an abundance of strong forensic evidence.
As a technician, Clark's duties included cleaning mouse cages and the floors of the lab.
Le's work involved experiments on mice that were part of research into enzymes that could have implications for treatment of cancer, diabetes and muscular dystrophy.
The New York Times reported that Clark at times grew angry if lab workers did not wear shoe covers. "He would make a big deal of it, instead of just requesting that they wear them," said a researcher who asked not to be identified.
ABC News reported that Clark sent a text message to Le on the day she vanished requesting a meeting to discuss the cleanliness of mouse cages in the research lab.
Police: Case of workplace violence
At a news conference Thursday, New Haven Police Chief James Lewis called Le's death a case of workplace violence. He would not elaborate except to say reports that the two had a romantic relationship were untrue.
"It is important to note that this is not about urban crime, university crime, domestic crime but an issue of workplace violence, which is becoming a growing concern around the country," Lewis said, adding that he would not rule out additional charges.
The Connecticut medical examiner said Wednesday that Le died of "traumatic asphyxiation," which could indicate a choke hold or some other form of suffocation caused by a hand or an object.
Investigators focused on Clark early in the investigation and searched his apartment Tuesday, when they labeled him a person of interest. He remained under constant surveillance after he was released early Wednesday and found a room at the Super 8 motel in Cromwell, Conn.
Clark was arrested about 8 a.m. Thursday. Details of the warrant remained sealed.
Wedding 'not to be'
The New Haven Register printed a rare extra edition announcing Clark's arrest, wrapping it around Thursday's daily newspaper and selling it on the streets, editor Jack Kramer said.
Yale President Richard Levin released a statement shortly after the arrest, saying Clark's employment history raised no suspicions.
"This incident could have happened in any city, in any university, or in any workplace. It says more about the dark side of the human soul than it does about the extent of security measures," Levin said in a message sent to the Yale community.
The family of Le's fiance, Jonathan Widawsky, issued a statement Thursday, thanking people who were involved in preparations for "a wedding that was not to be."
Clark was taken to the New Haven Correctional Center, a high-security state prison for people awaiting trial. His next court date is Oct. 6.
"We share in the grief of the family of Annie Le and are, collectively, doing our best to deal with our tragic loss," said the family's statement, which concluded: "Annie will live in our hearts forever."
Speaking earlier on Thursday, Smith, the Le family spokesman, told NBC's TODAY that any arrest would be "wonderful news" to the family and would help give relatives some closure.
"It's such a terrible thing to have lost Annie as they have and not know who did it. That adds to the grief," he said.
The Associated Press and NBC News contributed to this report.
More on: Yale