/ Source: The Associated Press
It's one of America's most haunting crime stories: four members of a Kansas family brutally murdered on Nov. 15, 1959, at their rural farmhouse.
The slayings of the Clutters — chronicled in Truman Capote's book, "In Cold Blood" — have overshadowed the town of Holcomb for the past half century and the trial and execution of the culprits has brought little, if any, closure.
For many townsfolk, the wounds have been slow to heal partly because of Capote's critically acclaimed, nonfiction novel that spawned a new literary genre. The book has been reviled in its birthplace by residents because of its recreation of events that never happened and what they say is commercial exploitation of the victims. The subsequent movies have also been unpopular here.
"They made a tremendous amount of money off our great tragedy," said Bob Rupp, who as a teenager dated Nancy Clutter.
The horrific slayings of Herbert Clutter, a prominent farmer and community leader, and his wife, Bonnie Mae Fox, along with their children, 15-year-old Kenyon and 16-year-old Nancy, shattered the innocence of a generation accustomed to leaving their doors unlocked.
The hunt for their killers — parolees Dick Hickock and Perry Smith — mesmerized the nation, drawing journalists from across the country to this rural outpost on the Kansas prairie.
'Major work of American literature'
Then when Capote's book hit the shelves, it forever linked the small town with a crime now known around the world.
Alan Schwartz, a longtime friend of the author, said many Holcomb residents didn't really grasp that Capote was not writing a purely factual account but was using the basis of facts to show what it was like to live in such a town and confront this crime.
"It is different than what they expected, but it is a work of art. It is not simply a matter of historical reporting. ... I can imagine that a lot of people who were freaked out by what happened in the middle of Kansas never understood that," Schwartz said.
"The book stands on its own as a major work of American literature and a major description of how a small town dealt with an incredible, horrible tragedy," he said.
When Holcomb residents gathered recently to dedicate a memorial to the Clutters, a lingering bitterness against Capote's book intermingled with an unwavering sense of loss for their beloved neighbors.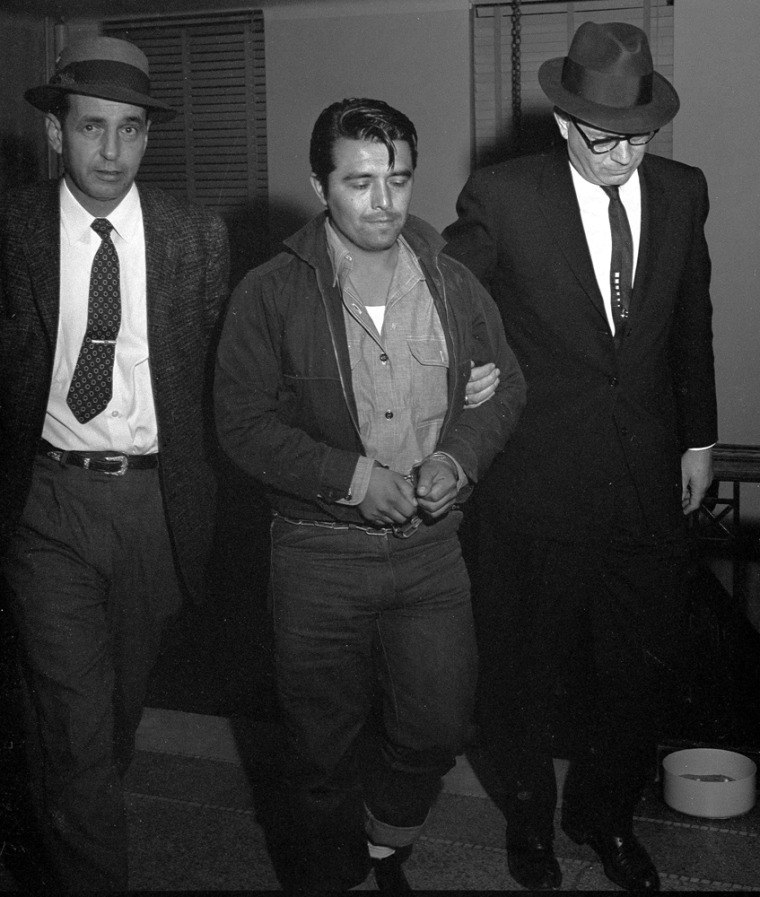 "I wish the book had not been written. I didn't like the book — the little bit I read," said Shirley Clutter. Her father-in-law was Herbert Clutter's brother. The 80-year-old woman found that reading about the killings was too painful.
Beyond the infamy wrought by their murders, the Clutter family also left a legacy of community leadership. Engraved in the stone memorial is a litany of the family's accomplishments in local community groups, school and church.
"He (Herbert Clutter) was beginning to be a national figure in agriculture on some committees in Washington, D.C. Who knows what he might have done had he lived out his life," said Dolores Hope, the city editor of the Garden City Telegram at the time of the murders.
Still 'Infamous'
"In Cold Blood" became a literary sensation soon after the first copies rolled off the press in 1965. The book has been translated into numerous languages. In 1967, a black-and-white film by the same name was released. A CBS television miniseries followed in 1996.
Capote's writing of the book became the focus of a 2005 movie, "Capote," for which Phillip Seymour Hoffman won an Academy Award for best actor. Book sales that year spiked to 1.5 million. A year later, the movie "Infamous" hit the silver screen with a similar theme, but it centered more on the town.
One friend of the Clutters, Fielding Hands, said Capote "sure made an interesting book."
"I think he did the family justice for the things he said about them and what they did for the community," said Hands, 83.
One recent rainy afternoon, Paul Irsik sat in a lawn chair thinking about the Clutters.
Irsik grew up on the Clutter farm, where his father was a hired hand. He was 15 on that fateful morning when he, his brother and father milked the Clutters' cows and went into the kitchen to separate the milk. They were oblivious to the fact that the Clutters' bodies were inside. It was the first day of pheasant season, and they were anxious to finish the chores and go hunting.
Irsik speaks haltingly about that day. It's because he promised his father that he wouldn't discuss anything about Nov. 15, 1959.
"It is something we haven't talked about in my family for 50 years," Irsik said.