When is a product "Made in America"? For Boston-based shoemaker New Balance, the answer seems to be, "When we say it is."
Fifteen years after a contentious legal battle set off a national debate on what it means to be Made in the USA, New Balance continues to sidestep the federal "all or virtually all" standard that governs the advertising claim. On its Web site and in shoe boxes, the company insists that as long as 70 percent of a shoe's value comes from the United States, that's good enough to be called Made in America.
But that's not what the Federal Trade Commission said in 1997 when it for "Made in USA" claims after a lengthy battle with New Balance.
"If the rule is that it must be all or substantially all, you can't ignore the rule by a disclosure that 70 percent of it is made in the United States," said Robert Pitofsky, who was FTC chairman in the mid-1990s when the commission exhaustively studied the issue and ultimately decided against weakening the standard. Pitofsky is now a Washington attorney and Georgetown law school professor.
New Balance executives believe the company is following FTC guidelines.
"We're not trying to deceive anybody," said Edward Haddad, vice president of intellectual property with New Balance. "The shoe is made or assembled in the United States by American workers. That's all we're saying, and we're saying it very clearly."
An attorney in the FTC's enforcement division said the commission could not comment on a company's Made in America claims, even when presented with a specific complaint.
"Nobody on the staff can notify either the complainant or anyone else of the existence or nonexistence of an investigation," said the attorney, Laura Koss. "The public would not find out until the complaint was filed or until there was a settlement and the commission announced it."
The FTC's rules on labeling a product's country of origin are complex and can be confusing, but the agency is clear on the standard for "unqualified" Made in America claims.
"For a product to be called 'Made in USA,'or claimed to be of domestic origin without qualifications or limits on the claim, the product must be 'all or virtually all' made in the U.S.," according to FTC standards. "That is, the product should contain no — or negligible —foreign content."
Yet more than a dozen years after the FTC upheld that "all or virtually all" standard, New Balance interprets the Made in America claim somewhat differently. On its Web site and in a brochure attached to some of its shoes, the company spells out its own guidelines.
"The Federal Trade Commission has attempted to determine what it means to say a product is 'made in' the United States," the brochure states. "While this seems like a simple question, the answer is not always obvious given the global nature of the economy. We believe most consumers think that Made in America means that real manufacturing jobs were provided to U.S. workers in order to make that product. … Where the domestic value is at least 70 percent, we have labeled the shoe 'Made in USA.'"
Haddad, of New Balance, said the company came up with the 70 percent criteria based on an FTC survey of consumers that was conducted in the mid-1990s. In the survey, 67 percent of respondents said the "Made in USA" claim would be appropriate if 70 percent or more of the product was made in the United States. Haddad said New Balance never submitted its definition to the FTC for approval.
"On all of our products that we label 'made in USA,' we very clearly define what we see as 'made in USA," he said.
New Balance's made-in-America claims are tightly embedded in its marketing, with flag stickers on shoe boxes, heavy promotion on its Web site and some shoes even emblazoned with the phrase "made in USA."
The company persists with its aggressive stance even after a two-year legal battle with the FTC in the mid-1990s that ended with a consent decree in which the company agreed not to label as American-made any shoes that were wholly made overseas. Shoes made with both domestic and foreign content were not specifically covered in the agreement.
Haddad said the consent decree was unrelated to its labeling standards for shoes that are manufactured in the United States.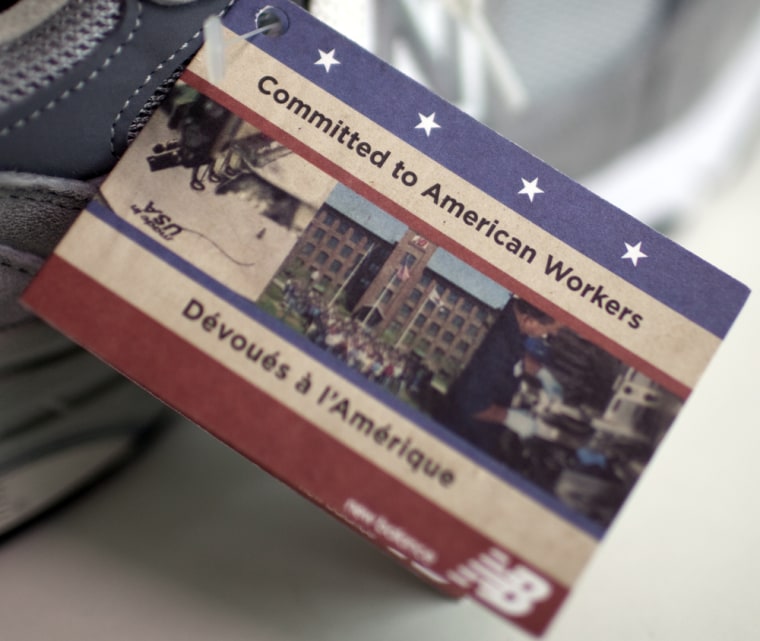 New Balance's own 70 percent standard is what the FTC typically considers a "qualified" made-in-America claim. Under the rules, companies can make such "qualified" claims about the origin of their products, as long as they are clearly spelled out and not deceptive. The phrase "Made in USA from imported parts" is OK with the FTC, for example.
But it's not OK to make a qualified claim in one ad or marketing sticker and make the standalone, unqualified, Made in America claim elsewhere.
"When you have a qualification, it has to be clear and prominent and it has to be in close proximity to the claim. That's just basic, FTC law," said Koss, the attorney with the FTC's enforcement division.
"It's not acceptable to have a qualification on one part of the product and then not have it on another part of the product."
New Balance's Haddad said he believes the company is in compliance with FTC standards because it has a tag attached to its shoe that clearly explains its criteria for labeling a shoe as "Made in USA."
"We qualify everything," he said. "We don't just say 'made in USA' and leave it there."
The battle over Made in America claims erupted in the mid-1990s when the bleak outlook for U.S. manufacturing jobs turned these advertising claims into a major political issue.
"Globalization of competition was increasing, so that if you could legitimately say 'Made in America,' it was quite an advantage in marketing," said Pitofksy, the former FTC chairman.
But when New Balance launched an ad campaign touting its "American-made" shoes, the FTC filed a complaint in September 1994 accusing the company of false and misleading advertising because a "substantial" amount of its product was made in foreign countries. Though the bulk of its products were made in four New England factories, the soles for some New Balance shoes were made in China.
Companies cited by the FTC often agree to change their practices without admitting or denying guilt. But New Balance fought back, arguing that the "all or virtually" all standard was unrealistic in a world where most U.S. manufacturers were including some foreign content in their products.
The resulting two-year legal battle sparked a series of hearings and contentious debate over the basic question: What does the claim "Made in America" really mean? And who should be allowed to make it?
"It's like burning the flag," said Pitofsky. "Using American-made as an advertising gimmick —people get upset about that."
The commission collected more than 1,000 comments from attorneys general, members of Congress, state legislators, trade associations, consumers groups and labor representatives in an effort to come up with a standard. Among the proposed changes was a new definition which would have loosened the "all or virtually all" standard to allow the Made in America claim to be applied to products that included as much as 25 percent foreign content.
Among those who favored changing the standard to allow more foreign content were 10 members of Congress from New England, including current Senate members John Kerry, D-Mass., Joseph Lieberman, I-Conn., Olympia Snowe, R-Maine, and Susan Collins, R-Maine, who wrote to the commission in support of New Balance's position.
"To impose a standard which (numerous manufacturers) cannot meet is one more encouragement for businesses to abandon U.S. manufacturing for cheap overseas labor," they said.

Kerry wanted the FTC to ease the standard to allow the Made in America claim as long domestic content represented just half of a product's value.
While the review was under way, the FTC dropped its original complaint against New Balance and, in September 1996, signed a consent decree in which the company agreed only to stop labeling as Made in America any product that was wholly made overseas.
FTC commissioner Roscoe B. Starek III dissented, saying the FTC had caved in with its "decision to drop the most important allegation in this matter … in favor of an eviscerated complaint and notice order addressing only narrow claims about exported footwear and footwear made wholly abroad."
But the battle wasn't over.
In late 1997, the commission and affirmed that it would "continue to enforce the Commission's current 'all or virtually all' standard and offer additional guidance to marketers wishing to make an unqualified 'Made in USA' claim under the 'all or virtually all' standard."
"I expect to see the traditional 'Made in USA' standard enforced, now that we no longer labor under the self-imposed moratorium that consumed several years while we explored various policy options," Starek wrote in a concurring statement . (Starek retired from the commission shortly afterward.)
Enforcing the rules sounds simple enough. But the "all or virtually all" standard has to be applied on a case-by-case review, according the FTC enforcement attorney. It takes roughly 40 pages to spell out the FTC's rules for making the Made in America claim. And those are just one of a half-dozen separate sets of rules that apply to "country of origin" labeling.
"That's part of the overall confusion in this," said David Ivey, a Houston attorney who advises clients on trade matters. "I can have something that's 51 percent U.S.-made and sell it to the U.S. government under the Buy American Act. But I can't put the American flag on it and sell it to the American people."
New Balance's Haddad said the FTC has only established guidelines, which he said the company is following, not laws that the company could break.
As American companies continue to expand their manufacturing operations around the world, a Made in America claim is still a strong marketing tool. That may be why New Balance continues to adhere to its own definition of the claim and not the FTC's, according to Ivey.
"Their sales volume may be sufficiently high that they say 'Look, having this product advertised as Made in USA is sufficiently important to us we're willing to take that one-time risk,"' he said.
Enforcing the standard is the only way to keep companies on a level playing field, said Pitofsky.
"The person who's hurt is the competitor of the person who says their product is Made in America," he said. "It's not the consumer."
Msnbc.com reporter Allison Linn contributed to this report.