/ Source: The Associated Press
Fallen giant General Motors Co. accelerated toward recovery Wednesday, announcing the repayment of $8.1 billion in U.S. and Canadian government loans five years ahead of schedule.
The Obama administration crowed about the "turnaround" at GM and fellow bailout recipient Chrysler LLC, saying the government's unpopular rescue of Detroit's automakers is paying off.
Much of the improvement comes from GM slashing its debt load and workforce as part of its bankruptcy reorganization last year. But the automaker is a long way from regaining its old blue-chip status: It's still losing money — $3.4 billion in last year's fourth quarter alone. And while its car and truck sales are up so far this year, that's primarily due to lower-profit sales to car rental companies and other fleet buyers.
Chrysler, now run by Italy's Fiat Group SpA, said Wednesday it lost almost $200 million in the first quarter. But it said it boosted its cash reserves by $1.5 billion, reducing the likelihood that it will need more government aid.
"This turnaround wasn't an accident of history," said White House economic adviser Larry Summers. "It was the result of considered and politically difficult decisions made by President Obama to provide GM and Chrysler — and indeed the auto industry — a lifeline, if they could demonstrate the will to reshape their businesses."
Vice President Joe Biden said President Barack Obama "took a lot of heat" to keep GM alive. "And this has even exceeded our expectations."
Biden said GM is now in a better position to "make what the market demands: energy-efficient vehicles for a cleaner world."
GM CEO Ed Whitacre, a former telecommunications executive who was tapped to lead the automaker's revival, announced the loan playback at the company's Fairfax Assembly Plant in Kansas City, Kan. He also said GM is investing $257 million in that factory and the Detroit-Hamtramck plant in Michigan. No new jobs will be added, but workers at both plants are gaining job security because they will build the next generation of the popular midsize Chevrolet Malibu.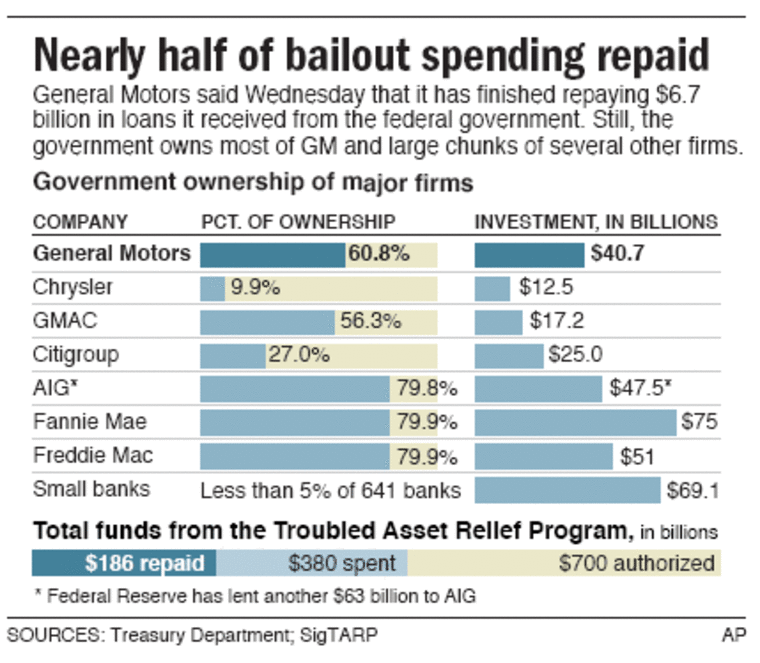 Whitacre said GM was rebuilding through the sale of gas-sipping midsize cars and crossovers and investing more than $1.5 billion in 20 plants since leaving bankruptcy protection, preserving 7,500 jobs.
"We've developed a healthy, clean balance sheet and we've developed a cost structure that allows us to be competitive," Whitacre said before leaving for Washington to provide an update on GM's progress to Treasury Secretary Timothy Geithner, House Speaker Nancy Pelosi and Michigan's congressional delegation.
A GM official said Whitacre was paying for the chartered flight from Kansas City to Washington out of his own pocket. U.S. auto executives received a scolding from Congress last year when they took private jets to Washington to seek a taxpayer-funded bailout.
Bruce Clark, senior vice president of Moody's Investors Service, said the loan payback is one step in a longer improvement process for GM. It's also a sign of positive changes that include GM reducing its debt load and rolling out better vehicles.
"I wouldn't cite that as sort of the bellwether, but things certainly are? moving in their favor," Clark said. He said the biggest threat to GM's recovery is another slowdown in auto sales.
GM lost $88 billion between 2004, when it last turned a profit, and last year when it declared bankruptcy. It endured years of painful restructuring, closing 14 factories and shedding more than 65,000 blue-collar jobs in the U.S. through buyouts, early retirement offers and layoffs.
GM received $52 billion from the U.S. government and $9.5 billion from the Canadian and Ontario governments starting in 2008. At first the entire amount of U.S. aid was considered a loan as the government tried to keep GM from going under and pulling the fragile economy into a depression.
But during bankruptcy, the U.S. government reduced the loan portion to $6.7 billion and converted the rest to company stock that gave it a 61 percent ownership control. Canadian governments also converted part of their debt to shares, reducing its loan balance to $1.4 billion. The final installments on those loans were repaid Tuesday, comfortably beating a 2015 deadline.
GM had made about $2.4 billion in loan payments in December and March, and had promised to repay the full loans by June. But company officials said sales of newer models have improved GM's cash flow and allowed it to make the remaining payments early.
GM wiped out most of its staggering $95 billion debt in bankruptcy, closing last year with $15.8 billion in debt. As the industrial giant was reorganized, the United Auto Workers agreed to concessions, including a plan to shift $50 billion in retiree health care costs to a union-run trust. New hires and white-collar workers now don't get the same rich health benefits.
With a much leaner total U.S. work force of 77,000, GM is small enough to break even if the U.S. auto market remains sluggish.
The automaker is counting on a public stock offering, perhaps later this year, to allow the U.S. government to begin recouping its remaining $45.3 billion investment in GM. The Canadian government's $8.1 billion stake, which equals a 12 percent ownership interest, also could also be unlocked if GM sells shares to the public.
GM officials said it likely will take years for the governments to divest themselves fully.
The stock offering also hinges on GM posting a profit, which Whitacre has said could come this year. GM posted a $3.4 billion loss for the fourth quarter of 2009, but its operations in Asia, South America and other regions made money.
With the GM loan payment, the Treasury Department said total repayments under the Troubled Asset Relief Program, or TARP, now stand at $186 billion, with less than $200 billion in bailout money outstanding for what started out as a $700 billion fund.
But taxpayers are still expected to lose about $36 billion on the bailouts of automakers, and $34 billion on that of insurer AIG, according to the Congressional Budget Office. Propping up mortgage finance companies Fannie Mae and Freddie Mac has cost taxpayers another $126 billion so far.
GM's sales rose 16.8 percent in the first quarter, topping the overall 15.5 percent increase in U.S. car and truck sales. GM is getting close to sticker prices for several of newly redesigned models such as the Chevrolet Equinox small SUV, the Buick LaCrosse luxury sedan and the Malibu, helping to generate more cash than the company had expected.
Yet the company still faces difficulty. Much of its sales increase was due to heavy sales to rental car companies and other lower-profit fleet buyers. Pickup truck sales, a big part of GM's normal revenue stream, also haven't bounced back as fast as the overall market.
GM could be helped by an improving image for U.S. car makers. An Associated Press-GfK survey found that 38 percent of Americans say U.S.-made vehicles are the best, compared to 33 percent who preferred autos made by Asian companies.
In a December 2006 AP-AOL poll, 46 percent said Asian countries made superior cars, while just 29 percent preferred American vehicles, reflecting a perception of U.S. automotive inferiority that began taking hold about three decades ago.
The White House, in a report issued to coincide with GM's loan repayment, said it and Chrysler are on the road to recovery. The American auto industry lost more than 400,000 jobs in 2008 and analysts estimated another 1 million would have been lost had GM and Chrysler liquidated. The past nine months have produced the industry's strongest job growth in nearly a decade, with 45,000 new jobs, the White House said.
GM's investments in the Kansas and Michigan amount to a big bet on the Malibu. The Kansas plant, which employs 3,869 workers, also builds the midsize Buick LaCrosse luxury sedan. The Detroit-Hamtramck plant, which has 1,048 employees, now builds the Cadillac DTS and Buick Lucerne large sedans and is gearing up to make the Chevrolet Volt rechargeable electric car.
Scott Sweet, senior managing partner at IPOBoutique.com, said he doesn't think a GM initial public offering will happen this year. But if it does, he said, it would be best to have the government involved.
John Fitzgibbon, founder of IPOScoop, said the stock would immediately become more attractive if the government sells its stake. By then, the government would have accomplished what it set out to do, he said.
"The goal was to bail out an industry," Fitzgibbon said, adding that once the government gets out of the business it can say, "Job done, move on."