/ Source: The Associated Press
President Hamid Karzai on Wednesday postponed a national peace conference until after his visit next month to the White House in hopes of cementing international backing for his overtures to the Taliban leadership.
An estimated 1,400 Afghans representing the nation's myriad of ethnic, regional and political factions, are scheduled to gather for a so-called "peace jirga" next month to reach a national consensus for talking with insurgents to end the nearly 9-year-old war.
The U.S. supports Karzai's effort to embrace insurgents who renounce violence, respect the Afghan constitution and cut ties to terrorists, yet doubt this is the right time for talks with top Taliban leaders who think they are winning the war.
"Some circles in the international community had concerns about the outcome of the jirga so the trip that Karzai is making to the United States will remove all the concerns, and all the international community will, with one voice, support Afghanistan," Ghulam Farooq Wardak, the Afghan education minister and meeting organizer, said Wednesday.
International pressure felt
Wardak said the meeting also was being delayed because candidates for parliamentary elections in September would not be able to attend because they had to register in their home provinces on May 2-4, the initial dates for the meeting. Waiting until Karzai returns from his May 10-14 trip to Washington also lets him use the jirga as a forum to ally concerns that U.S.-Afghan relations are frayed, Wardak said.
In Washington, Richard Holbrooke, special U.S. envoy to Afghanistan and Pakistan, said Karzai decided to hold the jirga after he got back to Washington for scheduling reasons and because it would follow detailed talks with Obama and other U.S. officials.
Holbrooke said the jirga has been postponed to May 20, drawing the ire of Karzai's advisers who said the Afghan government did not decide until Wednesday to delay the conference and no new date had been set.
Karzai has long chafed under what he considers excessive international pressure. That frustration boiled over in recent weeks when he lashed out against the U.N. and the international community, accusing them of perpetrating a "vast fraud" in last year's presidential polls as part of a conspiracy to deny him re-election or tarnish his victory — accusations the U.S. and the United Nations have denied.
Two days later, Karzai told a group of parliament members that if foreign interference in his government continues, the Taliban would become a legitimate resistance — one that he might even join, according to several lawmakers present. His spokesman Waheed Omar denied he made the threat.
"Everybody said 'What's going on? What's going to happen with the relationship between the United States and Afghanistan?'" Wardak said. "Everybody thought there was some tension, but with the president of Afghanistan going to the United States, all the concerns will be removed. The international community, with one single voice, will support the jirga, which will lead us toward peace."
Financial support needed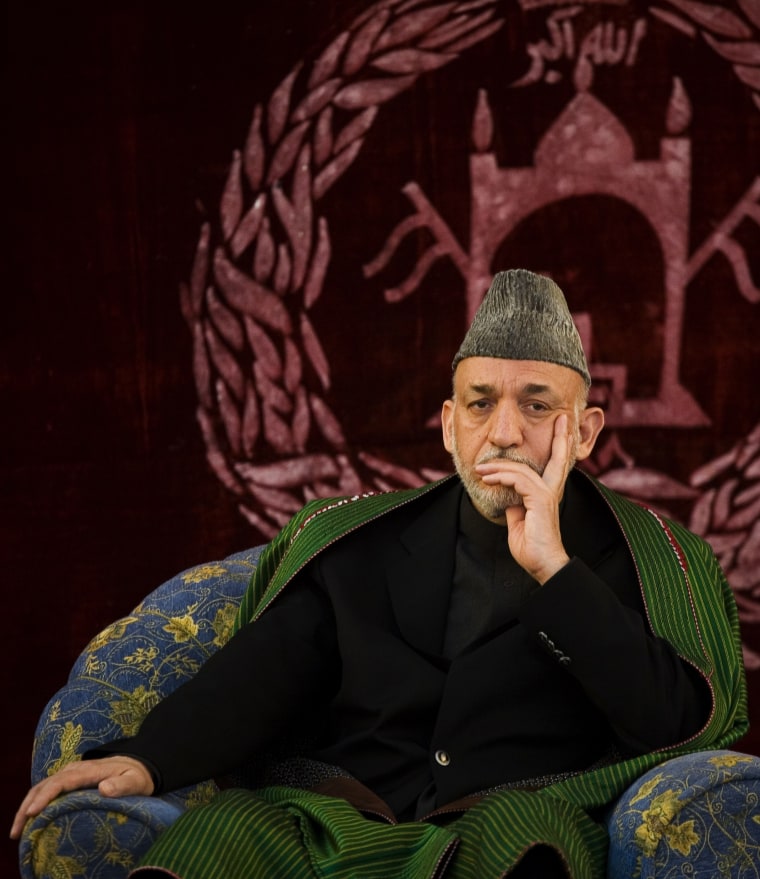 At a conference on Afghanistan earlier this year in London, donor nations welcomed plans for the jirga and a program to use economic incentives to woo low- and midlevel Taliban fighters off the battlefield. They pledged to set up a Peace and Reintegration Trust Fund to finance the reconciliation program, and Karzai needs the international community's backing and its financial support.
An associate of Karzai, who spoke on condition of anonymity because he was not authorized to speak to news reporters, said Karzai wants the U.S. to accept that senior Taliban be included in any reconciliation talks that come after the jirga — as long as they have no ties to al-Qaida or other terrorist networks.
The Afghan government also was insisting it should decide who to talk with and that the U.S. and NATO must agree to respect whatever agreements are reached during talks with the Taliban, the associate said.
The U.S. Embassy in Kabul declined to comment on the postponement of the jirga.
Defense Secretary Robert Gates told a congressional committee last month that while negotiations with the Taliban would be necessary at some point, it was too early for the Afghan government to be able to persuade senior Taliban leaders to lay down their arms. He said that for talks to succeed, the Taliban must be convinced that they will lose the war. "I don't think we're there yet," he said.
The Europeans have been more publicly supportive of talks.
Vygaudas Usackas, head of the European Union delegation in Afghanistan, expressed the EU's political backing for the peace conference.
"For the EU, which is perhaps one of the best examples of 20th century reconciliation, we see a great meaning and importance of this process," Usackas said. "It won't be an event. It will launch a process, which can lead to a peace in the country. Any reconciliation process will take time before the seeds will grow up."
EU ambassadors sought clarity
The EU ambassadors sought clarity about the Afghan government's expectations for the meeting, the framework for discussions at the three-day conference and asked questions about whether the jirga attendees would be representative of the complex nation.
"We don't speak in terms of red lines on something that is an entirely national effort," he said. "Every nation goes through its own reconciliation processes. It can be imposed. It cannot be instructed. It can only be supported."
Despite the U.S. government's qualms about talking with the Taliban leadership, which harbored al-Qaida fighters responsible for the Sept. 11 attacks, NATO's top civilian boss, Mark Sedwill, said Tuesday that the alliance was strongly behind Karzai's reconciliation efforts.
Asked whether the international community would support talks with Taliban leader Mullah Mohammed Omar or the Haqqani group, a Pakistan-based Afghan Taliban faction with close ties to al-Qaida, Sedwill replied: "That's up to the government."
The Afghan Taliban's leadership council this week denied that it was open to talks.
Stepping up attacks
Taliban insurgents are stepping up attacks on individuals and companies linked with the effort to rush in development to win the loyalty of residents in the Taliban stronghold of Kandahar. NATO is ramping up military operations to rout Taliban insurgents from the city where gunmen on a motorbike killed an Afghan government worker and passer-by Wednesday night. Earlier in the week, insurgents killed the vice mayor of the city as he prayed at a mosque.
The Taliban has long demanded that there would be no peace talks as long as foreign forces were in the country.
Sedwill brushed off the Taliban's hard stance.
"You would expect their spokesmen to say, at this stage, that they won't accept anything," Sedwill said. "They want foreign forces to withdraw first and they want a whole load of other conditions. That's perfectly normal in a situation like this.
"But at some stage, probably privately to start with, they have to understand that they are not going to prevail" — that reconciliation is their only future."