/ Source: msnbc.com staff and news service reports
"Avatar" director James Cameron is helping to build a high-resolution 3-D camera on the next-generation Mars rover.
The camera will be mounted atop Curiosity, the next mission to Mars, which is due for launch next year.
NASA's Jet Propulsion Laboratory scaled back its plans in 2007 to mount a 3-D camera atop Curiosity because the upcoming flagship mission to Mars was consistently over budget and behind schedule.
But Cameron lobbied NASA Administrator Charles Bolden for the inclusion of the 3-D camera during a January meeting, saying that a rover with a better set of eyes will help the public connect with the mission.
Bolden was convinced. "He actually was really open to the idea," Cameron told the Pasadena Star-News. "Our first meeting went very well."
Earlier this month, San Diego-based Malin Space Science Systems delivered a mast camera without 3-D capabilities to JPL. Now the MSSS team is building the 3-D version, with Cameron listed as co-investigator.
Managers for the Curiosity rover mission aren't sure whether the new camera will be ready in time, but they told the Star-News that they're excited about the prospect of filming movies at 10 frames per second.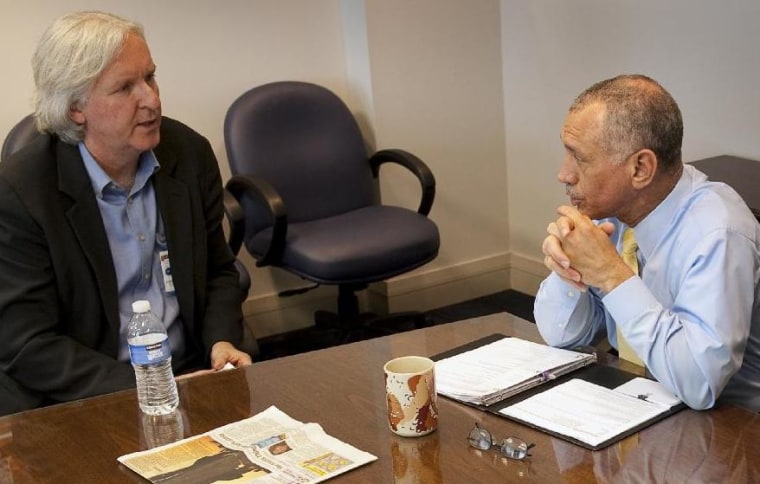 "You could take a movie and image clouds moving in the sky or a dust devil movie," said Joy Crisp, the mission's deputy project scientist at JPL. "As you're driving, you could take a movie."
Cameron has long been interested in 3-D moviemaking as well as spaceflight. His 3-D science-fiction movie "Avatar" ranks as the top-grossing film of all time, with more than $2.7 billion in box-office receipts. That's more than the estimated $2.3 billion cost of the Curiosity mission, also known as Mars Science Laboratory.
The film director has served on the NASA Advisory Council, and in the past he's acknowledged discussing the possibility of traveling to the International Space Station to do a movie. That possibility faded in 2003 because of the Columbia shuttle tragedy.
This report includes information from The Associated Press and msnbc.com.