/ Source: The Associated Press
Three-inch deep water would seem to be about the last thing Dave Hedlin would want to see on the field where he grows cucumbers, potatoes and other crops near northern Washington's Skagit Bay.
But for the past three years, the third-generation farmer has taken part in an experiment that contradicts everything he's known about farming. For a fee, he agreed to flood about 20 acres to provide wetland habitat for migratory shorebirds, a move researchers hoped would also result in more productive farmland.
"Our grandparents spent all their time trying to keep this land well-drained and dry," said Hedlin, who acknowledged skepticism when conservationists offered to pay him to flood part of his farm.
The effort, called Farming for Wildlife, included Hedlin and two other nearby property owners. Early results have been so positive that organizers at The Nature Conservancy, a group that works to protect land and rivers throughout the world, plan to replicate it in other parts of the country.
Hundreds of shorebirds fattened up in the flooded field during spring and fall migrations, and the farmers noted a spike in nitrogen, a key plant fertilizer, in their fields.
"We absolutely want to replicate it," said Julie Morse, an ecologist with The Nature Conservancy. "You could do it anywhere as long as there's a water source and you build berms to hold the water."
The Skagit River Delta, about 60 miles north of Seattle, was once covered in estuarine and freshwater wetlands, providing rich habitat for birds and other wildlife. Over the past century, much of it was diked and drained for farming.
Despite the habitat loss, an average of 35,000 migratory birds stop in the Skagit delta on the Pacific Flyway.
"A hundred years ago, they had places like this along the entire length of the Pacific Flyway," said Kevin Morse, The Nature Conservancy's north Puget Sound program director. Now, "their options and feeding places are extremely limited."
Buying land to create habitat wasn't feasible because no one wanted to sell, so Morse said his group offered to rent land from farmers under the program. He declined to say how much farmers were paid, but said the group had an overall three-year project budget of $350,000 to cover the leases and all expenses related to the flooding and studies.
Funding for Farming for Wildlife came from private donations and a U.S. Environmental Protection Agency grant. The effort will be expanded this year with money from donors and the Natural Resources Conservation Service, which is part of the U.S. Department of Agriculture.
The flood rentals are separate from other federal programs that pay farmers to set aside thousands of acres for long-term conservation. Many farmers have stopped participating in those programs, opting to put land back into production to take advantage of relatively high crop prices.
The Skagit Bay program, and a similar effort backed by the U.S. Fish and Wildlife Service in the Klamath Basin of southern Oregon and northern California, are more attractive to some farmers because the wetlands will be drained after a few years.
In Skagit Bay, freshwater is typically pumped onto fields. In the Klamath Basin, freshwater is gravity-fed from a nearby lake.
Benefits seen in Klamath, too
Ron Cole, refuge manager for the Klamath Basin National Wildlife Refuge Complex, said about 5,000 to 8,000 acres of private farmland are now periodically flooded in a region once filled with shallow lakes and marshes.
Though no studies have quantified benefits, Cole said farmers have reported higher crop yields, better control of weeds and pests and reduced need for fertilizers and fumigants.
Flooding drives away harmful soil pests and bacteria, and increased levels of nitrogen helps soil fertility.
The program could be especially helpful to farmers who want to pursue organic certification, which requires that pesticides not be applied for three years. About 15,000 acres of private land have been converted to organic through the Klamath Basin effort, called Walking Wetlands, a change that should help farmers fetch premium crop prices, Cole said.
Researchers at Oregon State University are studying benefits to farmers and birds.
"We're also looking at what would it take to get more farmers to participate in such a program," said Christian Langpap, an assistant professor in OSU's agricultural and resource economics department.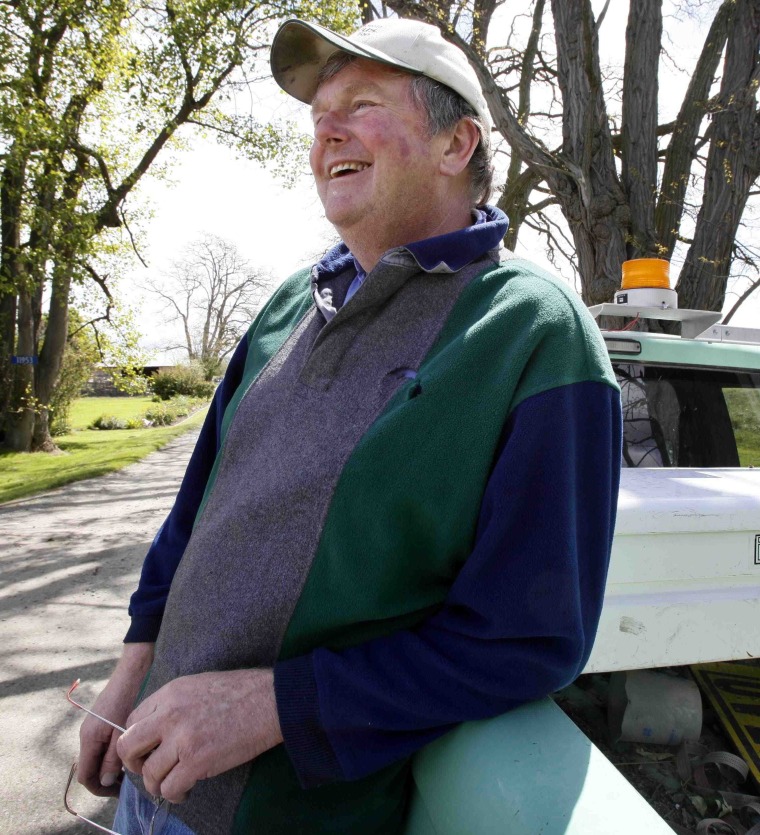 He thinks a wetland crop rotation could be profitable in the long run if it allows farmers to make the transition to organic production.
In Washington, Hedlin has certified his previously flooded field as organic.
One recent morning, two dozen dunlin and Western sandpipers pecked for worms, tiny invertebrates and other bugs on a potato farm pumped with a few inches of freshwater. The birds are on their way to the Arctic to breed.
"You can see they're feeding like mad," Morse said, peering through her binoculars.
During the first year of the pilot project, hundreds of sandpipers, dowitchers, yellowlegs, and Dunlin flocked to three farms, including Hedlin's.
In all 15 species, including many of high conservation concern, have used the fields, though cattails and other vegetation took hold faster than expected and crowded out shorebirds as time went along. Project leaders now plan to mow down the vegetation when they flood another 100 acres later this year.
"It's been very successful," said Hedlin, standing at the farm his grandfather homesteaded in 1906. "When we look back the biggest success is that we learned to work together."