/ Source: NBC, msnbc.com and news services
BP began capturing some oil spewing from its ruptured Gulf of Mexico well Friday as President Barack Obama warned the company against skimping on compensation to residents and businesses hurt by the nation's worst spill.
With tar balls washing ashore in Florida and political pressure mounting on BP to free up cash for damages, company executives told investors they were putting off a decision on whether to suspend the next quarterly dividend.
"Future decisions on the quarterly dividend will be made by the Board, as they always have been, on the basis of the circumstances at the time," the British energy giant said in a statement. Its annual dividend totals $10.5 billion.
BP CEO Tony Hayward said the company had plenty of money to meet its obligations, including $5 billion in cash and additional credit lines it could tap. It has already spent well over $1 billion on its oil spill response.
Obama, facing a monumental test of his presidency amid criticism he has failed to demonstrate leadership or emotion in the crisis, showed a flash of anger as he seized on the dividend issue in a meeting with state and local officials in Kenner, La.
"They say they want to make it right. That's part of their advertising campaign. Well, we want them to make it right," Obama said, criticizing BP for spending lavishly on television ads to burnish its corporate image while the company considers the dividend payout.
"What I don't want to hear is, when they're spending that kind of money on their shareholders and spending that kind of money on TV advertising, that they're nickel and diming fishermen or small businesses here in the Gulf," he said.
Limited progress
It was Obama's third trip to the region since the April 20 rig explosion that killed 11 workers and unleashed the worst oil spill in U.S. history. In an interview on Thursday, he said he was "furious" at the disaster, which threatens fishing and tourism, two of the cornerstones of the local economy.
BP on Thursday was able to attach a containment cap atop the ruptured well, which came after several failed attempts to choke off or curtail the oil flow. It will take a few days for the operation to reach optimum performance, at which point the company hoped to be able to siphon off as much as 90 percent of the leaking oil.
The U.S. Coast Guard said Friday the containment cap placed atop the gusher a mile beneath the Gulf's surface was collecting some of the oil.
"Progress is being made, but we need to caution against overoptimism," said Coast Guard Adm. Thad Allen, the government's point man for the crisis. Early in the day, he guessed that the cap was collecting 42,000 gallons a day — less than one-tenth of the amount leaking from the well. Since it was installed, it had collected about 76,000 gallons, BP said in a tweet Friday night.
BP does not expect to be able to fully halt the oil flow until August, when two relief wells are to be completed.
In the meantime, Hayward vowed BP will "stand by our obligations."
"We will halt this spill and put right the damage that has been done," he said.
BP's share price, which has fallen sharply since the beginning of the crisis, gyrated in London and New York. Standard & Poor's cut BP's credit rating to AA-minus from AA, following the example of two other rating agencies on Thursday.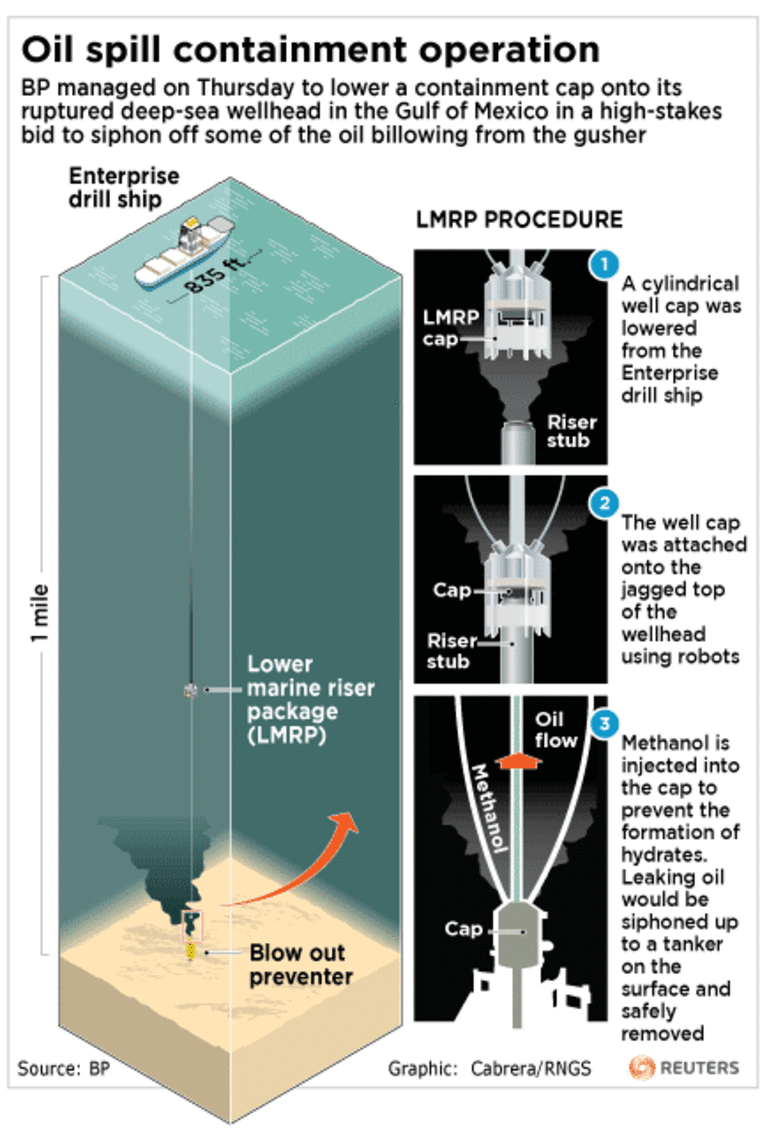 Oil reaches Florida
The BP catastrophe arrived with the tide on the Florida Panhandle's white sands Friday. The oil has now reached the shores of four Gulf states — Louisiana, Mississippi, Alabama and Florida — turning its marshlands into death zones for wildlife and staining its beaches rust and crimson in an affliction that some said brought to mind the plagues and punishments of the Bible.
"In Revelations it says the water will turn to blood," said P.J. Hahn, director of coastal zone management for Louisiana's Plaquemines Parish. "That's what it looks like out here — like the Gulf is bleeding. This is going to choke the life out of everything."
He added: "It makes me want to cry."
Oil sheen and tar balls washed up along a stretch shoreline crowded with beachgoers in northwest Florida.
"You see shells and jellyfish and trash, but I've never seen oil here. It's crazy," said Anthony Cross, while walking along Pensacola Beach with his three daughters, holding a child's fishing net full of tar.
NOAA on Friday opened more than 16,000 square miles of previously closed fishing area off the Florida coast, including a 13,653-square mile area just west of the Florida Keys and Dry Tortugas.
The area was initially closed on Wednesday as a precaution to ensure that seafood from there is safe, but oil did not move in.
Signs of displeasure
On Grand Isle, La., where homes bear quirky names like "Shore Thing" and "The Sand Bar," residents hung new signs before Obama's visit. "Tony Bologna," read one, a dig at BP's CEO. On another home, named "Mama-Pappy Dream," a new sign was added: "Dream is Gone." Still another said: "End this nightmare."
"He ain't much of a leader," Eugene Ryman Jr. said of Obama. "The beach you can clean up. The marsh you can't. Where's the leadership? I want to hear what's being done. We're going to lose everything."
When he arrived in Louisiana, Obama indicated he felt the frustration locally and from the rest of the country.
"This has been a disaster for this region, and people are understandably frightened and concerned about what the next few months and the next few years may hold," Obama said after a briefing with the Coast Guard's Allen and the governors of Louisiana, Florida and Alabama.
White House visit
On his trip to the Grand Isle on the coast, his motorcade passed a building that had been adorned with his portrait reminiscent of posters of him during his presidential campaign. Instead of "hope" or "change," the words "what now?" were on his forehead.
Once there, Obama rolled up his sleeves and sat down at a table with the fishing industry workers, and they all ate shrimp and corn on the cob. One by one, they told Obama their horror stories, which he then related to reporters.
"Terry's been shrimping out here for 45 years. Right now things are completely shut out," the president said. "Floyd has oil seeping into these oyster beds."
The mayor of Grand Isle, David Camardelle, choked up as he told of staying up nights worrying, "looking at the ceiling fan."
"We don't know what's going to happen tomorrow," Camardelle said. "I'm trying to keep Grand Isle alive."
White House Press Secretary Robert Gibbs announced to reporters traveling with the president that the families of the 11 workers killed when the Deepwater Horizon oil rig exploded will visit the White House on Thursday.
Gibbs said that Obama had written to the 11 families to extend the invitation so that he can pay personal condolences.
Also Friday, a federal panel of about 50 experts recommended the continued use of chemical dispersants to break up the oil, despite its harm to plankton, larvae and fish.

Panel member Ron Tjeerdema said they decided the animals harmed by the chemicals underwater had a better chance of rebounding quickly than birds and mammals on the shoreline. Tjeerdema chairs the Department of Environmental Toxicology at the University of California, Davis.

The National Oceanic and Atmospheric Administration asked for the panel to be assembled to provide the federal government and BP with guidance on whether they should continue to use the controversial dispersants.