After one aborted countdown, a privately developed rocket that could take on many of the jobs now done by NASA's space shuttles reached orbit successfully on its first test flight Friday.
The launch marked a significant advance for California-based SpaceX's eight-year-old space program.
Liftoff came after hours of delay, sparked initially by launch-pad telemetry problems, then by a sailboat that strayed into a restricted area of the launch range. The day's first countdown was aborted at virtually the last second, due to an alert about one of the engine igniters. The launch software was quickly adjusted for a second countdown that went all the way to zero.
Cheers could be heard in the background as SpaceX broadcast a live webcast of the ascent, including stunning rocket-cam views from orbit. Toward the end of the 10-minute ascent, the camera view appeared to show the spacecraft rolling. But SpaceX said it reached orbit — which was the key measure of success.
"All in all, this has been a good day for SpaceX," launch commentator Robyn Ringuette said from the company's headquarters in Hawthorne, Calif.
Later in the day, the company's millionaire founder, Elon Musk, told reporters that the Falcon 9 hit a "near bull's-eye," which made Friday "one of the greatest days of my life."
This time around, the Falcon 9 carried a mere mockup of its Dragon capsule into space from Cape Canaveral Air Force Station in Florida. But if the company succeeds in its development effort, future Falcons and Dragons could be carrying cargo to the International Space Station next year, and flying astronauts into orbit by 2013.
With the shuttle fleet due for retirement within the next year or so, NASA is counting on private-sector launch providers to provide transport services to the space station, so that the space agency can concentrate on more ambitious trips beyond Earth orbit.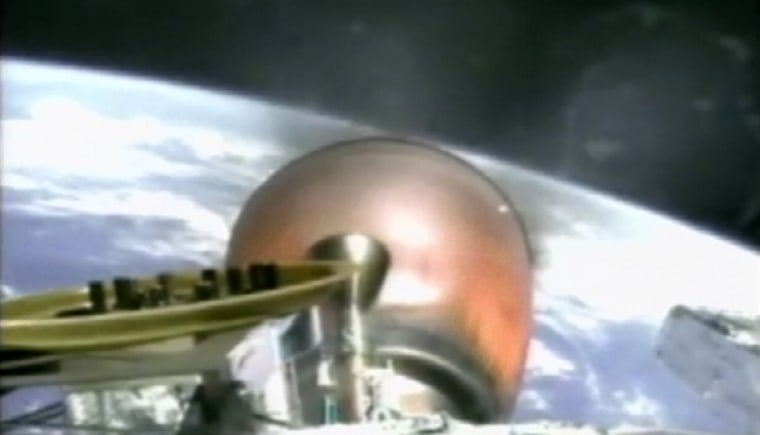 SpaceX and the Falcon 9 have become closely linked with President Barack Obama's revised space policy, which calls for the cancellation of NASA's own Ares 1 rocket development effort. Obama visited the SpaceX launch pad and chatted with Musk just before announcing the policy shift at NASA's Kennedy Space Center in April.
In the wake of that announcement, members of Congress and space luminaries such as Neil Armstrong, the first man to walk on the moon, criticized Obama's policy and said companies such as SpaceX couldn't be relied upon to deliver on their promises. Retired Apollo astronaut Gene Cernan, the last man to walk on the moon, complained that such companies "don't know what they don't know."
After the launch, Musk said Friday's success "bodes very well for the Obama plan."
"It shows that even a sort of small new company like SpaceX can make a real difference," he said.
Several companies are likely to compete with SpaceX for NASA contracts to resupply the space station — including the Boeing Co., Lockheed Martin and Orbital Sciences, which already launch missions for NASA and the U.S. military.
First of several tests
This was only the first in a series of Falcon 9 test flights for SpaceX, which is getting $278 million from NASA to develop the two-stage rocket. During its maiden voyage, SpaceX aimed to put its Dragon mockup in a 155-mile-high (250-kilometer-high) orbit. Musk said the telemetry indicated that the spacecraft ended up no more than 1 percent off that mark.
The first stage fell back through the atmosphere and broke into pieces during re-entry, suggesting that the stage's parachutes didn't work properly. Musk also acknowledged that the spacecraft rolled more than expected during the latter stages of the ascent. He said these and other flight issues would be studied in preparation for the next test launch.
"We'll be poring over the data right away, and I think we'll have it fully digested in a month or so," Musk said.
The next Falcon 9, tentatively set for launch this summer, is due to carry a fully functional Dragon capsule. If NASA gives its OK, a third test flight planned for next spring would try going all the way to the space station, Musk said.
The 38-year-old Musk started up SpaceX in 2002, using a large chunk of his dot-com fortune. Before Friday's launch, he cautioned journalists not to read too much into an initial failure. After all, SpaceX's less powerful rocket, the Falcon 1, had to go through three launch failures before successfully reaching orbit.
In the wake of Friday's launch, Musk still counseled caution. "If this launch had failed, it wouldn't have meant that commercial space had failed," he said. "And just because this launch succeeds, it doesn't completely mean that commercial space can do anything, anytime. The measured response is that this is a very important step in the advancement of commercial space."
How the Falcon 9 stacks up
The 157-foot-high (47-meter-high) Falcon 9 and its Dragon capsule can't match the space shuttle in terms of lifting capability, but they could bring up more than 13,000 pounds (6,000 kilograms) of cargo or as many as seven crew members at a time. The Dragon will be equipped with an automated system that allows the space station to grapple it for a docking.
From a launch out of the weeds to a special delivery in orbit, see the best space offerings from January 2014.
The kerosene-fueled Falcon was designed as a low-cost orbital launch vehicle: The price list for a launch ranges from $10.9 million for a Falcon 1e to $51.5 million for the most powerful Falcon 9. That would be significantly less than the estimated $130 million-plus cost of launching an Atlas 5 rocket or the billion-dollar cost of a shuttle mission.
Musk estimated that $350 million to $400 million has been spent so far developing the Falcon rockets. That includes about $100 million of his own money, most of which came from the sale of PayPal, a company he co-founded.
SpaceX already has a long list of launches lined up for the Falcon rockets, for NASA as well as for customers in Canada, Europe, Israel and Argentina. "I think you can expect some major announcements" about additional launch customers, Musk said after the launch.
Musk said SpaceX was talking with NASA about even more ambitious projects, such as the public-private development of a super-heavy-lift rocket that could go beyond Earth orbit on interplanetary voyages — "ultimately, one day, perhaps to Mars." And he said he hoped paying passengers would be able to ride into orbit on SpaceX rockets within five or six years.
"Long-term, that is definitely our goal. The long-term goal is the democratization of space, making space accessible to as many people as possible," Musk said. "That is an extremely difficult technical task, and one which we can't approach lightly, because safety and reliability are paramount. But it is my greatest hope that SpaceX will one day enable almost anyone to go to space."
That's years down the road. For now, Musk's short-term goal was to celebrate the Falcon 9's maiden outing with his SpaceX colleagues. How? "I think with a lot of margaritas," he said.