/ Source: msnbc.com news services
The arrest tally from rioting in downtown Toronto climbed above 500 on Sunday, including four who climbed through the sewer system and emerged near the lock-down area where world leaders were attending the G-20 summit.
Police said they hoped protests planned for Sunday would be quiet, but after a day when they admitted they had lost control of a violent and fast-moving crowd, the arrests came fast.
"What we're prepared for today is more of what we saw yesterday," a police spokesman said. "We'd like to see demonstrations remain peaceful."
Four people were detained in the middle of the night as they emerged from a manhole near the 10-foot fence sealing off the area where the Group of 20 rich and developing nations are meeting. Police said they were urgently sealing sewer access near the zone.
Toronto Police Sgt. Tim Burrows said police made at least 70 arrests in a Sunday morning raid on a building on the campus of the University of Toronto, where they seized a cache of "street-type weaponry" such as bricks, sticks and rocks.

"We think we put a dent in their numbers with this and with the arrests that happened overnight," Burrows said.
The riots started on Saturday afternoon after groups of masked anarchists broke away from a larger, peaceful demonstration that was protesting against the G-20, which ends its meeting on Sunday.They smashed the windows of stores and banks and torched police cars in a protest that police finally brought under control with tear gas and mass arrests.
On Sunday, protesters carrying banners saying "Free Our Comrades" marched on the temporary detention center set up near Toronto's port area. Police fired bean bags and tear gas to disperse them.
Those arrested face charges ranging from mischief to assaulting police, police said.
"What we saw yesterday ... is a bunch of thugs that pretend to have a difference of opinion with policies and instead choose violence in order to express those so-called differences of opinion," Dimitri Soudas, spokesman for Canadian Prime Minister Stephen Harper, told a news conference.
The roving band of protesters torched four police cruisers and shattered shop windows with baseball bats and hammers for blocks, including at police headquarters, then shed some of their black clothes, revealing other garments, and continued their rampage.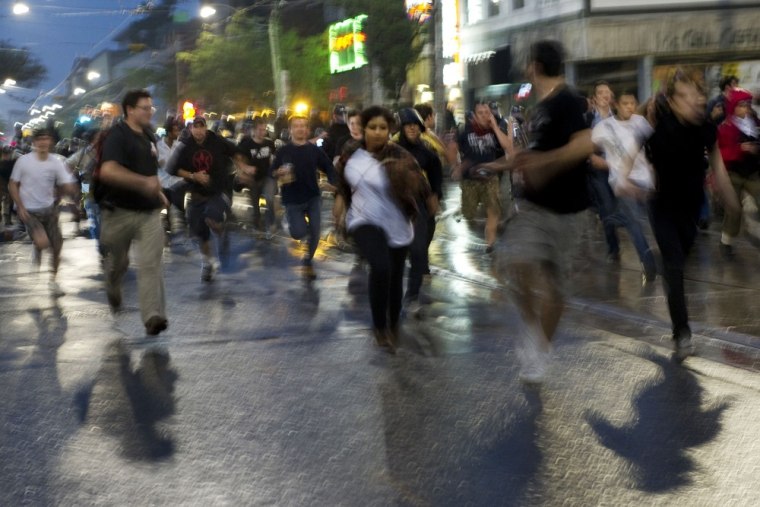 Police used shields, clubs, tear gas and pepper spray to push back the protesters who tried to head south toward the security fence surrounding the Group of 20 summit site. Some demonstrators hurled rocks and bottles at police.
The vandalism occurred just blocks from where U.S. President Barack Obama and other world leaders were meeting and staying.
Thousands of police headed to Toronto to reinforce security there after the smaller Group of Eight summit ended Saturday in Huntsville, Ontario, about 140 miles away. Security was being provided by an estimated 19,000 law enforcement officers drawn from across Canada, and security costs were estimated at more than $900 million.
Saturday's protests began with a peaceful march, sponsored by labor unions and dubbed family friendly, that was the largest demonstration planned during the summit weekend. Its organizers had hoped to draw a crowd of 10,000, but only about half that number turned out on a rainy day.
Police in riot gear and riding bikes formed a blockade, keeping protesters from approaching the steel and concrete security fence a few blocks south of the march route. Police closed a stretch of Toronto's subway system along the protest route and the largest shopping mall downtown closed after the protest took a turned for the worse.
The black-clad demonstrators broke off from the larger crowd of peaceful protesters and began torching police cars and smashing shop windows.
Toronto Police Chief Bill Blair said the goal of the militant protesters was to draw police away from the security perimeter of the summit so that fellow protesters could attempt to disrupt the meeting.
Some police officers were struck by rocks and bottles and assaulted, but none was injured badly enough to stop working, Blair said.
"We have never seen that level of wanton criminality and vandalism and destruction on our streets," Blair said.
Previous global summit protests have turned violent. In 1999, 50,000 protesters shut down World Trade Organization sessions in Seattle as police fired tear gas and rubber bullets. There were some 600 arrests and $3 million in property damage. One man died after clashes with police at a G-20 meeting held in London in April 2009.
At the September G-20 summit in Pittsburgh, police fired canisters of pepper spray and smoke and rubber bullets at marchers.