/ Source: The Associated Press
Thanks to Apple Inc.'s iPad, tablet computers are finally a hot consumer item, after many false starts. On Tuesday, Cisco Systems Inc. said it aims to take the tablet computer into the business world with its own device, to launch early next year.
Apple launched the iPad tablet computer in March, but Cisco, the world's largest maker of networking equipment, said its own tablet, the Cius, has been in the works for a year and a half.
The Cius will have a 7-inch screen, making it smaller and lighter than the iPad. While the iPad has no camera, the Cius will have two, facing both toward and away from the user. Videoconferencing on the go will be a major focus of the product, according to Barry O'Sullivan, senior vice president of Cisco's Voice Technology Group.
The Cius will run Google Inc.'s Android software, which is popular in smart phones that compete with Apple's iPhone. Android phones haven't been embraced by corporations, which usually prefer the security offered by Research In Motion Ltd.'s BlackBerrys, but O'Sullivan said Cisco's goal was to make the Cius as "IT friendly" as possible, giving information technology departments wide control over what applications get installed on the devices.
The tablet will come with the ability to connect to Wi-Fi hot spots and cellular broadband networks. Cisco is in talks with six phone companies around the world who could provide service for it, O'Sullivan said in an interview.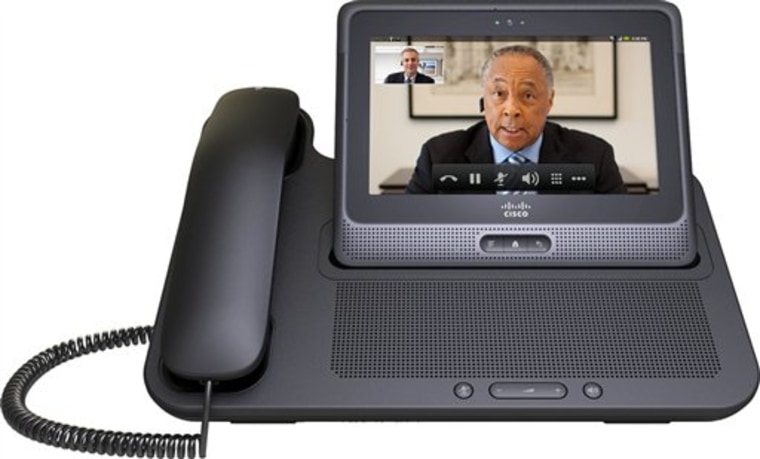 The Cius will be able to use external monitors and wireless mice and keyboards, so it could even be used as a replacement for a desk computer by connecting to servers that run "virtualized" applications, Cisco said. (For more on Cius, visit its website.)
O'Sullivan said Cisco's goal was to sell the Cius for less than $1,000.