/ Source: NBC, msnbc.com and news services
Anna Chapman is an accused spy who hid in plain sight.

Social-networking sites and others are rife with images of the striking, redheaded Russian — mixing with businessmen at a conference, posing in front of the Statue of Liberty, talking about how to make it in New York.

"America is a free country, and it's the easiest place in the world to meet the most successful people," she says in an Internet video. On her Facebook page, she mused: "If you can dream, you can become it."

U.S. authorities say it was all a sham: Behind the scenes, they allege, Chapman was moonlighting as a secret agent — one of 11 suspects charged in spy case that's revived memories of the Cold War, tested American-Russian relations and made for tabloid headlines about her such as "The Spy Who Loved Us."
Though the U.S. has branded the operatives as living covertly, at least in Chapman's case, she had taken care to brand herself publicly as a striver of the digital age, passionately embracing online social networking by posting information and images of herself for the world to see.
Assistant U.S. Attorney Michael Farbiarz has called evidence against Chapman "devastating." She is "someone who has extraordinary training, who is a sophisticated agent of Russia," he said.
Her mother, who lives in western Moscow, said she is convinced of her daughter's innocence.
"Of course I believe that she's innocent," Irina Kushchenko told The Associated Press. She refused to comment further.
Other accounts paint a less sophisticated picture of Chapman. A banker who told the New York Post that he knew her .
"She told me she was a derivatives trader. I asked her one thing any derivatives trader would know, and she didn't know what I was talking about. She was just dumb, quite frankly."
11th suspect missing
Chapman and nine others accused of being ring members were arrested across the Northeast and charged with failing to register as foreign agents, a crime that is less serious than espionage and carries up to five years in prison. Some also face money laundering charges. An 11th suspect was arrested in Cyprus, accused of passing money to the other 10 over several years. Reuters reported that the man, who was allowed to post bail, had disappeared.
Prosecutors said most of the defendants were Russians living in the U.S. under assumed names and posing as Canadian or American citizens. It was unclear how and where they were recruited, but court papers said the operation went as far back as the 1990s. Exactly what sort of information the agents are alleged to have provided to their Russian handlers — and how valuable it may have been — was not disclosed.
Some of the ring's members lived as married couples and used invisible ink, coded radio transmissions and encrypted data, the court papers allege. Some even used the Hollywood-style method of swapping bags in passing at a train station, the papers said.
The arrests raised concerns that Moscow has planted other couples in the U.S., and Farbiarz called the arrests "the tip of the iceberg" of a conspiracy by Russia's intelligence service, the SVR, to collect information on this side of the Atlantic.
At a court hearing Monday in federal court in Manhattan, Chapman was jailed without bail. On Wednesday, court-appointed attorney Robert Baum said Chapman is being held in solitary confinement at a Brooklyn detention center.
Chapman took an apartment a block from Wall Street and began using online social networks, including LinkedIn and Facebook, to brand herself. On her LinkedIn page, Chapman is listed as the chief executive officer of PropertyFinder Ltd., which maintains a website featuring real estate listings in Moscow, Spain, Bulgaria and other countries. Her attorney said she had visited the United States on and off since 2005 before settling in Manhattan to start a business that's worth $2 million.
Internet footprints
Biographical information on Chapman on the Lifenews.ru website said she was the daughter of a Russian diplomat who at one time worked in Kenya. It said she moved to Britain after marrying a Briton whose father was Europe director for Auchan, the French supermarket chain, which operates many stores in Russia. The People's Friendship University in Russia confirmed she graduated in 2004.
One of the employers in London listed on her resume, Barclays Bank, could find no record of her working there. An aviation company where she claimed to have been employed for a year said it was only a three-month stint.
In more than 90 photos posted to Facebook, Chapman is pictured in various countries, including Turkey, where she is in one of the rooms of the luxurious Hotel Les Ottoman, in Istanbul. There are also what appear to be family photographs from Russia and photographs of her dressed in a student uniform.
Her Internet footprints also include a photo of her posing with a glass of wine between two men at the Global Technology Symposium at Stanford University in March — it cost more than $1,000 to attend — and video clips, speaking in Russian about the economic opportunities in her adopted home.
Media reports quickly branded her a femme fatale, and tabloids splashed her photos — some from Manhattan's nightlife scene — on their front pages. Steve Fox, who throws upscale matchmaking parties in the city, said she showed up a few times with other Russian women.
"She was pretty," Fox said. "I guess she wanted to meet men, just like all the other women in New York."
About her style, he said, "There were no Lady Gaga outfits on her. It was more classy."
Computer transmissions
A criminal complaint alleges that, unbeknownst to her business and social contacts, Chapman was using a specially configured laptop computer to transmit messages to another computer of an unnamed Russian official — a handler who was under surveillance by the FBI.
The laptop exchanges occurred 10 times, always on Wednesdays, until June, when an undercover FBI agent got involved, prosecutors said. The agent, posing as a Russian consulate employee and wearing a wire, arranged a meeting with Chapman at a Manhattan coffee shop, they said.
During the meeting, the undercover said he knew she was headed to Moscow in two weeks "to talk officially about your work," but before that, "I have a task for you to do tomorrow."
The task: To deliver a fraudulent passport to another woman working as a spy.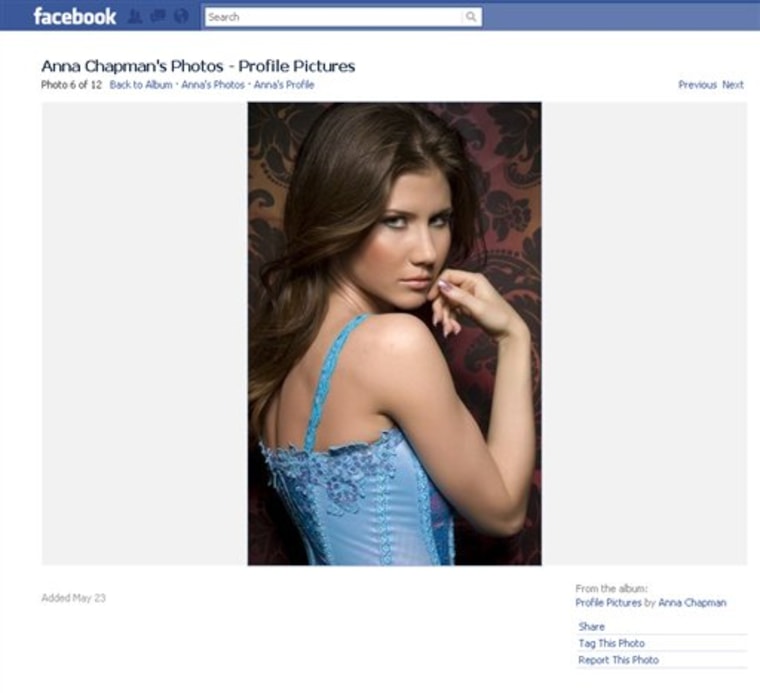 "Are you ready for this step?" he asked.
"S---, of course," she responded.
The undercover gave her a location and told her to hold a magazine a certain way — that way, she would be recognized by a Russian agent, who would in turn confirm her identity by saying to her, "Excuse me, but haven't we met in California last summer?"
But Chapman was leery, prosecutors said.
"You're positive no one is watching?" they say she told the undercover agent after being given the instructions.
Afterward, authorities say, she was concerned enough to buy a cell phone and make a "flurry of calls" to Russia. In one of the intercepted calls, a man advised her she may have been uncovered, should turn in the passport to police and get out of the country.
She was arrested at a New York Police Department precinct after following that advice, authorities said. And her attorney pointed out Wednesday that she had not attended the meeting and had not passed on the fake passport.
Authorities say the undercover's parting words to her had been, "Your colleagues in Moscow, they know you're doing a good job. So keep it up."