Nearly 40 years before the Obama White House denounced the WikiLeaks website for publishing classified documents, another president, Richard Nixon, was even more obsessed with the same phenomenon.
Only Nixon and his top aides went to far greater lengths to deal with the problem: They launched an extraordinary campaign to smear and discredit the journalist who, more than anyone else, was bedeviling them by publishing government secrets: newspaper columnist Jack Anderson. 
The White House obsession with Anderson — whose "Washington Merry Go-Round" column was the WikiLeaks of its day — is detailed in a new book being published this month, "Poisoning the Press: Richard Nixon, Jack Anderson and the Rise of Washington's Scandal Culture," by journalism professor Mark Feldstein. The book relies in part on newly unearthed tapes from the National Archives that document how Nixon's aides plotted to destroy Anderson by planting forged evidence with him and spreading false rumors about his sex life and that of one of his associates.
Feldstein also has uncovered new evidence that documents one of the more outrageous schemes of the Nixon presidency: a plot to assassinate Anderson by either putting poison in his medicine cabinet or exposing him to a "massive dose" of LSD by smearing it on the steering wheel of his car. While the aborted scheme to murder Anderson has been reported — and disputed — before, Feldstein found new corroboration: A confession before his death by ex-White House "plumber" Howard Hunt.
As Feldstein writes, the plot was the culmination of a 40-year feud that dated back to the early 1950s, when Anderson uncovered a secret slush fund that wealthy backers had set up to financially support Nixon. That discovery led to Nixon's nationally televised "Checkers" speech,  in which he vowed to keep the new cocker spaniel he had bought for his daughters. The speech was widely credited with saving Nixon from being dumped as Dwight Eisenhower's running mate in 1952.
"Jack Anderson was like Ahab chasing after Richard Nixon, this great white whale, and he plagued Nixon from the very beginning of his career," says Feldstein, a veteran journalist and former "Dateline NBC" producer who has spent years researching the life and career of Anderson, once one of the most widely read newspaper columnists in the country.
Feldstein's book does not paint Anderson as a journalistic white knight. While praising the columnist as one of the country's premier investigative reporters, Feldstein also accuses him of questionable tactics and ethical transgressions, including writing stories suggesting that a number of public figures were gay when he had no evidence to support it — a not uncommon smear during Anderson's era.
Feldstein also obtained copies of cancelled checks showing that Anderson received thousands of dollars in payments from one of his long time sources — Washington lobbyist Irving Davidson, whose clients included mobsters and right-wing dictators such as Nicaragua's Anastasio Somoza. According to Feldstein, Davidson wrote the checks out of the bank account of the Somoza regime and the lobbyist kept a special file of positive articles that Anderson had done about his clients. (Anderson died in 2005. One of his sons, Kevin Anderson, did not dispute the payments, but told NBC that Davidson provided "valuable information" to his father over the years.)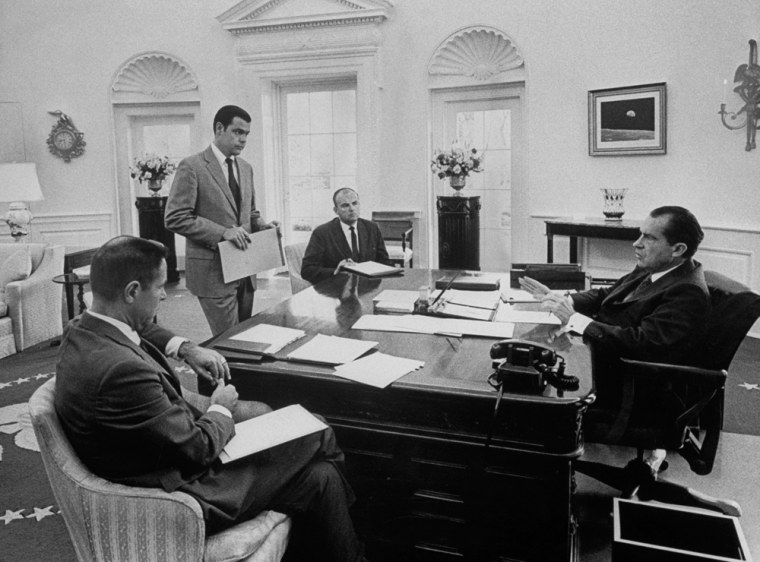 Although Nixon's animosity toward Anderson was hardly a secret at the time, Feldstein found new evidence buried in hundreds of White House tapes that were released years ago by the National Archives but had never previously been transcribed or aired.
The tapes show that Nixon and his top aides became virtually obsessed with Anderson after the columnist published classified documents showing the president was secretly arming Pakistan in a December 1971 war with India despite the White House's claim that the U.S. government would remain neutral.
In one conversation on Jan. 3, 1972, Nixon and then Attorney General John Mitchell talked about their determination to criminally prosecute Anderson for publishing classified information.
"I would just like to get a hold of this Anderson and hang him," said Mitchell.
"God damn it, yes," Nixon replied. "So listen, the day after the election, win or lose, we've got to do something with this son of a bitch."
One surprising detail revealed by the tapes is that Nixon and his aides became convinced that Anderson was being aided by a Mormon conspiracy inside the government. Anderson, a devout Mormon, was being fed classified documents by fellow Mormons working for the administration, they concluded.
In fact, their paranoia had a small grain of truth: Anderson's chief source for the India-Pakistan documents was Charles Radford, a Navy yeoman who had been working as a military aide inside the White House and had previously worked as a clerk at the U.S. Embassy in New Delhi. Radford, Feldstein writes, was a fellow Mormon who became friends with Anderson when their wives bonded over a common interest in Mormon genealogy. 
But after White House investigators identified Radford as the leaker — a finding later confirmed by Pentagon investigators — Nixon saw a wider conspiracy. "Those Mormons in the Indian embassy are really turning out to be a bunch of scabs!" the president ranted in one taped conversation from Jan. 17, 1972.
The White House obsession soon intensified after Anderson — thanks to the legwork of his young associate Brit Hume — got hold of a "smoking gun" memo written by a Washington lobbyist tying a $400,000 political contribution to help underwrite the cost of the 1972 Republican National Convention  to the Nixon Justice Department's decision to drop an antitrust investigation of the ITT telecommunications conglomerate.
Nixon and his aides were furious and talked about discrediting Anderson by planting a false White House document with Anderson and then — if the columnist published it — proving it was a "forgery."
"Don't we have some spurious stuff that we can give to Jack Anderson," H.R. Haldeman, Nixon's chief of staff, asked at a March 18, 1972, meeting captured by the secret White House tape recorder.
"We got a whole plot concocted yesterday," replied Charles Colson, another senior Nixon aide, referring to the plan to secretly provide him with a falsified White House document.
"Even if it's not true, he'll print it," Haldeman replied.
"Oh, I got just the scheme for that," said Colson.
The two men — and Nixon — then discussed the idea of digging up information that Hume and Anderson were gay.
"Do we have anything on Hume?" Haldeman asked. "I thought there was some taint on him. "
"We're doing a check on him. We don't have it yet," replied Colson.
"It would be great if we could get him on a homosexual thing," said Haldeman.
Nixon soon chimed in, referring to unsubstantiated rumors about the sex life of Anderson and his former employer, columnist Drew Pearson.
"Anderson, I remember from years ago: he's got a strange, strange habit out of — I think Pearson was (homosexual), too," he said. "I think he and Anderson (were)."
The campaign to destroy Anderson culminated that spring in the decision to call in the White House "plumbers" — Howard Hunt and Gordon Liddy. The two gumshoes put Anderson under surveillance and staked out his home. That March, Feldstein wrote, they arranged a lunch at the Hays Adams Hotel with a recently retired CIA poison doctor in which they discussed ways they could eliminate Anderson once and for all, including planting a special poison in his medicine cabinet or by putting massive doses of LSD on his steering wheel "so that he would absorb it through his skin while driving and die in a hallucination-crazed auto crash," wrote Feldstein.
Feldstein got new corroboration of the plot in the form of a confession from Hunt, the former CIA agent, before his death three years ago. In an interview, Hunt told Feldstein that Colson had ordered them to "locate Anderson's home and examine it from the outside for vulnerabilities," according to a tape Feldstein provided to NBC.
"This was high on Chuck Colson's list of things to do," Hunt said. "… That was when the idea of putting a drug-laden pill in a bottle that Anderson was taking medicine from. Liddy had an idea that that by wiping poison on a man's wrist that could kill him that way."
Hunt added "the more that Colson knew about Anderson, the more resolved he was to put an end to it by whatever means. He regarded it as a protective function in terms of the president, get rid of this thorn in his side, one way or another, with hallucinogens or not."
Liddy in the past has confirmed that he participated in discussions to assassinate Anderson, while Colson -- who now runs a Christian ministry – has denied it.  Asked for comment on Feldstein's account by NBC, a spokeswoman for Colson responded: "He believes everyone has debunked this story a long time ago and he has nothing to add to it."
In any case, Feldstein acknowledges, the plot to kill the columnist never got off the ground. The White House plumbers soon got distracted by a more pressing mission: breaking into the Democratic National Committee headquarters at the Watergate hotel.