/ Source: msnbc.com contributor
A four-seat car that gets 102 miles per gallon is the top winner in a $10 million contest designed to encourage the development of ultra-efficient automobiles.
Edison2, a team of racing engineers from Lynchburg, Va., won the $5 million prize in the mainstream-vehicle category of the Progressive Insurance Automotive X Prize. The winners were announced here on Thursday at a ceremony attended by organizers, teams and politicians hoping to bask in the reflected glory of the teams' achievements.
The winners in two of the three prize categories — Edison2 and Swiss-based X-Tracer — were a foregone conclusion because they were the last surviving entrants. The third winner, Li-ion Motors of Mooresville, N.C., squeaked out a slim victory.
The few surviving teams left standing after multiple rounds of competition illustrated the X-Prize group's success in setting a very high — but not impossible — bar for competitors to clear.
"Our mission was to pick a target at the intersection of the audacious and the achievable," said Peter Diamandis, chairman and chief executive officer of the X Prize Foundation.
The competition began in the spring with 136 vehicles, entered by 111 teams from around the world.
In the end, the Edison2 team claimed the top spot in the mainstream category for cars that seat four people, can carry 10 cubic feet of luggage, have a 200-mile driving range, can accelerate to 60 mph in less than 15 seconds and have a heater, air conditioner and stereo system. The goal is for the mainstream cars to meet most functional requirements for typical drivers while delivering at least 100 miles per gallon.
Perhaps most impressively, the Edison2 team said that the technologies used in its Very Light Car could be put into a production model that would eventually sell for less that $20,000.
The other half of the $10 million X Prize purse was given out for two categories of alternative-class, two-seat vehicles. Li-ion's Wave II car won $2.5 million in the side-by-side category, comprising vehicles that seat their two occupants side by side. X-Tracer's E-Tracer motorcycle-style vehicle won the same amount in the tandem category.
Both of the alternative-class vehicles were all-electric. Edison2's Very Light Car, in contrast, employed a conventional (though thoroughly modified) turbocharged Yamaha 250cc internal combustion engine burning E85 fuel — that is, 85 percent ethanol and 15 percent gasoline.
Electric vs. ethanol?
X Prize organizers had to deal with the challenge of comparing the "gas mileage" of electric vehicles with the performance of cars that burn gasoline, alcohol, diesel and other combustible fuels. They came up with a benchmark of 100 MPGe, the equivalent of the energy to travel 100 miles on a gallon of gasoline.
When the prize was announced in 2007, many thought an electric or hybrid-electric drivetrain would surely be needed to win. But Edison2 demonstrated the continuing potential of compact, lightweight internal combustion engines.
"I'm not for or against electric cars," Edison2 founder and CEO Oliver Kuttner said. "I'm for more efficient cars. Our car is a whole new philosophy of a car, and it is the philosophy of the car that makes it light, not just because we took content out.  You have to look at the car as a system."
Edison2 focused on slippery aerodynamics to boost efficiency, plus light weight to provide satisfactory performance with a paltry 40 horsepower on tap.  Because of the car's superb aerodynamics, it can travel at highway speeds without the usual fuel economy penalty.  "Our car gets essentially the same miles per gallon whether you are going 40, 50, 60 or 70 miles per hour," Kuttner said.
"It has the lowest drag coefficient of any four-wheeled vehicle I think ever tested," said Bob Larsen, the X Prize program's senior adviser for technical operations.  "It only takes eight pounds to move that car, eight pounds of force. This concept has such power. It is really going to reshape a lot of things."
The light, strong, racing-style steel space frame contributes to the car's fuel-sipping low mass of less than 800 pounds.  In comparison, Honda's two-seat CR-Z hybrid sports coupe weighs more than 2,600 pounds.
"The key factor of the car is the weight," said team driver Emanuele Pirro, who has five victories in the 24 Hours of Le Mans sports car race to his credit.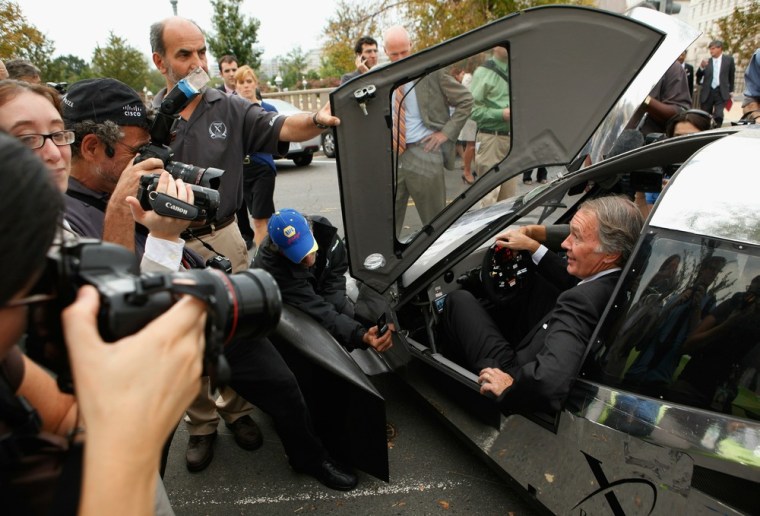 "It stops on a dime," he said.  "As a light car it's got a lot less energy to dissipate than a heavy car. I really feel very safe in the car because of the light weight and the strong structure."
To achieve safety with such light weight requires thoughtful management of crash forces, Kuttner explained.  "The most innovative part of our car is force management," he said.  "Force management is a new architecture in a car.  It has repercussions in everything from price, to safety, to performance, to efficiency."
Kuttner predicted that many of the lessons learned during the Very Light Car's development will be applied to production cars in the future. "It is lighter, more aerodynamic, more practical, cheaper and better handling than just about anything you've ever seen.  I am 100 percent convinced that in the next decade you will see a million cars that will follow in the very footprints of this car.  It still has a lot of work ahead, but it also carries a big promise."
David Champion, senior director of Consumer Reports' auto test division, participated in some of the final testing of the X Prize contenders — and he said the Edison2 cars would need further development to succeed in the marketplace.
"It is small but can squeeze four adults in, but getting in and out is quite difficult," Champion observed.  "The car is still in the prototype stage and would take a lot of work and mass to be ready for prime time."
The Edison2 team knows that better than anyone, so they are already hard at work on a follow-up design that will start to bridge the gap between the current prototype and something closer to a production-ready model.  Whether it is this car, or one made by a big manufacturer using some of Edison2's know-how, some of the Very Light Car's features will be in production in five years, Kuttner predicted.
The Li-ion Wave II car won its category by following the outlines of Edison2's strategy, with an emphasis on light weight and sleek aerodynamics. There are significant differences, however. The Wave II holds only two occupants, is built on a composite carbon-fiber chassis rather than a steel frame and employs — as the name suggests — a lithium-ion battery-powered electric drive.
"I look at it as something you could drive to work every day, something that you could drive on your regular commute," said Li-ion team leader Ron Cerven. "It has got a great range."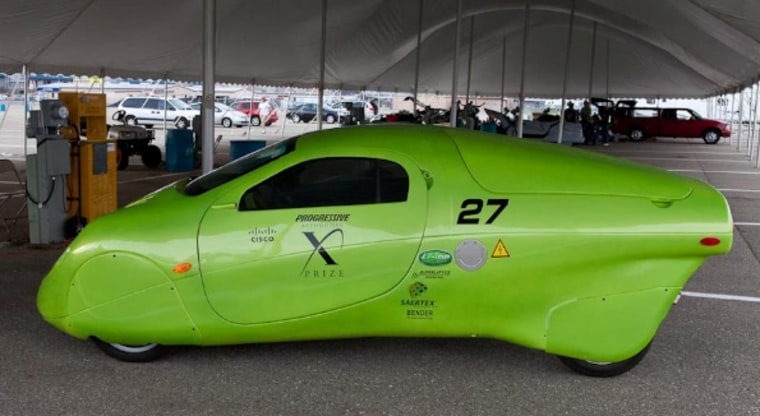 The company says it can get 150 miles per battery charge and can reach speeds of 80 mph. It achieved an overall rating of 187 MPGe in X Prize testing, and the team has already found improvements worth another 10 to 20 percent, Cerven said.  The prismatic lithium polymer battery pack charges in eight hours or less, depending on the charging source, and is projected to last through 2,500 recharging cycles.
"Li-ion was a very professional car, [with] very futuristic styling to reduce aerodynamic drag, and as the name suggests is electrically powered by li-ion batteries," Consumer Reports' Champion said.  "A great deal of work was done to this car between the first time it was tested and at the final, so it was a great effort for it to win."
Some of that work was performed by engineers and mechanics from other teams, as all of the teams commended and thanked their ostensible competition for aid rendered at various times of need.  "The ZAP team came in and helped us with parts and some programming," Cerven acknowledged.  "There were times you couldn't tell which team was which from the shirts [on team members] in the garages."
The motorcyclesque E-Tracer carries its occupants in line and leans into corners on two wheels, but extends outriggers to keep it upright when stopped.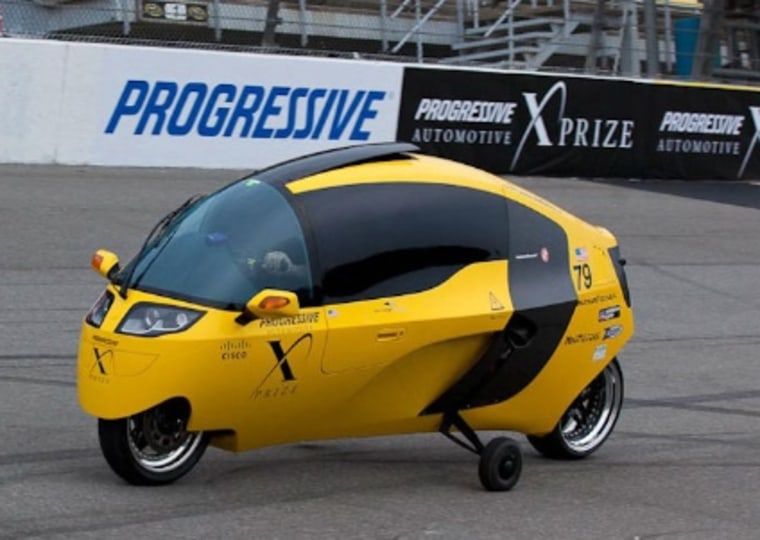 "As a motorcyclist, if I have a passenger, I usually tell them to hold onto me and do what I do," said Jim Lorimer, U.S. representative for the X-Tracer venture, which sells gas-powered vehicles similar to the E-Tracer.  "One of the great things about the X-Tracer is that the passengers don't have to do anything. They essentially just fall back into the bucket seat and go for the ride."
Nevertheless, a two-wheeler is likely to encounter significant consumer resistance in comparison to the four-wheeled designs.  "Getting in and out is again very awkward, and those of increasing age should not apply," Champion said.
Aside from sheer practicality, the swoopy sexy styling of the four-wheeled winners has the benefit of appealing to the public.
"I was driving on highways in North Carolina, and you wouldn't believe the spectacle of people with cell phones in the windows and people taking photos," recalled Bill Bratton, Li-ion team driver. "Most people think it's cool.  Especially women.  They love it!"