/ Source: msnbc.com staff and news service reports
Rescuers scoured the slopes of Indonesia's most volatile volcano Wednesday after it was rocked by an eruption that spewed clouds of searing ash, killing at least 25 villagers including an old man known as the mountain's spiritual gatekeeper.
The blast eased pressure that had been building up behind a lava dome perched on the volcano's crater, but experts said the worst may not be over. The lava dome could unleash deadly gases and debris if it collapses.
"It's a little calmer today," said Surono, the chief of Center for Volcanology and Geological Hazard Mitigation. "No hot clouds, no rumbling. But a lot of energy is pent up back there. There's no telling what's next."
Mount Merapi, on the outskirts of the city of Yogyakarta on Java island, first erupted on Tuesday, a day after a tsunami pounded remote islands in western Indonesia, killing at least 113 people.
Authorities have been trying to evacuate more than 11,000 villagers living on the slopes of the volcano, where many houses have been destroyed, the ruins lying covered in white ash.
Endita Sri Andrianti, a spokeswoman for Yogyakarta's Sardjito hospital, said 25 people had been killed by deadly bursts of hot air released by the volcano late on Tuesday.
A baby, aged about two or three months, died as panicked villagers fled the area, hospital officials said. Three other villagers died from serious burns.
"We are still collecting details to identify them. Most of them were burned to death," she told Reuters by phone, adding that 14 villagers had suffered burn injuries.
Though thousands streamed into makeshift emergency shelters after Tuesday's powerful eruption, many started returning Wednesday saying they had to tend to their crops and protect their homes.
Among the dead was Mount Merapi guardian Ki Suraso Hargo, also knows as Mbah Maridjan, in Kinahredjo Village. Maridjan, an 85-year-old man, was entrusted by a highly respected late king to watch over the volcano's spirits.

"We found his body," said Suseno, a member of the search and rescue team, amid reports that the old man was found in the position of praying, kneeling face-down on the floor.
Maridjan, who for years led ceremonies in which rice and flowers were thrown into the crater to appease spirits, has angered officials in the past by refusing to evacuate even during eruptions.
Also dead was Yuniawan Nugroho, an editor with the vivanews.com news portal, who was scheduled to interview Maridjan.
Many of victims had been found in or around his house in the village of Kinahredjo, close to the volcano's crater, local media reported. A Reuters cameraman at Kinahredjo said he saw burns victims being brought down from the mountain in body bags. Houses in the village had been destroyed.
"Several houses and cattle have been burned by the hot cloud from the mountain," he said. "All the houses are blanketed in ash, completely white. The leaves have been burned off the trees."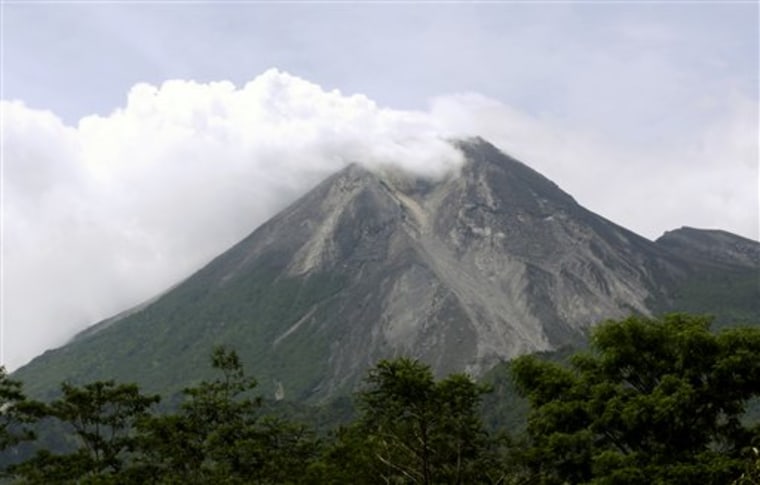 "There was a thunderous rumble that went on for ages, maybe 15 minutes," said Sukamto, a farmer who by nightfall had yet to abandon his home on the mountain's fertile slopes. "Then huge plumes of hot ash started shooting up into the air."
Clouds of smoke and ash obscured the peak of the mountain, making it impossible to see if lava had begun flowing.
The country' top vulcanologist, Surono, said Merapi was now "quite calm."
"There are no signs of another imminent eruption but I cannot guarantee anything and we don't know if this is just a temporary rest," Surono said.
"I have advised local officials to continue the evacuations. It's still on the highest alert level."
Indonesian news portal Okezone quoted the manager of Yogyakarta's Adisucipto International Airport as saying that flights had not been disrupted by the ash cloud.
Mount Merapi, which translates as "Fire Mountain," has erupted many times over the last 200 years, often with deadly results.
In a 1994 eruption after the volcano's lava dome collapsed, 70 people were killed. The volcano killed 1,300 people in 1930.
Last month, another Indonesian volcano, Mount Sinabung on Sumatra island to the west, erupted after lying dormant for 400 years, forcing a mass evacuation.
Meanwhile, off the coast of Sumatra, about 800 miles west of the volcano, rescuers battled rough seas to reach the remote Mentawai islands, where a 10-foot tsunami triggered by a 7.7-magnitude earthquake Monday night swept away hundreds of homes, killing at least 113 villagers, said Mujiharto of the Health Ministry's crisis center. Up to 500 others are missing.
Indonesia, an island archipelago of 237 million people, is prone to earthquakes, tsunamis and volcanic activity due to its location on the so-called Pacific Ring of Fire — a series of fault lines stretching from the Western Hemisphere through Japan and Southeast Asia.