/ Source: msnbc.com contributor
As we plunge into another holiday season in the era of the iGizmo, it's becoming increasingly difficult to distinguish between the Christmas cravings of grade-schoolers and grownups.
From gaming systems to do-everything mobile devices and even fancy dolls, many Americans – no matter their age – are clamoring for the same gifts,  say retail experts.
"We certainly see kids migrating to adult-like products (including) iPods, cell phones, video games, and the like," said Sarah Wood, director of the Amazon.com toys and games store. And the migration goes the other way, too, as adults who may be children at heart want the games, gadgets and even dolls that are popular with the under-18 set.
The top three gift categories for all ages are clothing and accessories, then toys and games, followed by electronics and gadgets, according to researchers at American Express. But when it comes to gadgets especially, the lines blur among the ages.
"Yes, we definitely see that as a trend ... especially with products like the iPad and this year's new Xbox Kinect," said Dana Schultze Holmes, "gift expert" at Gifts.com, an online service that claims to offer "unbiased recommendations" on purchasing presents.
The merging of adult and child lists can be tricky family business. In Toronto, Christy Cook is trying to juggle current technology limits with the lore of Santa Claus and the Christmas dreams of her 7-year-old son, Finn. His gift request: a second-generation iPad.
But as Cook learned in her retail research, that product is not expected to launch until the first quarter of 2011 at the earliest.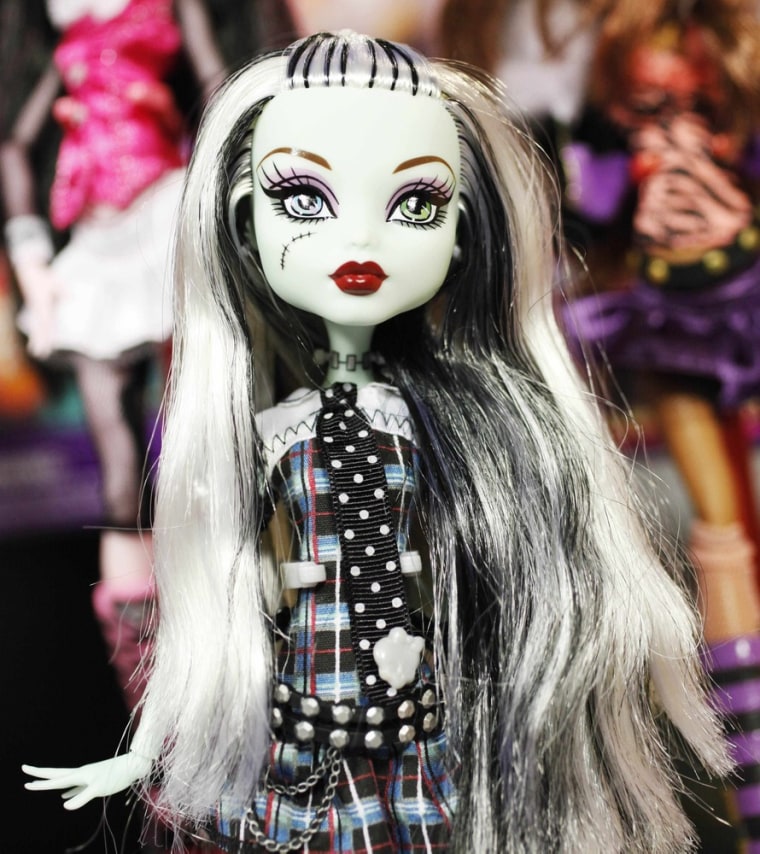 "(Finn) is sure Santa can get create the second-generation version," Cook said. "We have contemplated the IOU note from Santa, but we feel it would be a pretty sad Christmas morning and fear it would expose Santa's true colors.
"We are trying to push him toward the Polaroid Pogo," she said, referring to a digital camera with a built-in printer. "I would rather manage his expectations than deal with disappointment on Christmas morning."
The intergenerational, gift-grabbing mashup played out in the aisles of a Seattle area Toys R Us store this week when parenting blogger Heija Nunn stumbled into a spirited retail debate between a mom and a young boy who was eyeing a Nerf Stampede gun.
When the other mom reasoned that the toy gun was too bulky for her son to even pick up, the boy argued: "But it says (it's for) ages 8 and up!"
"Yes, 8 plus a man. ... You need both!" Nunn observed. She pointed out that the package features a snarling young man — far older than 8 — aiming the fake weapon.
"Obviously Nerf wants us to know they are equal opportunity toys," said Nunn, who blogs as "The Worst Mother In The World."
"If they knew how fiercely I wield a (Nerf) N-Strike sword, they would have me on a box!" said Nunn, whose children are 13, 12 and 6.
"I learned a long time ago that no one – especially no man – is too old to have a little fun," she said. "If I buy a remote control vehicle for my kids, my (husband) gets one too. More than one extended family Christmas Eve celebration has devolved into a play extravaganza with adults battling kids for toy time. Parenting has its privileges!"
The crossover between the gift desires of adults and kids is even hitting the doll market, said Ed Crotty, co-founder of zooLert.com, an online community that helps consumers locate hard-to-find presents, especially coveted toys. One hot item this season is the Monster High Doll, marketed for 6- to 8-year-old girls.
"However, due to their extremely detailed boxes and dolls, adult collectors also show a heavy interest – very much in the way they do towards Lalaloopsy (dolls), another big season toy," Crotty said.
Tykes mimic folksEven when it comes to traditional child fare, the tykes seem to be trying to mimic their folks' most cherished widgets, if not their parents' interests.
"Kids are catching up fast to their tech-savvy parents with the latest gadgets from kiddie Kindles to iPad-esque devices like the Fisher-Price iXL, V.Reader, MobiGoTouch, LeapFrog Chat and Count Phone – and even toys that introduce social media like Puppy Tweets," said Amazon's Wood.
The proliferation of TV cooking and chef-oriented programs, Wood added, has also spawned kitchen-themed toys like the LeapFrog Cook and Play Potsy and Melissa and Doug Cook's Corner Wooden Kitchen – not to mention some nostalgic toys like the Dairy Queen Blizzard Maker.
How do these toy trends mesh with the not-so-playful U.S. economy? Several retail experts see a psychological gap between this season's expected buying binge and the financial hurt many families are feeling.
The average American will spend $710 on holiday presents this fall and winter, while those who earn $100,000 or more annually will spend $1,384 on gifts, according to a recent survey by the American Express Spending & Saving Tracker. One fifth of consumers told pollsters that their priciest presents will come in the electronics and gadgets category and will cost an average of $316.
Among the demographic group that American Express identifies as "young professionals," their most expensive gifts in 2010 will cost $84 more than the top-priced presents they gave in 2009.
At the same time, stores are putting extra money this year into their holiday promotions, said Schultze Holmes.
"We're seeing more willingness (among retailers) to spend this holiday season," Schultze Holmes said. "A lot of companies that seemed apprehensive last year are feeling much more confident and generous with their budgets."
At zooLert.com, gift searchers agree that a shopping trend they've detected this season is: "Surprisingly, expensive toys," Crotty said. "Despite all of the talk about toys trends being all about cheap, cheap and cheap, we are seeing large-ticket items such as Dance Star Mickey (about $65 retail) and Microsoft Kinect (about $150) sell out in minutes.
"Perhaps people are just wanting a break, even if just a moment, from all of the economy woes to enjoy their time with their families and make children's wishes come true."